CDC Director Reiterates 'Importance of Vaccine' After Trump Says He Was 'Confused,' Made a 'Mistake'
Centers for Disease Control and Prevention (CDC) Director Dr. Robert Redfield stressed "the importance of vaccines" for COVID-19 in response to criticism from President Donald Trump on Wednesday.
Trump said Redfield must have been "confused" when he made a series of comments about vaccines and face masks to the U.S. Senate Appropriations Subcommittee on Labor, Health and Human Services, Education, and Related Agencies earlier in the day.
Redfield had suggested that a vaccine might not become widely available for the U.S. public until the summer of 2021, far later than Trump has been pushing for, while he called face masks "the most powerful public health tool" against the virus, saying they are "more guaranteed to protect" against the virus than a potential vaccine.
"I 100% believe in the importance of vaccines and the importance in particular of a #COVID19 vaccine," Redfield said in a statement later posted to Twitter. "A COVID-19 vaccine is the thing that will get Americans back to normal everyday life."
"The best defense we currently have against this virus are the important mitigation efforts of wearing a mask, washing your hands, social distancing and being careful about crowds," he added.
The president said that a vaccine could be available "sometime in October" during a press conference on Wednesday, although it does not seem likely that any candidates will complete Phase 3 clinical trials by then, from which definitive conclusions about safety and efficacy can be drawn.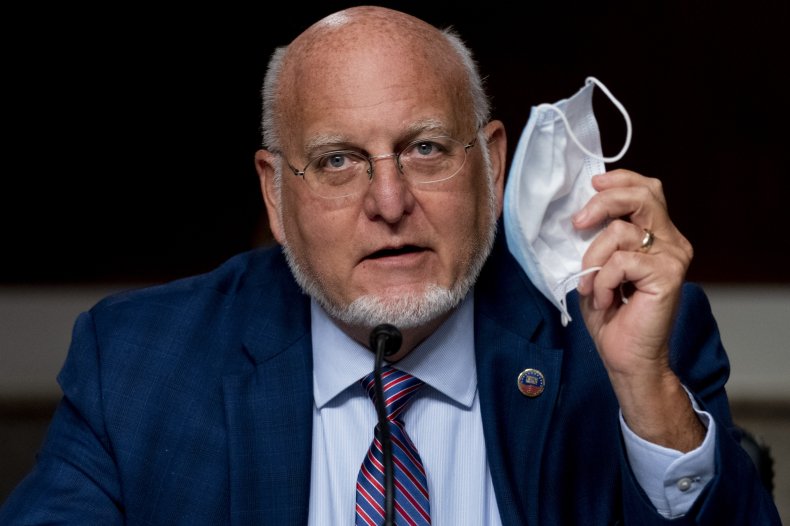 Trump has instead pushed for a vaccine to be approved on an "emergency" basis before the November election, regardless of whether trials are completed. He contradicted Redfield's suggestion that while a limited amount of vaccine could be ready sooner, doses may not be available to the general public until next summer.
"That's incorrect information... when he said it, I believe he was confused," Trump said about Redfield during the press conference. "We're ready to go as soon as the vaccine happens... we're not looking to say, 'Gee, in six months we'll start giving it to the general public.'"
"I think he just made a mistake, he just made a mistake," Trump added. "I think he misunderstood the question, probably."
The president also dismissed the CDC director's comments about masks, insisting that they are not the "best defense" against the virus. Trump rarely wears a mask and has given mixed messages about them, despite experts almost uniformly agreeing that the spread of the virus could be significantly reduced if they were consistently worn by a large majority of the public.
"Masks have problems too," Trump said. "The masks have to be handled very gently, very carefully. I see that in restaurants there are people with masks and they're playing around with their masks. And their fingers are in their masks and then they're serving with plates, I mean I think there's a lot of problems with masks."
"No, [a] vaccine is much more effective than masks," he added. "The mask is not as important as the vaccine. The mask perhaps helps."
Newsweek reached out to the CDC for comment.