Centers for Disease Control and Prevention (CDC) Director Dr. Robert Redfield suggested Wednesday that using face masks could be more effective in limiting the spread of COVID-19 than a vaccine.
Speaking during a hearing of a U.S. Senate Appropriations subcommittee, Redfield called masks "our best defense" against the virus. He said that while a vaccine for the virus might not generate an immune response for 30 percent of those who take one, anyone wearing a mask would receive at least some level of protection.
"These face masks are the most important, powerful public health tool we have," Redfield said. "I will continue to appeal for all Americans, all individuals in our country, to embrace these face coverings... if we did for 6, 8, 10, 12 weeks, we'd bring this pandemic under control... we have clear scientific evidence they work."
"I might even go so far as to say that this face mask is more guaranteed to protect me against COVID than when I take a COVID vaccine," he added. "Because the immunogenicity may be 70 percent and if I don't get an immune response, the vaccine's not going to protect me. This face mask will."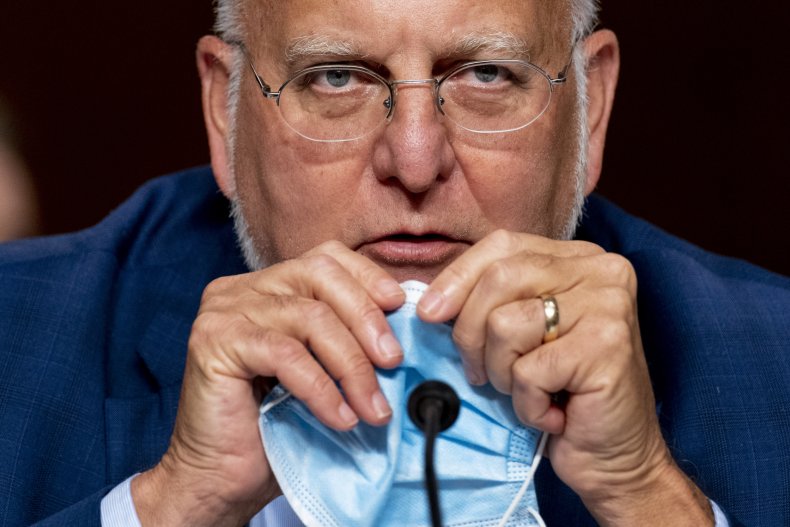 A vaccine that is safe and effective to any degree would be a valuable tool but is unlikely to be the only factor needed to end the pandemic. A large majority of the population would likely need to be vaccinated for it to be widely effective, while polls indicate that many in the U.S. may refuse to take the earliest versions of a COVID-19 vaccine.
In addition, few vaccines are close to being 100 percent effective. A coronavirus vaccine might not even be 70 percent effective, although potential benefits in addition to protection against infections do exist. Those who receive common flu vaccines, which are sometimes only 50 percent effective, often suffer less severe forms of illness if they become infected despite being vaccinated.
Regardless of vaccines, research does indicate that masks are an effective, and already available, means of limiting the spread of the virus. While N95 masks, which are typically reserved for health care workers, are most effective, even simple cotton barriers do provide at least some benefit.
Masks can offer varying levels of personal protection, but they are far more effective in preventing the person wearing a mask from potentially infecting others. Experts believe that tens of thousands of lives would likely be saved if masks were consistently worn by a large majority of the public.
President Donald Trump insisted that Redfield's comments on masks were wrong, saying that he had been "confused" or misinformed, even though the CDC director has decades of experience as a virologist.
"I think maybe he misunderstood it," Trump told reporters on Wednesday. "As far as the masks are concerned, I hope that the vaccine is going to be a lot more beneficial than the masks."
Trump has given mixed messages on masks, often refusing to wear one himself but at times encouraging the public to wear them. During a town hall event on Tuesday, he said that "a lot of people" think that masks are "not good." When pressed for specifics, the president cited the opinions of unspecified waiters at restaurants, rather than medical experts.
Trump has also pushed for a vaccine to be quickly approved before election day on an "emergency" basis, although there is little chance that crucial clinical trials that could prove or disprove efficacy and safety will be completed by then.
Newsweek reached out to the CDC for comment.