Women 20% Less Likely To Take COVID-19 Vaccine If One's Available in 2020
A new poll of U.S. voters released on Wednesday showed that women were 20 percent less likely than men to receive a vaccination for COVID-19 if a vaccine becomes available this year. While 69 percent of male respondents said they'd accept such a vaccine, only 49 percent of women agreed.
The poll of 3,758 individuals—conducted by the Washington, D.C. newspaper The Hill and the market research company HarrisX—examined people's openness to receiving the vaccine based on gender, age, race, political party support, preferred presidential candidate as well as education and income levels. It comes amid growing domestic concern about the safety of a possible COVID-19 vaccine if it's rushed out before Election Day on November 3.
Overall, 59 percent of voters said they'd be "likely" to receive the vaccine and 41 percent said they'd be "unlikely" to do so.
Most age groups fell along similar percentage ranges when asked whether they were likely or unlikely to get the vaccine. About 61 to 62 percent of adults in the age groups of 18 to 34, 35 to 49 and above 65 were likely to get the vaccine while 38 or 39 percent of those same groups unlikely to get it.
The only age group that differed were people ages 50 to 64—roughly 52 percent of that demographic were likely to get it and 48 percent were unlikely.
Approximately 61 percent of white people said they'd likely accept the vaccine, compared to 59 percent of Hispanic people and 45 percent of Black people.
Higher education and income levels also indicated whether people were more likely to receive the vaccine. 73 percent of people with four or more years of higher education said they were likely to take the vaccine, compared to only 51 percent of people with less than four years of higher education.
While 52 percent of voters making below $75,000 a year were likely to take the vaccine, 66 percent of those making above that amount were likely to take it.
Interestingly, a difference of three to four percentage points separates the self-proclaimed Democrats and Republicans likely to accept the vaccine. A similar difference separates supporters of Democratic presidential candidate Joe Biden and Republican President Donald Trump in the same question.
About 61 percent of Trump supporters and 59 percent of Biden supporters said they were likely to take the vaccine, compared to 58 percent of Republicans and 62 percent of Democrats.
Newsweek contacted the Biden campaign for comment.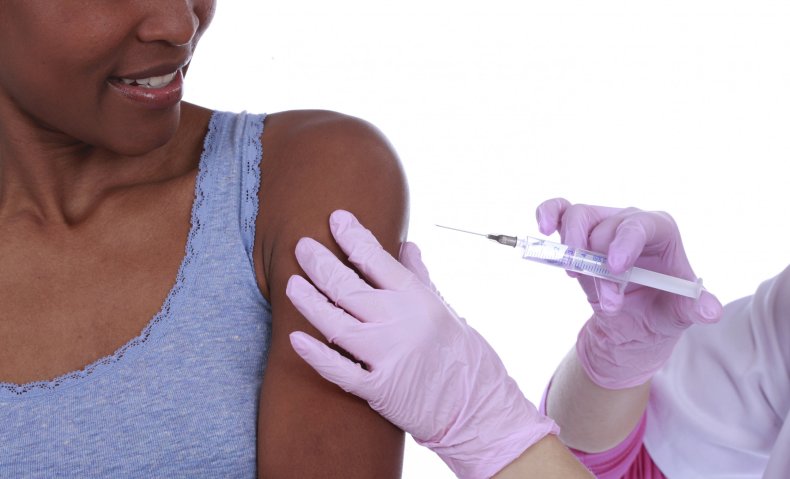 Recent polls by CBS and the Kaiser Family Foundation found that 62 to 66 percent of voters, respectively, would fear receiving a COVID-19 vaccine that arrived before Election Day. The concern is that the vaccine could have been rushed for political purposes.
In early September, top U.S. health officials reassured members of Congress that an eventual COVID-19 vaccine would only be made available when its safety was first "absolutely" assured.
Their reassurances came after Trump repeatedly suggested that a vaccine could be rushed for availability before Election Day on November 3, despite warnings from health experts of that date's extreme unlikelihood.
People adverse to receiving vaccines, often fearing negative health effects, feel suspiciously of medical authorities. Some say they haven't had their concerns addressed by the information available on the websites of the World Health Organization (WHO) or Centers for Disease Control and Prevention (CDC), according to past studies of people with attitudes against receiving vaccinations.