CDC Director Says Delta Variant Now Responsible for 83 Percent of Sequenced COVID Cases
The COVID-19 Delta variant is now responsible for 83 percent of sequenced coronavirus cases across the U.S., marking a dramatic increase from 50 percent just one week before, Centers for Disease Control and Prevention (CDC) Director Dr. Rochelle Walensky said Tuesday.
Speaking during a Senate hearing alongside the nation's top health officials Tuesday morning, Walensky warned that the highly contagious Delta variant is rapidly spreading across the country.
"This is a dramatic increase," Walensky said, adding that "in some parts of the country the percentage is even higher, particularly in areas with low vaccination rates."
Walensky said that while deaths remain relatively low across the country, there has been a 48 percent increase, with an average of 239 deaths a day, in the last week alone. The CDC director stressed that the best way to combat COVID-19 variants and slow the spread of disease is through vaccination efforts.
"The message from CDC remains clear: The best way to prevent the spread of COVID-19 variants is to prevent the spread of disease, and vaccination is the most powerful tool we have. We must continue to expand vaccine coverage by building trust and confidence in COVID-19 vaccines," Walensky said.
The COVID-19 Delta variant was first detected in India, and is at least twice as infectious as the formerly dominant Alpha variant.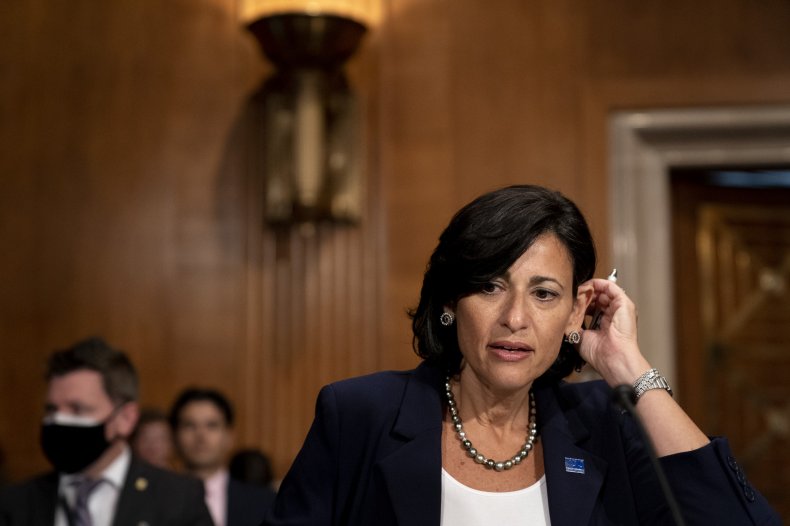 Dr. Anthony Fauci, the White House's chief medical adviser, said during the hearing that the Delta variant has the capability of "transmitting efficiently from human to human in an extraordinary manner."
Walensky and other top health officials have repeatedly stressed that the Delta variant is spreading fastest among those who are unvaccinated. According to a Sunday statement from Surgeon General Vivek Murthy, nearly 99.5 percent of all new coronavirus deaths are occurring among unvaccinated people.
"Each death is tragic and even more heartbreaking when we know that the majority of these deaths could be prevented with a simple, safe, available vaccine," Walensky said on Tuesday.
The CDC director added that nearly two-thirds of the counties in the U.S. have vaccinated less than 40 percent of their residents, "allowing for the emergence and rapid spread of the highly transmissible Delta variant."
According to the CDC, over 161 million people in the U.S. are fully vaccinated, and 56.1 percent of the population, including 68 percent of all adults, has received at least one dose of the jab.
Recent polls have shown that more than half of unvaccinated or partially vaccinated Americans are not concerned about the Delta variant, while a majority of unvaccinated Americans said they are not considering receiving the shot due to safety fears and distrust.
President Joe Biden's administration is attempting to appeal to unvaccinated populations by stressing the safety and efficacy of COVID-19 vaccines.
On Tuesday, Walensky said the CDC was working to engage with "trusted community leaders to reinforce messages about the safety, efficacy and importance of vaccination," particularly in higher risk rural areas and amongst racial and ethnic minority groups.
In total, there have been more than 34 million cases of COVID-19 and 609,316 deaths in the U.S. since the pandemic first began, according to data from Johns Hopkins University.