Over Half of Unvaccinated Americans Say They're Not Concerned About Delta Variant: Poll
More than half of unvaccinated or partially vaccinated Americans said they are not concerned about the fast-spreading Delta COVID-19 variant, despite warnings from public health experts that both groups run a higher risk of getting ill.
According to a new CBS/YouGov poll released Sunday, just 48 percent of unvaccinated or not fully vaccinated Americans said they "are personally concerned" about the Delta variant. By contrast, 72 percent of those who are fully vaccinated said they are worried about the fast-moving coronavirus strain.
Among those who are unvaccinated, 53 percent said they wouldn't receive the jab over concerns that the shot could cause side effects, while half said they don't trust the U.S. government. An additional 45 percent said they do not trust the science behind the coronavirus vaccine.
Furthermore, the poll found that 74 percent unvaccinated Americans would still reject the shot even if their own doctor recommended that they should have it.
The survey was conducted between July 14-17 with a sample of 2,238 U.S. adults. The margin of sampling error is plus or minus 2.4 points.
The Delta variant, which is at least twice as infectious as the formerly-dominant Alpha variant, was first detected in India in December and has been a leading cause of new COVID-19 cases across much of the world.
According to a Friday report from the Centers for Disease and Prevention (CDC), coronavirus cases across the U.S. are up by nearly 70 percent and hospitalizations are up by 36 percent from last week.
At least 38 states have shown a 50 percent increase of new cases in the past week, which includes Washington, Idaho, California, Nevada, Texas, Florida, New York, Colorado, Michigan, and nearly all the states in the south. In each case, the variant appears to be spreading fastest amongst unvaccinated populations, prompting health experts to urge more Americans to receive the shot.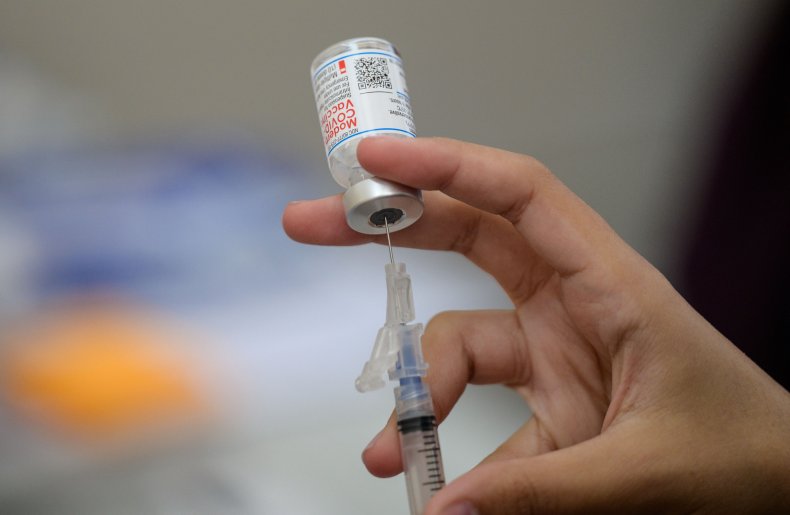 On Sunday, Surgeon General Vivek Murthy said that nearly all of COVID-19 deaths – or 99.5 percent – are happening among unvaccinated people. At that rate, Murthy added that he is concerned about what the future may hold for those populations.
"I am worried about what is to come because we are seeing increasing cases among the unvaccinated in particular. And while, if you are vaccinated, you are very well protected against hospitalization and death, unfortunately that is not true if you are not vaccinated," Murthy said Sunday on CNN's State of the Union.
According to the CDC, around 161 million Americans are fully vaccinated, but some 90 million eligible people have yet to receive at least one shot. President Joe Biden and state officials are now trying to combat vaccine hesitancy and plead with those who remain skeptical of the jab.
Last week, the Biden administration pointed fingers toward Facebook and other social media companies for allowing vaccine misinformation to spread across their platforms. The president said the rapid spread of falsehoods was "killing people," while Facebook retorted by stating that the administration was looking for "scapegoats" for failing to hit their vaccination targets.
Murthy said Sunday that combating vaccine hesitancy and getting more shots into the arms of Americans is the "fastest and most effective way" to halt the spread of the Delta variant.
"It is so important that we take every measure possible to make sure people have the information they need about the vaccine, to make sure they have access to the vaccine and to help them get vaccinated as quickly as possible. It is our fastest, most effective way out of this," he said on State of the Union.