When Can We Stop Wearing Masks? CDC Reviewing Outdoor Guidance
As the U.S. COVID-19 vaccine rollout continues, the U.S. Centers for Disease Control and Prevention (CDC) will be "looking at" whether face coverings are necessary in outdoor settings. The health body's current guidance advises "masks should still be worn in addition to staying at least 6 feet apart."
Asked whether a person who is outside and not in close proximity to others needs to wear a mask, CDC director Dr. Rochelle Walensky told NBC's Today show Thursday that the CDC will be "looking at the outdoor masking question," but bearing in mind that "we still have people who are dying of COVID-19."
Also on Thursday, Dr. Sanjay Gupta, CNN's chief medical correspondent, told CNN's New Day program that if you're vaccinated "I'd say for the most part, you don't need to wear a mask outdoors."
The CDC's current guidance states: "A mask is NOT a substitute for social distancing. Masks should still be worn in addition to staying at least six feet apart, especially when indoors around people who don't live in your household.
"Masks may not be necessary when you are outside by yourself away from others, or with people who live in your household," the CDC says.
Walensky warned Thursday that while there's "wonderful news" with more people getting vaccinated every day, "we still had 57,000 cases of COVID-19 yesterday, we still had 733 deaths.
"So while we are really trying to scale up vaccination, we have the complex message that we still have hot spots in this country. And we will be looking at the outdoor masking question, but also in the context of the fact that we still have people who are dying of COVID-19," she told Today.
Asked when those who have been vaccinated might be able to stop wearing masks, the CDC director said: "No vaccine is perfect, so ultimately this is going to be a matter of risk.
"But what I can say is that a 95 percent effective vaccine is extraordinarily effective. If we can have a 95 percent effective vaccine and have our case loads down, then we'll be in really good shape.
"We know that the [COVID-19] vaccine in real world studies is somewhere between 85, [and] 95 percent effective," she told Today.
Speaking to Newsweek, Dr. Anthony Fauci, America's top infectious diseases expert, previously said that "even though you get vaccinated, we should not eliminate, at all, public health measures like wearing masks because we don't know yet what the effect [of the vaccine] is on transmissibility.
"We do not know if the vaccines that prevent clinical disease also prevent infection. They very well might, but we have not proven that yet," the chief medical advisor to President Joe Biden told Newsweek at the end of December.
Walensky noted Thursday that among those who are vaccinated that do get infected with COVID-19, "increasingly data suggests that about a third of them, even if they get the virus, are completely asymptomatic, many of them have such low virus that they can't transmit to others.
"We still need more data in this area, but increasingly we're getting more and more data that suggests that even those breakthrough infections may be less symptomatic and less likely to transmit," she told Today.
The CDC director's words come as more parts of the country consider lifting mask mandates, while a handful of states have already done so.
On Wednesday, New York City Mayor Bill de Blasio hinted at a possible easing of mask requirements after June. "Continue to wear their masks and I'll keep saying it, at least through June," the mayor said while speaking about the city's vaccine rollout.
"Stick with the mask, stick with the social distancing, people are still being smart and cautious and that's helping us," he said.
Also on Wednesday, the office of North Carolina Gov. Roy Cooper announced: "The state anticipates lifting the mask mandate and easing other public health recommendations, once two thirds of adult North Carolinians have received at least one vaccine dose and if trends remain stable."
On Monday, Connecticut Gov. Ned Lamont announced all remaining business restrictions will be lifted in the state from May 19. But indoor mask mandates will remain.
The governor's office said Monday: "The Department of Public Health will issue recommendations for indoor and other large outdoor events, such as concerts, as well as clarify where masking will continue after May 19."
Total confirmed cases in the U.S. are approaching 40 million, with 570,357 total reported deaths, as of Friday, according to Johns Hopkins University.
The country's seven-day average of cases declined from mid-January, before flattening out from late February. The seven-day average of deaths has been dropping since late January, according to data compiled by Worldometer.
More than 89 million people (around 26 percent of total U.S. population) have been fully vaccinated, while nearly 136 million (around 40 percent) have received at least one dose, as of Thursday, according to the latest report from the CDC.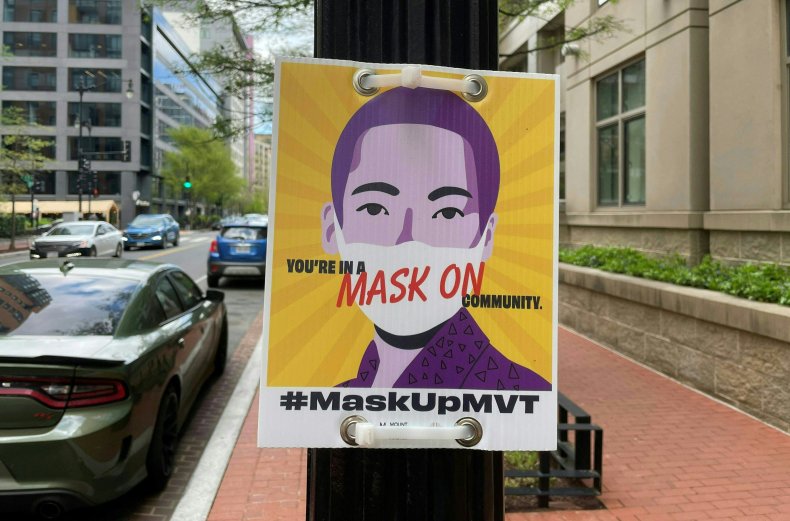 The wider picture
Coronavirus has infected more than 144.8 million people since it was first reported in Wuhan, China. More than three million people have died worldwide and more than 83.2 million have recovered as of Friday, according to Johns Hopkins.
The graphic below, produced by Statista, shows the total number of COVID-19 vaccine doses distributed and administered in the U.S.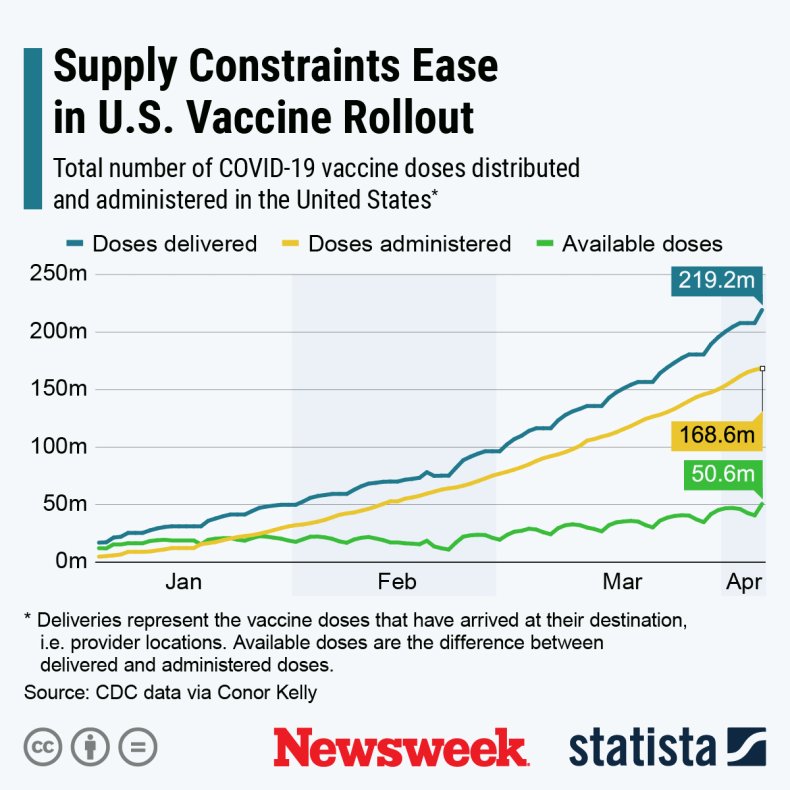 The graphic below, produced by research provider Statista, shows the total number of COVID-19 vaccine doses administered per 100 people across different countries.