Which States Have Lifted Mask Mandates?
Amid the ongoing COVID-19 pandemic, a handful of statewide mask mandates have been lifted, including most recently in Texas and Mississippi. Here we look at the states that have rescinded their mask mandates so far.
Texas
Texas Gov. Greg Abbott lifted the statewide mask mandate under a new executive order that comes into effect on Wednesday, March 10.
However, businesses are allowed to maintain COVID-19 safety protocols, including a mask requirement, "at their own discretion," the governor's office said on Tuesday.
The order notes: "Nothing in this executive order precludes businesses or other establishments from requiring employees or customers to follow additional hygiene measures, including the wearing of a face covering."
Several retailers in Texas, including Target, Starbucks, Best Buy and CVS, have opted to continue to require employees and customers to wear face coverings at their stores.
Mississippi
Mississippi also terminated its mask mandate on Wednesday. Mississippi Governor Tate Reeves said Tuesday: "Starting tomorrow, we are lifting all of our county mask mandates and businesses will be able to operate at full capacity without any state-imposed rules," in a Facebook post.
Reeves said businesses could make their own COVID-19 policies, noting: "We are getting out of the business of telling people what they can and cannot do."
Several retailers in Mississippi, including Kroger and Aldi, are keeping mask requirements in place at stores across the state. Some companies will tell employees to wear face coverings but will not enforce a mask rule for customers.
North Dakota
North Dakota Gov. Doug Burgum issued an executive order last November which mandated masks across the state.
After an extension in December, the mandate expired on January 18. The governor noted at the time that active COVID-19 cases had declined by over 80 percent and hospitalizations decreased by about three-fourths while restrictions were in place.
Some cities have maintained local mask mandates, such as in Grand Forks, where the city's health officer issued an order requiring all residents of Grand Forks County to wear face coverings.
Last month, the North Dakota House of Representatives approved a bill that would ban "making use of a face mask, shield or covering a condition for entry for education, employment or services." The bill has now gone to the Senate for review.
Montana
On February 12, Montana's statewide mask mandate was lifted. The office of Montana Gov. Greg Gianforte noted in a statement at the time: "Consistent with the governor's announcement on February 10, the new directive allows the statewide mask mandate to expire. Local jurisdictions may still choose to implement their own mask requirements."
Certain establishments have maintained mask rules in some local areas such as Billings, the state's most populous city. Masks are required at Billings Logan International Airport and MET Transit, the city's public transport system.
Iowa
Iowa's mask mandate was lifted on February 7 under an updated public health disaster proclamation issued by Iowa Gov. Kim Reynolds. The move was criticized by Iowa lawmakers who said the governor lifted the mask mandate and social distancing requirements without consulting the Iowa Department of Public Health.
The new proclamation, which is in effect until 11:59 p.m. on March 7, "strongly encourages Iowans, businesses, and organizations to take reasonable public health measures consistent with guidance from the Iowa Department of Public Health," the governor's office said in a statement on February 5.
Some cities have kept their local mask orders, such as in parts of eastern Iowa including Cedar Rapids, Iowa City, Dubuque, Waterloo and Cedar Falls, as well as Linn and Johnson counties.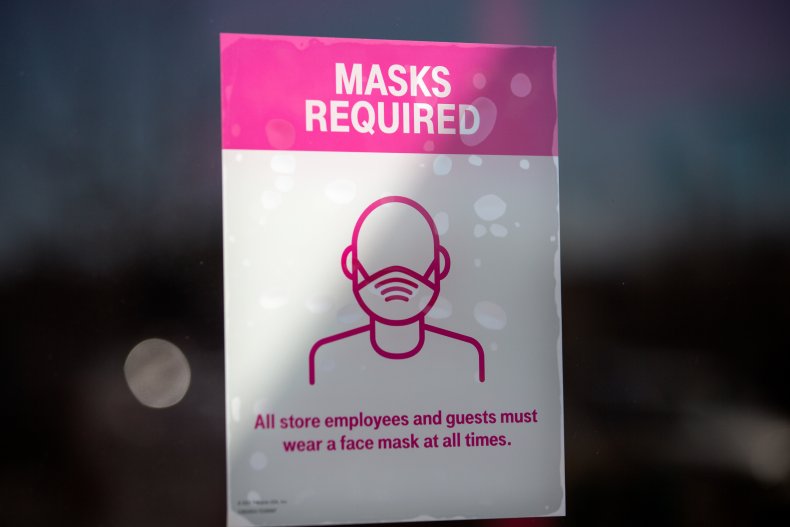 The wider picture
Coronavirus has infected more than 115.6 million people, including over 28.8 million in the U.S., since it was first reported in Wuhan, China.
More than 2.5 million people have died worldwide and more than 65.3 million have recovered as of Friday, according to Johns Hopkins University.
The graphic below, produced by Statista, illustrates how Americans are feeling more optimistic as COVID-19 vaccination continues.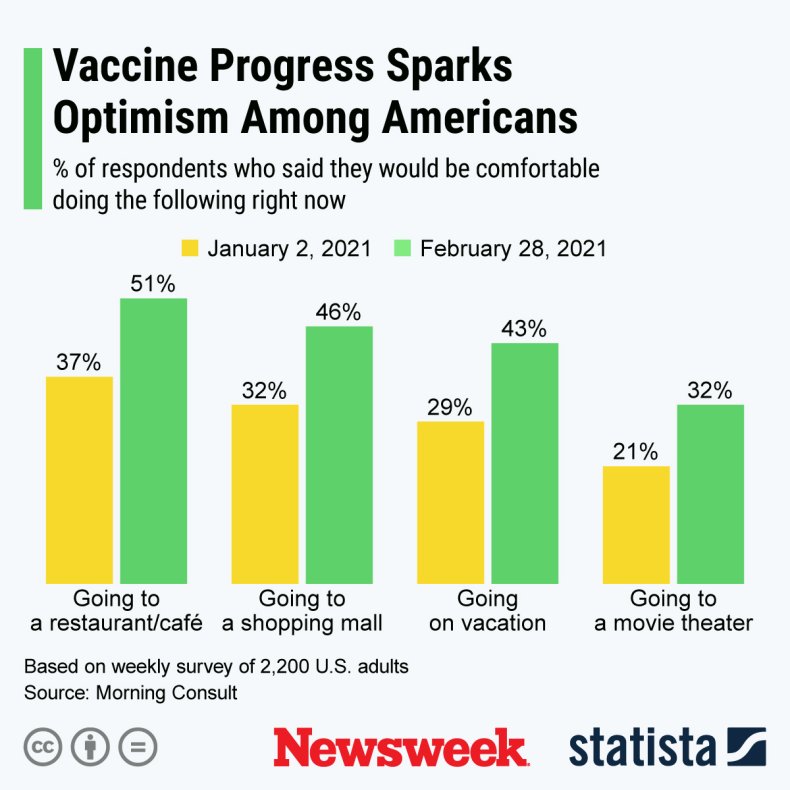 The graphic below, produced by Statista, shows the vaccine rollout across the country.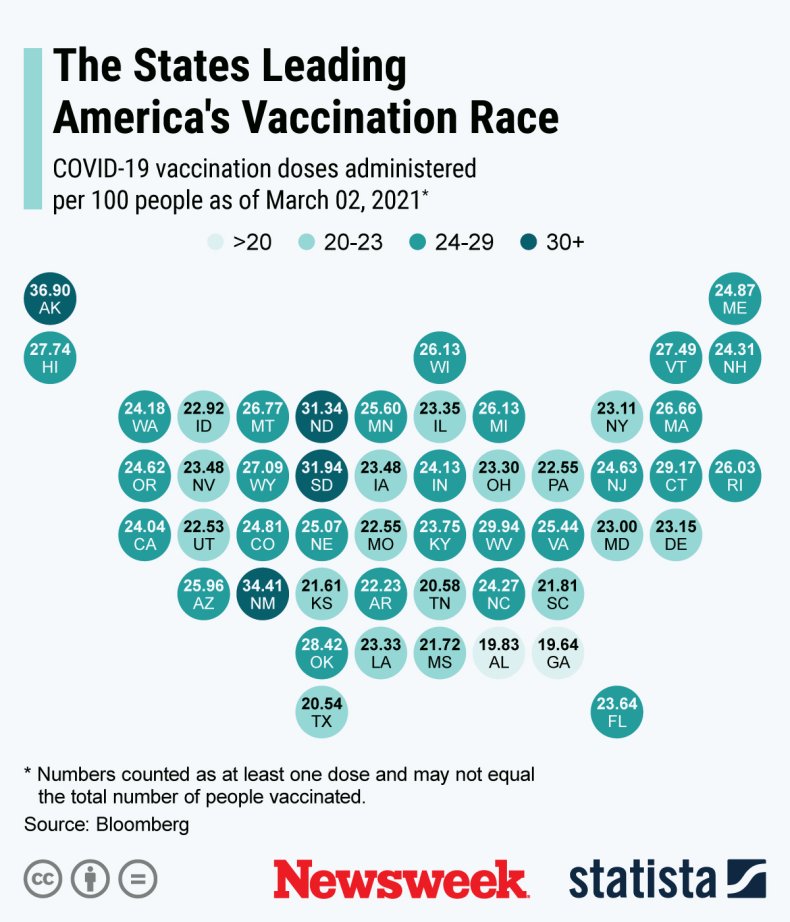 Newsweek, in partnership with NewsGuard, is dedicated to providing accurate and verifiable vaccine and health information. With NewsGuard's HealthGuard browser extension, users can verify if a website is a trustworthy source of health information. Visit the Newsweek VaxFacts website to learn more and to download the HealthGuard browser extension.