COVID Restrictions Are Being Lifted in These States
Amid the ongoing COVID-19 pandemic and vaccine rollout, several states have pulled back on some safety measures. The most recent addition to this list is Texas, the largest state so far to lift its mask mandate.
Here we look at other states that have eased COVID-19 restrictions in recent weeks.
Mississippi
On Tuesday, Mississippi Governor Tate Reeves said: "Starting tomorrow, we are lifting all of our county mask mandates and businesses will be able to operate at full capacity without any state-imposed rules," in a Facebook post.
At a press conference Tuesday, Reeves said: "Our case numbers have fallen to the point where no county meets the original criteria for a mask mandate."
Mask mandates and other restrictions remain in place at K-12 schools, while indoor arenas have a capacity limit of 50 percent.
Michigan
From March 5, restaurants and bars can operate at 50 percent capacity (up from the previous 25 percent limit) with a maximum of 100 people, Michigan Gov. Gretchen Whitmer and the Michigan Department of Health and Human Services announced Tuesday.
"I'm proud that we are able to take this positive step without compromising public health," Whitmer said.
Illinois
From Tuesday, restaurants, bars and events in Chicago, the most populous city in Illinois, have been allowed to operate indoor services at 50 percent capacity, up from the previous 40 percent limit.
The capacity for some performance venues, fitness facilities, movie theaters and personal services was also increased to 50 percent, with a limit of no more than 50 people in any given space. No more than 20 people are allowed for indoor fitness classes.
Massachusetts
From March 1, some restrictions were eased for businesses and activities as part of the state's phased reopening plan. Capacity limits across all sectors were raised to 50 percent, while "restaurants no longer have a percent capacity limit," the office of Massachusetts Gov. Charlie Baker said in a statement.
However, "six-foot social distancing, limits of six people per table and 90-minute limits remain in place" for restaurants, the statement added.
"Residents must continue to wear masks to prevent the spread of COVID-19, and are encouraged to avoid contact outside of their immediate households. The Travel Advisory and other public health orders remain in effect."
Louisiana
Louisiana Gov. John Bel Edwards announced a new 28-day order easing some capacity restrictions, which came into being Wednesday.
Restaurants, salons and most retailers can operate at 75 percent capacity. Bars can run at 25 percent capacity or up to 50 percent capacity in areas where the COVID-19 positivity rate is five percent or less for 14 consecutive days. The venues must host no more than 250 people.
Pennsylvania
On March 1, Pennsylvania Gov. Tom Wolf announced updated measures, including the lifting of out-of-state travel restrictions and revised capacity limits for indoor and outdoor events. The capacity limit for indoor events is 15 percent, while outdoor events have a 20 percent limit.
Virginia
Some restrictions were eased in Virginia from March 1 under a new executive order, including a stay-at-home curfew order that was in place from midnight to 5 a.m.
Other eased measures include an increased limit for outdoor social gatherings to 25 people, while indoor gatherings remain limited to 10 people. Outdoor and indoor entertainment venues can operate at 30 percent capacity, but with a limit of 1,000 people for outdoor venues and 250 for indoor venues.
Wyoming
On February 25, the state announced the removal of a health order for facilities offering personal care services including hair and nail salons, barbershops and tattoo parlors.
From March 1, limits on indoor and outdoor gatherings and protocols for restaurant and theater operations were also adjusted.
The office of Wyoming Gov. Mark Gordon said in a statement on February 25: "Indoor gatherings that incorporate social distancing and face coverings are permitted for up to 25 percent of capacity or 1,000 persons, and outdoor gatherings of up to 2,000 persons.
"In addition, sporting events and artistic performances will see participation limits eased," the statement added.
New York
Indoor dining services were allowed to resume in New York City at 25 percent capacity from February 12.
In late January, "all orange zone restrictions and some yellow zone restrictions" were lifted across the state "following a decline in new case and hospitalization rates over the past weeks," the office of New York Gov. Andrew Cuomo said in a statement at the time.
"Existing statewide restrictions remain in place for areas no longer in orange and yellow zones, including capacity limits for certain businesses and restrictions on mass gatherings," the governor's office added.
Iowa
Iowa Gov. Kim Reynolds issued an updated public health disaster proclamation relaxing existing measures from February 7 "while continuing critical regulatory relief to those on the frontlines of COVID19 recovery for an additional 30 days."
The new proclamation, which is in effect until 11:59 p.m. on March 7, lifted the state's mask mandate and limitations on the number of people who could gather in bars and restaurants.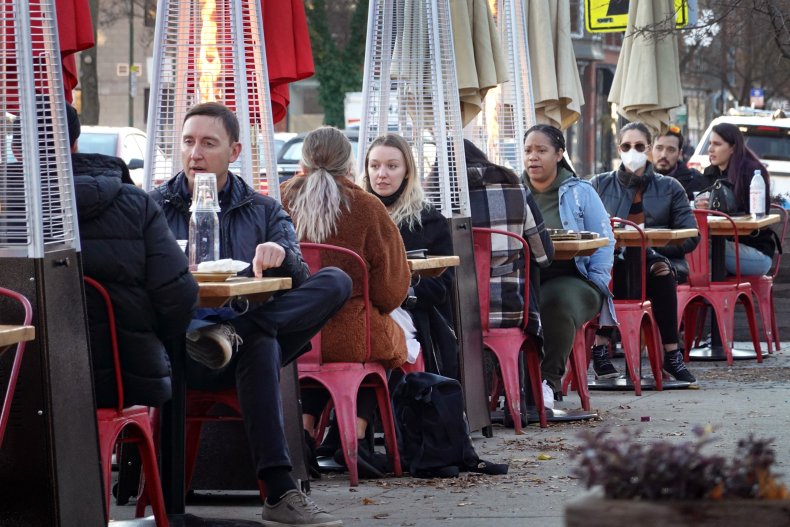 The wider picture
The novel coronavirus has infected more than 114.8 million people, including over 28.7 million in the U.S., since it was first reported in Wuhan, China.
More than 2.5 million people have died worldwide and more than 64.9 million have recovered as of Wednesday, according to Johns Hopkins.
The graphic below, produced by Statista, illustrates COVID-19 deaths in the U.S.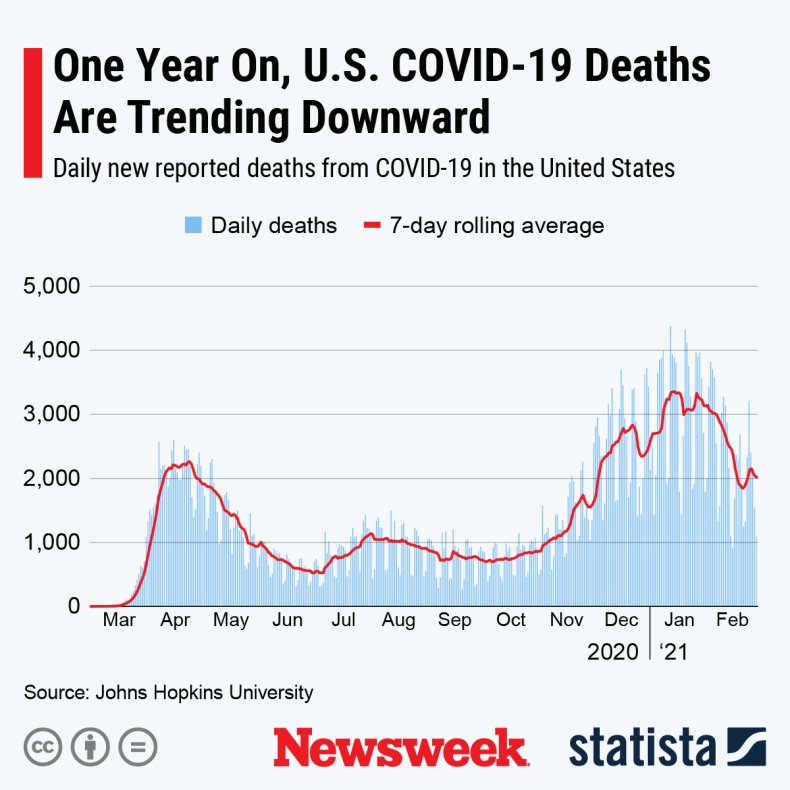 The graphic below, produced by Statista, shows vaccine rollout progress across the country.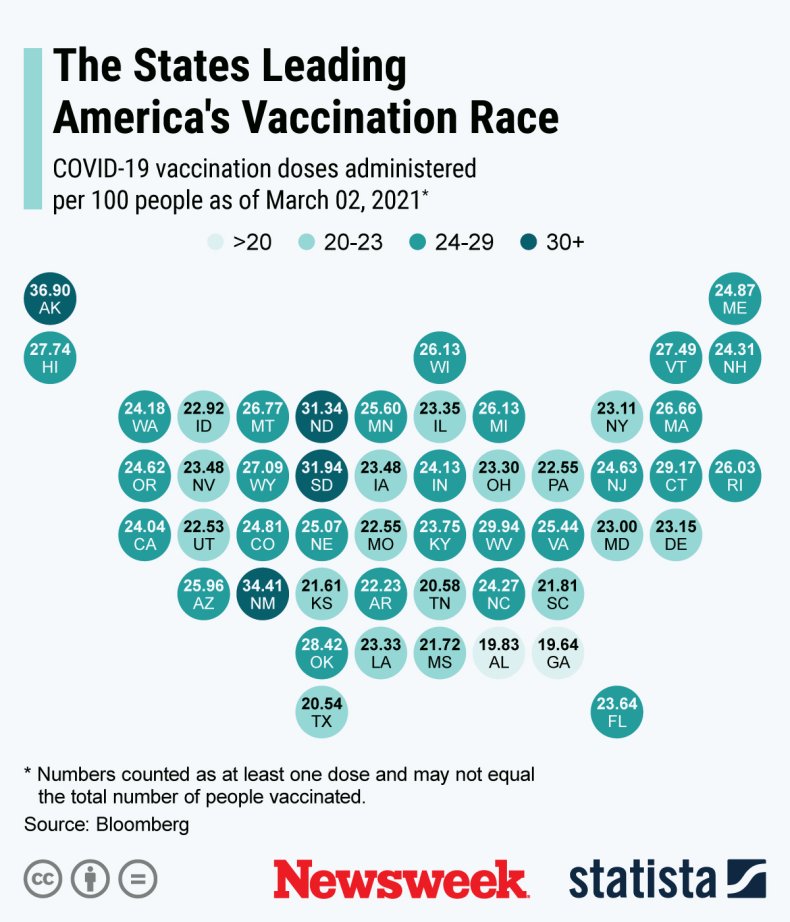 Newsweek, in partnership with NewsGuard, is dedicated to providing accurate and verifiable vaccine and health information. With NewsGuard's HealthGuard browser extension, users can verify if a website is a trustworthy source of health information. Visit the Newsweek VaxFacts website to learn more and to download the HealthGuard browser extension.