Texas Vaccine Rollout Ranks 48th Among States As Mask Mandate Lifted
Gov. Greg Abbott declared "Texas is open 100 percent" on Tuesday, unveiling a plan to lift the mask mandate and other COVID-19 restrictions—even though the vaccine rollout in the state is among the worst in the country.
Texas ranks 48th among the states based on the number of COVID-19 vaccine doses administered per 100,000 people, according to the latest report from the U.S. Centers for Disease Control and Prevention (CDC).
Abbott said on Tuesday: "With the medical advancements of vaccines and antibody therapeutic drugs, Texas now has the tools to protect Texans from the virus. We must now do more to restore livelihoods and normalcy for Texans by opening Texas 100 percent.
"Make no mistake, COVID-19 has not disappeared, but it is clear from the recoveries, vaccinations, reduced hospitalizations, and safe practices that Texans are using that state mandates are no longer needed."
Abbott's executive order, which comes into effect next Wednesday, states that "all businesses of any type may open to 100 percent capacity" and drops the mask mandate. "Businesses may still limit capacity or implement additional safety protocols at their own discretion," the governor's office said.
The order states: "Nothing in this executive order precludes businesses or other establishments from requiring employees or customers to follow additional hygiene measures, including the wearing of a face covering," the order stated.
Every person is "strongly encouraged to use good-faith efforts" to follow the recommendations of the Texas state health department.
If COVID-19 hospitalizations in any of the state's 22 hospital regions surpass 15 percent of bed capacity for seven consecutive days, "a county judge in that region may use COVID-19 mitigation strategies."
But the judges "may not impose jail time for not following COVID-19 orders nor may any penalties be imposed for failing to wear a face mask. If restrictions are imposed at a county level, those restrictions may not include reducing capacity to less than 50 percent for any type of entity," according to the governor's office.
Public schools may operate under the "minimum standard health protocols" issued by the Texas Education Agency. Nursing homes, long-term care and assisted living facilities should follow the guidance issued by the Texas Health and Human Services Commission.
In a tweet on Tuesday, Abbott said: "More than 7 million vaccinations will be given by next week. We do about 1 million a week. We gave 216,000 shots today alone. More than 50 percent of the seniors will be vaccinated. Hospitalizations & the positivity rate are lowest in 4 months. All Texans know the safe practices."
Newsweek has contacted the governor's office and the Texas Department of State Health Services for comment.
Abbott's decision follows a warning from CDC Director Rochelle Walensky, who has pleaded with local and state officials not to loosen restrictions as COVID-19 cases plateau across the nation.
"With these new statistics, I am really worried about reports that more states are rolling back the exact public health measures we have recommended to protect people from COVID-19," Walensky said at a White House briefing the day before the governor's announcement.
"I understand the temptation to do this—70,000 cases a day seems good compared to where we were just a few months ago—but we cannot be resigned to 70,000 cases a day, 2,000 daily deaths," she said.
Beto O'Rourke, the former Texas congressman who has run for both the White House and the Senate, said Abbott's order would be a "death warrant for Texans."
The seven-day average of new cases in Texas was reported to be on an upward trend in the final week of February. The figure had been declining since January 12, when it peaked at 23,195, according to Johns Hopkins University.
The state's seven-day average of deaths rose sharply from around February 20 to the start of March, but has fallen since late January, according to data from Worldometer.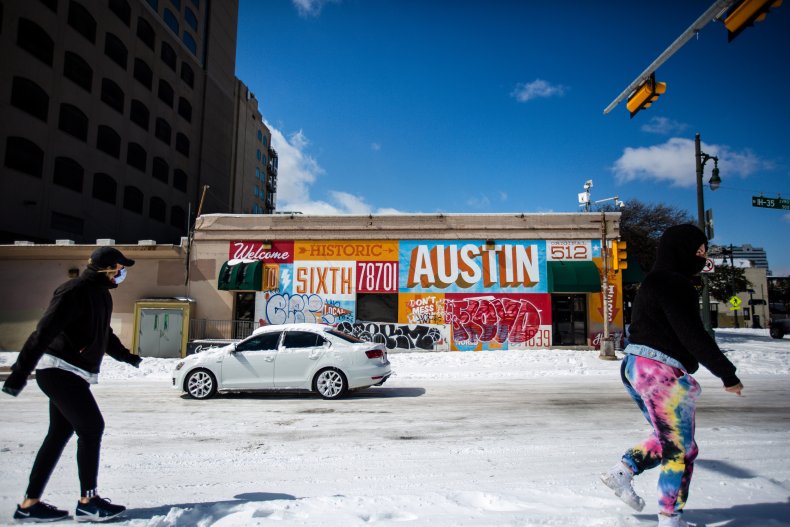 The wider picture
The novel coronavirus has infected more than 114.8 million people, including over 28.7 million in the U.S., since it was first reported in Wuhan, China.
More than 2.5 million people have died worldwide and more than 64.9 million have recovered as of Wednesday, according to Johns Hopkins.
The graphic below, produced by Statista, illustrates COVID-19 deaths in the U.S.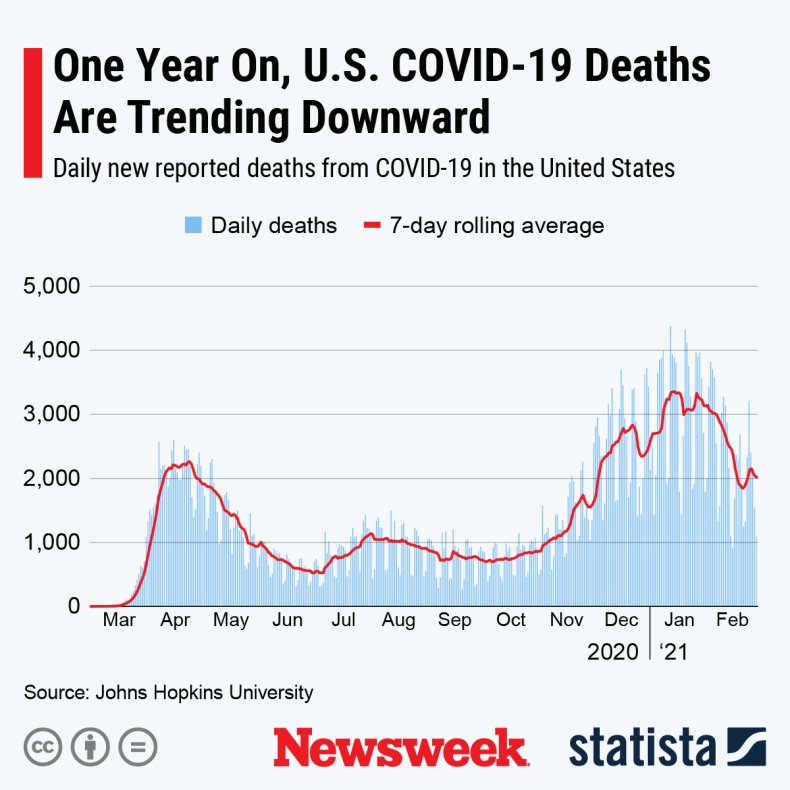 The graphic below, produced by Statista, shows vaccine rollout progress across the country.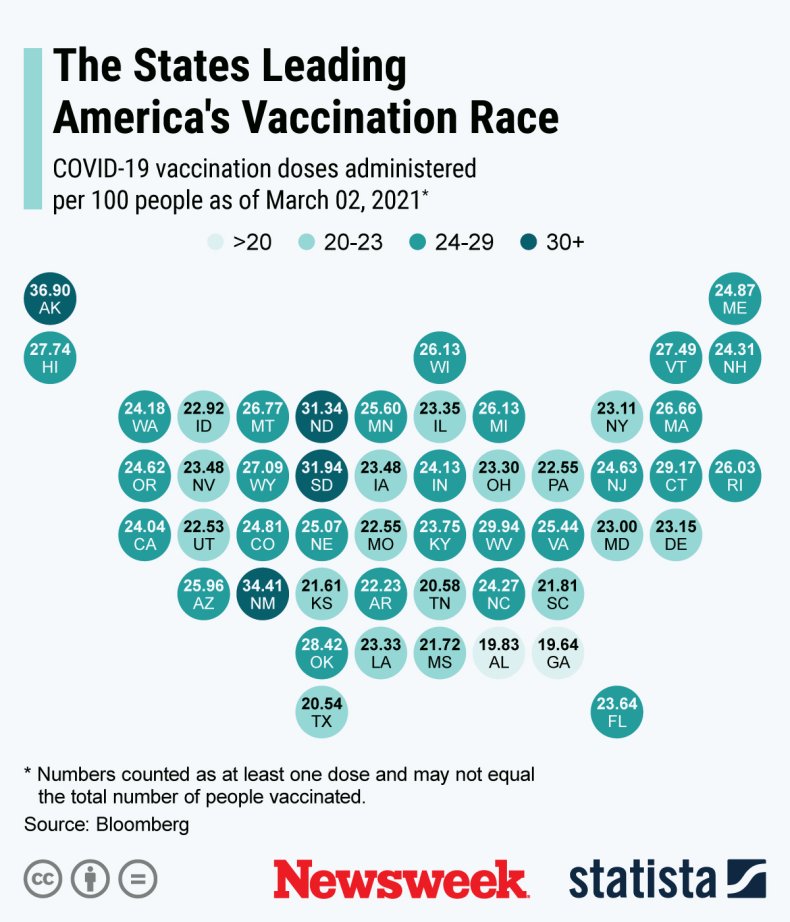 Newsweek, in partnership with NewsGuard, is dedicated to providing accurate and verifiable vaccine and health information. With NewsGuard's HealthGuard browser extension, users can verify if a website is a trustworthy source of health information. Visit the Newsweek VaxFacts website to learn more and to download the HealthGuard browser extension.