Keith Olbermann Blasted For Saying We Are 'Wasting Vaccinations on Texas'
Keith Olbermann is facing a severe backlash after asking why vaccinations are being "wasted" on people in Texas.
The TV personality made the comments after Governor Greg Abbott announced an executive order to lift mask mandates and open up businesses in the state.
Olbermann shared Abbott's tweet announcing the order and wrote: "Why are we wasting vaccinations on Texas if Texas has decided to join the side of the virus?"
But he was quickly flooded with angry tweeters, suggesting he was putting politics over people's lives.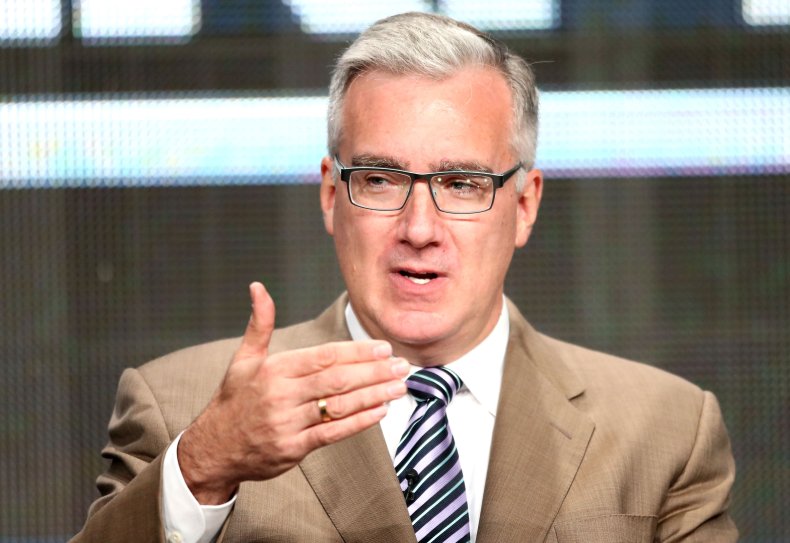 More than 5,000 people reshared his tweet with a comment—most delivering scathing criticism of the remark.
Writer David Weissman tweeted: "Keith, this is a wrong take man. Take it from a former Republican they vote crappy leadership for different reasons, but they are still human beings. They have families, children. I get it, you are angry, but this is not the right message."
Sportswriter Jon Bois tweeted: "Over the last five years or so there have been a lot of people i thought weren't stupid until they said something exactly like this."
Author Mikki Kendall wrote: "Ah yes millions should be left to suffer and die because their Governor (who they are already trying to oust) is a festering pile of feces...or...or hear me out...we could support the communities he plans to sacrifice."
The Daily Beast editor Goldie Taylor said: "Because Texas is one of these United States. And viruses don't respect state lines. And Texans have every right to have access to the same protections afforded to the rest of us."
Lawyer Bradley P. Moss wrote: "Delete this tweet, Keith." Writer Yashar Ali tweeted: "Because people shouldn't be punished for the decisions of their political leaders and if we want to end this pandemic we have to vaccinate as many people as possible."
It comes after Texas Governor Greg Abbott said Tuesday he would end the statewide mask mandates, and Texas businesses would be allowed to reopen at 100 percent capacity from next week, despite repeated warnings from the U.S. Centers for Disease Control and Prevention (CDC) for states to continue coronavirus safety precautions.
Speaking at a press conference in Lubbock, he said: "Too many Texans have been sidelined from employment opportunities. Too many small-business owners have struggled to pay their bills. This must end.
"Removing statewide mandates does not end personal responsibility. It's just that now state mandates are no longer needed."
Abbott said the mandates were no longer needed because of improved treatments, widespread testing and the vaccine rollout, where 5.7 million doses have been administered to Texans as of Tuesday.
Mississippi Governor Tate Reeves made a similar announcement just hours later Abbott's, saying that mask mandates and lockdowns will be lifted across the state.
He tweeted: "Starting tomorrow, we are lifting all of our county mask mandates and businesses will be able to operate at full capacity without any state-imposed rules. Our hospitalizations and case numbers have plummeted, and the vaccine is being rapidly distributed. It is time!"
But it follows CDC Director Rochelle Walensky pleading with local and state officials to not loosen restrictions over the last few weeks.
At a White House press briefing on Monday, she said: "With these new statistics, I am really worried about reports that more states are rolling back the exact public health measures we have recommended to protect people from COVID-19.
"I understand the temptation to do this—70,000 cases a day seems good compared to where we were just a few months ago—but we cannot be resigned to 70,000 cases a day, 2,000 daily deaths."
The graphic below, provided by Statista, shows the states leading America's vaccination race.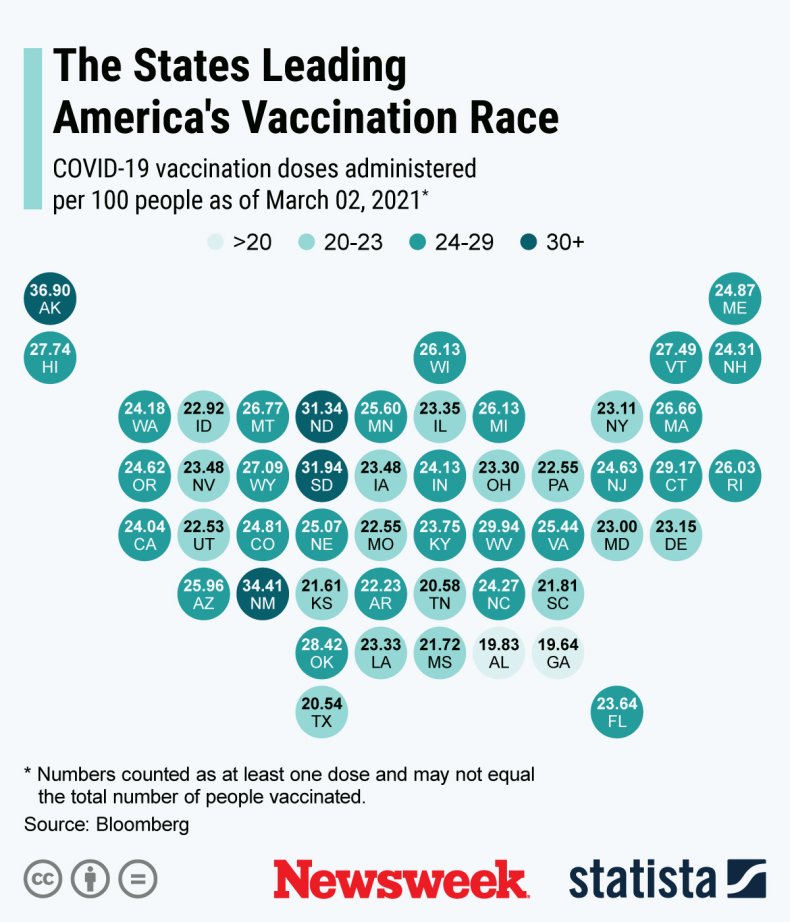 Update 3/3/21, 5:30 a.m. ET: This article was updated to include an infographic.