CDC Orders Airlines to Turn Over Passenger Lists From African Flights Amid Omicron Spread
The Centers for Disease Control and Prevention (CDC) this week directed all airlines that operate flights traveling into the U.S. to share passenger information for anyone who was recently in the eight African countries covered by the travel ban President Joe Biden issued last week.
The CDC's directive came less than one week after the World Health Organization (WHO) identified a new coronavirus variant, known as Omicron, as a "variant of concern." Health officials in South Africa first alerted the WHO of the variant's emergence in the area on November 24.
In the wake of the WHO's classification, Biden on November 26 announced a travel ban for individuals seeking to travel into the U.S. from Botswana, Eswatini, Lesotho, Malawi, Mozambique, Namibia, South Africa and Zimbabwe. The new travel restrictions, which include some exceptions, went into effect Monday morning.
The CDC's latest directive, which was dated Tuesday, required "all airlines and aircraft operators operating passenger flights to the United States" that contained at least one passenger who was in one of the eight countries covered by the travel ban in the two weeks before they boarded the plane to share certain passenger information with the CDC.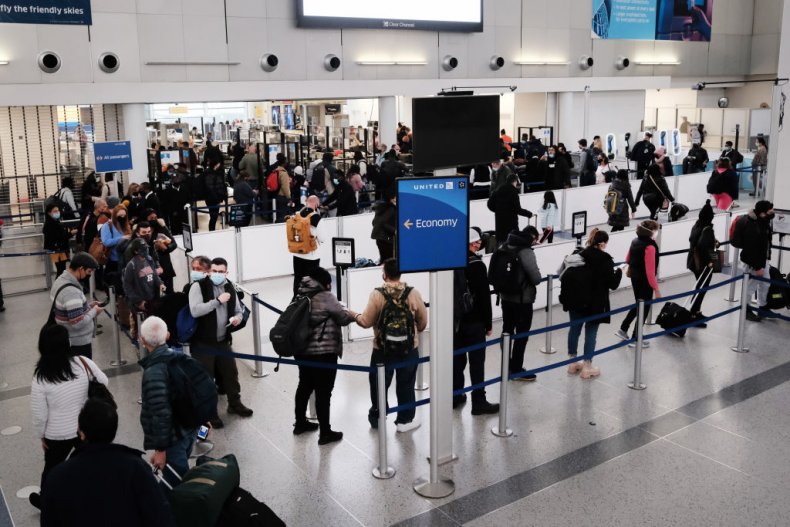 The information required under the CDC's directive includes a passenger's name, address, date of birth and contact information. The directive also requires specific information to be shared about flight details, including the times and locations of flight departures and arrivals.
The information "must be provided for all flights that departed on or after 12:01 AM ET, November 29, 2021," the time Biden's travel ban went into effect, the CDC's directive said.
"CDC is issuing this Directive to prevent the importation and spread of a communicable disease of public health importance," the directive said. It will remain in place "until rescinded or modified," according to the CDC.
Last month, the CDC issued an order that instructed airlines to gather contact information from passengers who were traveling into the U.S. from abroad. Airlines were required under that order to keep passengers' information for at least 30 days and share it with the CDC if the agency asked them to do so.
"The purpose of collecting this information is to identify and locate passengers who may have been exposed to a person with a communicable disease for public health follow-up," the CDC said at the time. Airlines were given until November 8 to comply with the CDC's initial order.
On Wednesday, CNN reported that American Airlines, Delta Air Lines and United Airlines all intend to comply with the CDC's latest directive. Each of the three airlines confirmed with Newsweek their intention to comply with the order when reached later Wednesday for comment.
Update 12/1/21, 12:55 p.m. ET: This story has been updated with additional information.