How to Celebrate July 4th: Surprising Independence Day Traditions
The beloved annual federal holiday is almost here once again, when we get together with our families and friends to celebrate the Declaration of Independence.
The 4th of July, otherwise known as Independence Day, commemorates the day the Second Continental Congress adopted the Declaration of Independence on July 4, 1776.
This year, the federal holiday is on a Monday, meaning most people will have the day off work.
Why is Fourth of July Celebrated
On this holiday we celebrate America's independence from Britain. On July 4, 1776, the 13 American colonies, which were at war with Great Britain, declared themselves to be independent states and no longer under British rule.
The idea of independence was put forward by Richard Henry Lee, a member of the Continental Congress, on June 7, 1776. This was known as the Lee Resolution, and was passed on July 2, 1776.
The resolution is made up of three parts, including a declaration of independence, a call to form foreign alliances, and "a plan for confederation," according to the document from the U.S. National Archives.
There are a few fun and typical traditions to celebrate this, we've listed a few below.
7 Fourth of July Traditions to Celebrate Independence Day:
There are several conventional and non-conventional ways to celebrate Independence Day, we've listed them below, separating them into the former and latter categories.
Conventional Ways to Celebrate Independence Day:
Setting off fireworks—it's important to note that this isn't legal everywhere. For instance, in L.A, fireworks are prohibited except for professional displays.
Setting off sparklers—depending on your city's regulations.
Parades.
Having and going to barbecues—traditional food includes hot dogs, hamburgers and s'mores. Picnic and finger food are also quite typical for the 4th of July.
Having a hot dog-eating contest—the link between the holiday and the hotdog is believed to have been inspired by Nathan's Hot Dog Eating Contest in Coney Island.
Painting things red, white and blue.
Waving American flags.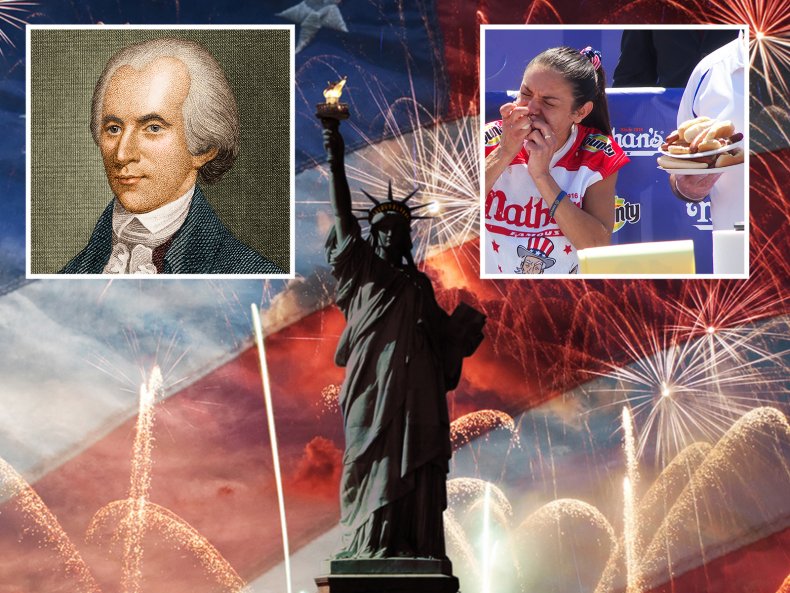 Non-Conventional Ways to Celebrate Independence Day:
Boat parades—several cities in the U.S. hold boat parades as opposed to the typical parades.
Lobster racing, specifically in Maine, people race lobsters.
Road Apple Roulette—in Idaho people gather to play this game, you can win several prizes.
Computer trap shooting—typically in Kentucky they shoot electronic devices. Anything tech related counts, from circuit boards to computers.
Wearing the flag—Many like to wave the American flag, but wearing it is also an option for a few.
Secret Sam—a play on Secret Santa, some opt instead for a Secret Sam, using a red, white and blue ribbon to tie carnations and hang them on doorknobs.
Make sure you're on a plane for the fireworks—some argue that being on a plane grants you the best view of the fireworks.