Celebrities' Politics Factored in Trump Administration's PSA Plans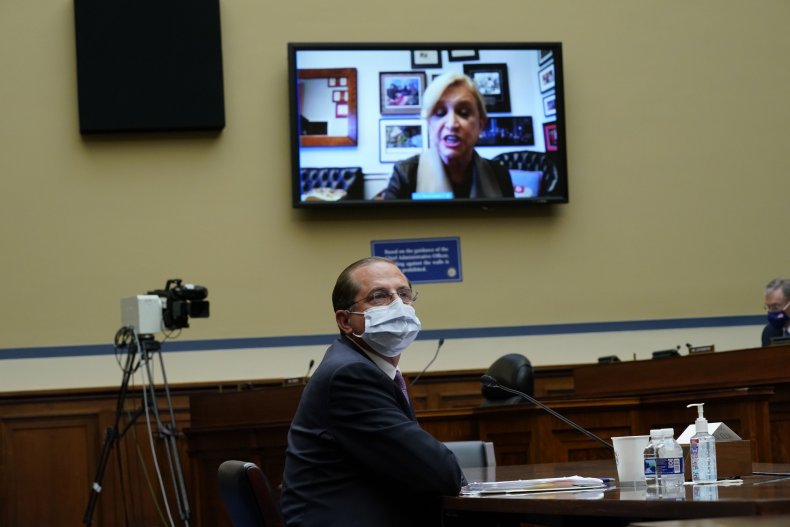 When vetting celebrities for a new $250 million coronavirus public service announcement campaign, the Trump administration weighed past political statements and whether any negative comments had been publicly made about President Donald Trump, new documents obtained by Democratic House leaders show.
Singer Billie Eilish accused Trump of "destroying our country and everything we care about."
Actor Zach Galifianakis "refused to host President Trump on [his] talk show."
Singer-actress Jennifer Lopez used her Super Bowl halftime performance to push back on Trump's immigration policies.
And singer Christina Aguilera "is an Obama-supporting Democrat and a gay rights supporting liberal."
The U.S. Department of Health and Human Services vetted 274 celebrities, and the documents that House Democrats obtained from contractors show notes were made on their political views, including those who are supportive of Trump or have not spoken publicly about politics, alongside more typical vetting notes, including arrests and assault allegations that could create negative attention.
The details about the PSA planning were revealed in documents that the Democratic chairs of the House Committee on Oversight and Reform Committee, Select Subcommittee on the Coronavirus Crisis and Oversight and Reform's Economic and Consumer Policy Subcommittee, obtained from Atlas Research and DD&T Group, both contractors involved in the HHS effort.
"When I first saw that list, I had to do a double take," U.S. Rep. Raja Krishnamoorthi, an Illinois Democrat who chairs the Subcommittee on Economic and Consumer Policy, told Newsweek. "It looked so bizarre and out of place, in terms of a government contract."
"It almost feels to me like a McCarthy-esque list of enemies for the Trump administration," he added.
The documents suggest that only 10 celebrities made it to the "approved" list, while several others had declined to take part, including singers Britney Spears and Selena Gomez. After news of the contract and suggestions that its real goal was to pump up Trump's reelection bid, none of them went forward with the PSA effort.
At least one celebrity, the comedian George Lopez, was specifically removed from consideration because of negative comments he had made about Trump, according to meeting notes lawmakers obtained from the consulting firm. Lopez recently held a virtual campaign event with Trump's Democratic rival, Joe Biden.
"It's so clear that they were not evaluating celebrities based on their reach or whether they would be an appropriate spokesperson with regards to doing a PSA regarding the pandemic, but rather 'What is their politics?'" Krishnamoorthi said.
Country music star Garth Brooks, who made it to the "approved" list, was noted as having "stayed politically silent, confidently said 'it's always about serving' when reporter asked him if he would perform during Trump's inauguration."
It appears not all celebrities were dinged for their political views. Singer Marc Anthony, also on the "approved" list, "revealed in 2016 that he's fully committed to voting for Hillary Clinton, and respects Bernie Sanders," according to notes on his vetting.
In addition to political views, the "PSA Celebrity Tracker" that was maintained also identified demographics that each celebrity would appeal to, including Black Americans, Asian Americans, older Americans and "super spreaders."
Health and Human Services didn't directly respond to questions about the nature of the celebrity review.
"While testifying before the House Select Subcommittee on the Coronavirus Crisis, Secretary Azar announced that he had 'ordered a strategic review of this public health education campaign that will be led by top public health and communications experts to determine whether the campaign serves important public health purposes.' The review is ongoing," an HHS spokesperson said in a statement to Newsweek. "The plan has always been to only use materials reviewed by a department-wide team of experts including scientists from CDC who will ensure the latest scientific information is used to provide important public health, therapeutic and vaccine information."
Plans were revealed last month for the nearly $300 million public service effort and details that it was quietly meant to promote positive news about Trump's handling of the coronavirus ahead of next week's election.
According to notes from one of the brainstorming sessions for the effort, one of the themes floated was "Keep America Well"—an apparent allusion to the Trump campaign's "Keep America Great" slogan.
The White House didn't respond to Newsweek's request for comment.
The issue is expected to also be raised in a report that will be released Friday detailing Democrats' findings as they have reviewed the Trump administration's handling of the COVID-19 pandemic.
"The contract, yet again, illustrates how incompetently and, I would argue corruptly, the Trump administration has used funds from HHS, the FDA and the CDC meant to address the pandemic to benefit themselves politically," Krishnamoorthi said.
Krishnamoorthi said he wasn't surprised that Democrats had to get the documents from the firms after the Trump administration wouldn't provide them.
"This is so typical of the administration," he said. "We've had to go to the private sector to get information and materials to understand how the Trump administration has conducted itself."