How Arnold Schwarzenegger, Zooey Deschanel and Other Celebrities Are Celebrating Thanksgiving This Year
Thanksgiving 2020 will go down in history as being a year when the holidays became divisive. Coronavirus has made things look incredibly different this year, as many people prepare to spend it away from loved ones to reduce the spread of the virus.
The CDC is reporting that cases are rising nationwide and has issued warnings against traveling to family gatherings. The health body has also urged that households limit the number of guests and consider gathering outdoors.
In California for instance, residents were encouraged to hold Thanksgiving events away from family members on Wednesday as the state prepares for a surge in cases.
Governor Gavin Newsom announced a statewide curfew which went into effect on Saturday and is expected to remain in effect until December 21.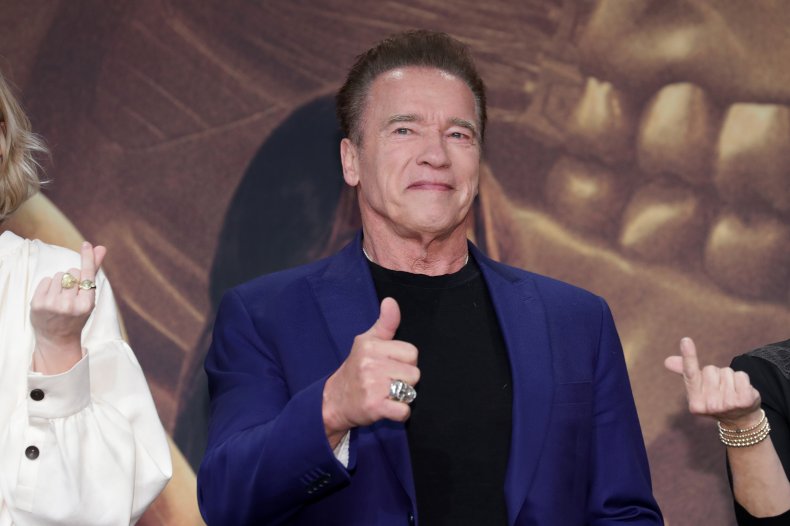 "I think it's necessary to modify or pause our usual traditions to really stop the surge this year," California Health Secretary Dr. Mark Ghaly said Tuesday, adding that it was "important to say no even when it comes to the closest people on our family."
Meanwhile, in New York, Governor Andrew Cuomo was forced to cancel his holiday after facing criticism for planning to have a holiday meal with his mother and daughter, who would have been traveling from Chicago.
"This is a special Thanksgiving. This is more special than the other Thanksgivings, because this is truly about giving thanks and honoring people who sacrificed for us this past year," Cuomo said per CNN. "I give thanks to all those essential workers who showed up for work every day. So we could stay home safely."
How is Hollywood celebrating?
A number of celebrities have posted about their Thanksgiving plans, with many urging others not to attend gatherings.
Here's how celebrities, including Arnold Schwarzenegger to Zooey Deschanel, are celebrating Thanksgiving this year.
"Happy Thanksgiving! Be thankful, be safe, and if you're able, give back," the Terminator actor tweeted alongside a video of his cooked Turkey.
"Every year, I donate 500 turkeys in East LA to the Hollenbeck Center. This year I couldn't be there in person to celebrate together, but I sent the turkeys. What do you do to give back during the holidays?" he tweeted.
The former Governor of California also urged his followers to stay home over the holiday.
New Girl actress Zooey Deschanel shared a wholesome photo of herself surrounded by a festive feast she will be sharing with her partner Jonathan Scott and her children.
"Practicing for Thanksgiving Dinner where I'll tell hilarious jokes and dazzle my guests (kids.@JonathanScott) with an impressive selection of homemade pies," she wrote.
Kerry Washington of Scandal fame asked why she still cooked enough food for 30 people when she's having a smaller dinner this year.
"We are having a safe, social distanced thanksgiving," she tweeted. "With only the few people who are already in our household.... so why am I still cooking for 30?!?!?! #ItsTheLeftoversForMe."
Comedian Kathy Griffin boasted of a very low key but relaxing affair.
"My perfectly fine Thanksgiving travel plans. Travel from bed to kitchen. Travel to dog bowls to feed them. Travel from kitchen back to tv."
Meanwhile, Emmy Rossum of Shameless fame said she was sad to be missing her family but looking forward to cranberry chutney.
"Yes, Thanksgiving without family is sad this year. BUT I'm making my cranberry chutney for me and Sam so it sucks slightly less. And this definitely sucks way less than getting Covid. Stay safe."
Chelsea Handler shared an unusual stuffing recipe with fans, tweeting: "2020 is the best reason to start stuffing your Thanksgiving turkey with marijuana."
Activist Bernice King said she would be praying for the sick and grieving this year.
"I'm not demeaning anyone's desire to be with friends and family for Thanksgiving," she wrote. "I simply implore us to demonstrate wisdom and compassion this year so that we can ensure that more friends and family are alive and among us next year. Praying for the sick and grieving."
"If you're going to a big Thanksgiving dinner, remember to take a Tupperware so you can have COVID for lunch the next day," Conan O'Brien joked.
While Nicki Minaj is preparing a feast. She wrote: "Heading in the kitchen to start #Thanksgiving dinner. Wish me luck y'all."
Broadway legend Kristin Chenoweth donned a festive hat and tweeted: "Forever #Thanksgiving Mood. Please be safe, my loves! Remember, wearing a mask & social distancing = caring."
While George Takei urged safety first.
"Someone died every forty seconds in America today of Covid-19," he tweeted. "Please be safe. The vaccine is near. Don't risk exposing your loved ones. Don't make this their last Thanksgiving."