Celebs Besides Kanye Who Faced Backlash Over Antisemitic Comments
Kanye West has made a flurry of antisemitic statements in recent weeks, facing outrage from Jewish organizations and anti-hate groups, but he's far from the only celebrity who has made offensive remarks targeting Jewish people.
Within the span of a month, West—who's legally changed his name to Ye—has free-fallen from grace thanks to his "White Lives Matter" shirt and litany of anti-Black and antisemitic statements.
Many celebrities have condemned the rapper, with radio host Charlamagne Tha God likening him to a "Nazi" during an interview with Newsweek this week.
On October 9, West tweeted that he intended to go "death con 3 on Jewish people." He later doubled down on Piers Morgan Uncensored, by saying he was "absolutely not" sorry for posting the tweet, acknowledging that what he said was "racist" and adding: "I fought fire with fire."
West has claimed that "Black people are also Jew [sic]" and tried to argue that he "can't be an antisemite." On October 16, he said on a podcast that he could "literally say antisemitic s**t" and not get dropped by Adidas. (The brand has since cut ties with him.)
West is only the latest celebrity to make antisemitic statements. Below is a list of others who faced heat over their comments about Jewish people.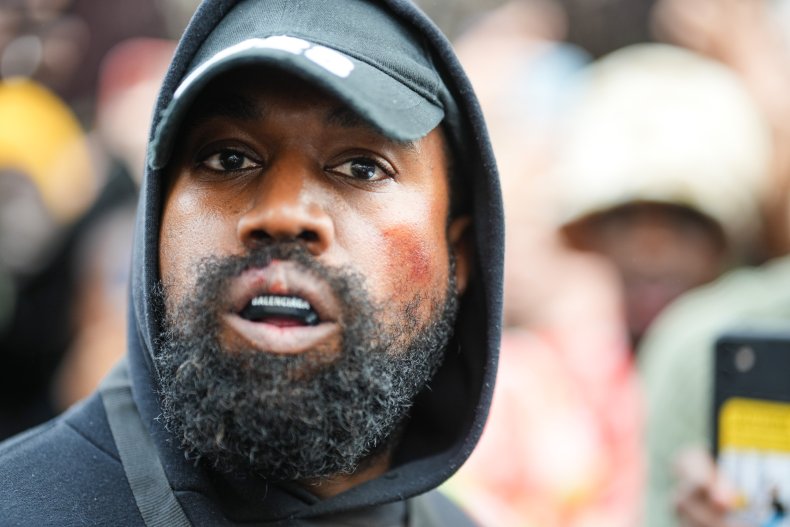 Mel Gibson
Hollywood leading man Mel Gibson has repeatedly made antisemitic comments over the years, so much so that Forward has compiled a lengthy timeline. One particularly egregious moment occurred around 1996, when he reportedly asked actress Winona Ryder, who is Jewish, whether she was "an oven dodger."
Gibson co-wrote and directed 2004's The Passion of the Christ, which critics noted was riddled with antisemitic stereotypes.
Perhaps most memorably, Gibson was pulled over for drunk driving in 2006 and blurted out "f**king Jews" and "the Jews are responsible for all the wars in the world." He also asked the arresting officer at the scene, who was Jewish, "Are you a Jew?"
Although Gibson apologized shortly after his arrest, he said in 2016 that he felt "annoyed" that people still bring up the tirade.
Nick Cannon
Musician, actor and TV show host Nick Cannon came under fire in 2020 for promoting antisemitism on his podcast, Cannon's Class. In the offending episode, he interviews Professor Griff from Public Enemy, who himself claimed in a decades-old interview that Jews are behind "the majority of wickedness that goes on across the globe."
Cannon asks during the interview why "we give so much power to the 'theys,' and 'theys' turn into illuminati, the Zionists, the Rothschilds," and brings up other antisemitic tropes. He was then fired from Wild 'N Out, his comedy improv show, by parent company ViacomCBS.
Cannon has since attempted to atone for his comments, telling Good Morning America in 2021, "My journey's not going to stop whether the person watching this forgives me or not. I'm still going to hopefully through this process be on the right side of history and bring people closer together."
ViacomCBS and Cannon later mended their working relationship.
Donald Trump
Former President Donald Trump has been accused of racism, homophobia, xenophobia and yes, antisemitism. The Republican posted on Truth Social this month the claim that: "No President has done more for Israel than I have."
Trump added: "Somewhat surprisingly, however, our wonderful Evangelicals are far more appreciative of this than the people of the Jewish faith, especially those living in the U.S. Those living in Israel, though, are a different story - Highest approval rating in the World, could easily be P.M.! U.S. Jews have to get their act together and appreciate what they have in Israel - Before it is too late!"
The White House under Democratic President Joe Biden has since blasted Trump's remarks as antisemitic.
Decades ago, Trump was also quoted as uttering this antisemitic and racist comment: "Black guys counting my money! I hate it. The only kind of people I want counting my money are short guys that wear yarmulkes every day."
Miley Cyrus
Pop star and former Disney powerhouse Miley Cyrus offended many in 2013 with remarks that struck fans as antisemitic.
"With magazines, with movies, it's always weird when things are targeted for young people yet they're driven by people that are like 40 years too old," Cyrus said during an interview with the website Hunger TV. "It can't be like this 70-year-old Jewish man that doesn't leave his desk all day, telling me what the clubs want to hear."
The singer further raised eyebrows two years later when she appeared at James Franco's bar mitzvah wearing a strange costume. Cyrus donned a humongous six-pointed star and a gold cape featuring the phrase "SHALOM Y'ALL."
John Galliano
John Galliano, a designer for House of Dior, faced swift blowback in 2011 after he hurled antisemitic insults toward a couple at a Paris bar. His verbal assault reportedly included him saying, "f**king ugly Jewish b**ch."
A separate video of the fashionista announcing "I love Hitler" also began to circulate, and Dior fired Galliano. A French court also found him guilty of "public insults" and he was given a suspended fine of 6,000 euros.
Galliano later apologized, telling Charlie Rose in 2013: "I hope through my atonement, I will be given a second chance."
PewDiePie
PewDiePie, the disgraced gaming vlogger né Felix Kjellberg, faced consequences after posting virulently antisemitic content. The Wall Street Journal reported in 2017 that within the span of six months, his YouTube channel featured nine videos with antisemitic humor and Nazi imagery.
One of the videos included paid performers holding up a sign that declared "Death to all Jews." He's also filmed himself doing a Nazi "heil" salute but claimed that his content was satirical, not antisemitic.
Disney cut ties with the YouTuber after learning of The Journal's investigation. He also issued an apology regarding the "Death to all Jews" sketch, saying, "I'm sorry for the words that I used, as I know they offended people. And I admit that the joke itself went too far."