Celebs React to Mitch McConnell Blocking Call for Unanimous Vote for $2K Stimulus Checks
Americans won't be getting $2,000 stimulus checks anytime soon after Senator Majority Leader Mitch McConnell blocked a proposal by Senate Minority Leader Chuck Schumer and Senator Bernie Sanders to unanimously pass the emergency funding. As the news broke, celebrities didn't keep quiet about McConnell's decision, and most of the responses were fueled by rage.
Twitter conversations on Tuesday centered on McConnell's decision to block a vote that would quickly pass the decision to increase stimulus checks from $600 to $2,000. While this doesn't mean the $2,000 checks won't be voted on in the future, it means McConnell's actions delayed the process of distributing another round of emergency relief.
President Donald Trump was the first to halt the $600 stimulus checks by requesting that $2,000 be awarded to qualifying Americans instead. The House of Representatives already voted to pass the increase, and McConnell acted as the one senator required to halt any vote to pass the relief.
Americans everywhere expressed annoyance in McConnell's decision to block the vote; even people like Ron Perlman, Rob Reiner and more voiced their opinions.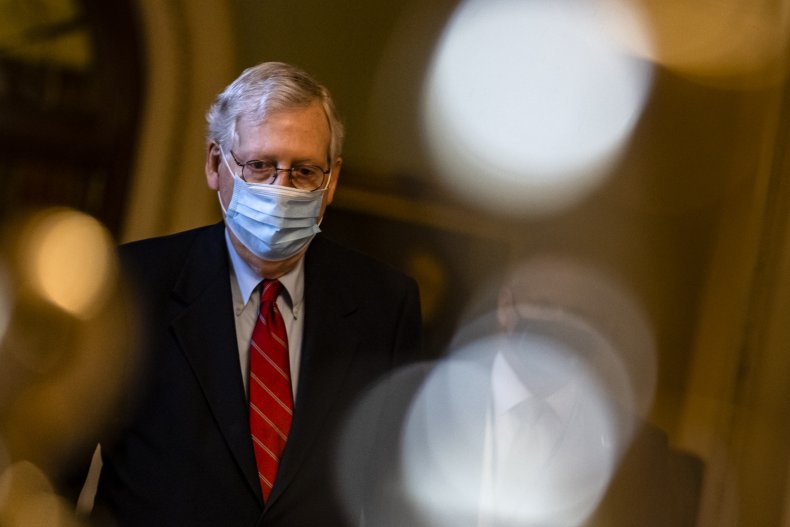 Ron Perlman had some strong words for McConnell: "Yo Mitch, do you ever wonder why you are the most hated m**********r in America? You make Scrooge and the grinch look like heroes. People are starving m**********r through no fault of their own. While you live off ill-gotten gains. You fat f**k."
Others used the moment to ask Georgia voters to vote Democrats into their remaining Senate seats. The Georgia Senate election will take place on January 5, and it's been a hot-button topic between parties, as two seats are up for election. If both elections go for the Democrats, the Senate will effectively have a Democratic majority, with Kamala Harris casting the tie-breaking vote.
Queer Eye star Jonathan Van Ness was one of many to ask for McConnell to be removed from power through American votes. He was joined by actors, politicians and more.
Both Republicans and Democrats continued to question what McConnell's intentions were behind halting the vote. Most appeared to believe McConnell didn't have the best intentions of the American people, regardless of political party. Even Trump responded in anger after McConnell blocked the vote.
"Unless Republicans have a death wish, and it is also the right thing to do, they must approve the $2000 payments ASAP," he wrote on Tuesday. "$600 IS NOT ENOUGH! Also, get rid of Section 230 - Don't let Big Tech steal our Country, and don't let the Democrats steal the Presidential Election. Get tough!"
So, while Americans wait for the outcome of the Georgia runoff election, it seems all eyes are on McConnell and the future of stimulus relief in America.
Correction: A previous version of this story mistakenly attributed a tweet to the actor Morgan Freeman.