Censured Sen. Ben Sasse Says Punishing Anti-Trump Republicans is 'Civic Cancer for the Nation'
Sen. Ben Sasse (R-Neb.) has warned that efforts to retaliate against Republicans who criticize former President Donald Trump are a "civic cancer for the nation."
Sasse was an increasingly outspoken critic of Trump as the former president's term ended in post-election chaos amid false claims of massive voter fraud, culminating in the January 6 U.S. Capitol insurrection and his unprecedented second impeachment. The senator denounced GOP retaliation efforts in a Thursday video directed at members of the Nebraska GOP State Central Committee, which plans to meet on February 13 with the possibility of censuring Sasse for his anti-Trump stance.
"Many of you are hacked off that I condemned his lies that led to a riot," Sasse said in the video, addressing committee members. "Let's be clear: the anger in the state party has never been about me violating principle or abandoning conservative policy, I'm one of the most conservative voters in the Senate. The anger has always been simply about me not bending the knee to one guy."
"I still believe, as you used to, that politics isn't about the weird worship of one dude," added Sasse. "The party could purge Trump skeptics. But I'd like to convince you that not only is that civic cancer for the nation, it's just terrible for our party ... We're going to have to choose between conservatism and madness. Between just trolling versus actually persuading the rising generation of Americans again."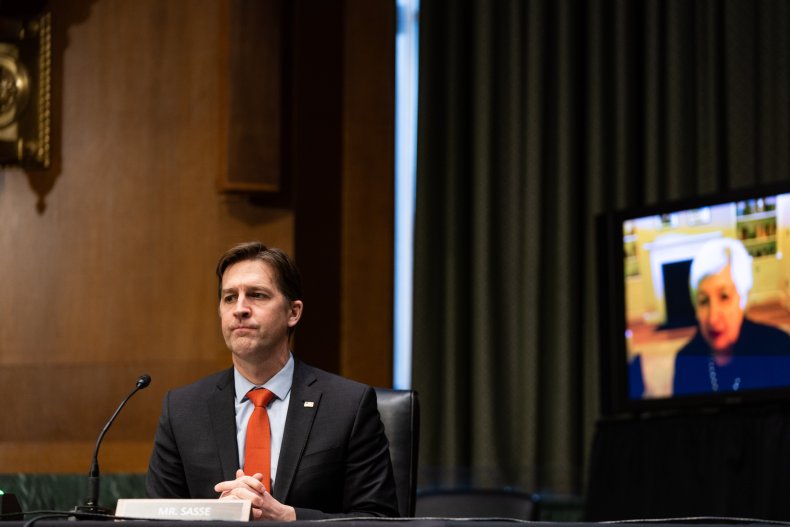 Sasse said that the committee was "welcome" to censure him over Trump for a second time, having already done so once in May 2016 for not supporting the Trump campaign sufficiently. The Scotts Bluff County Republican Party voted to censure Sasse on Thursday over his view that Trump's impending Senate impeachment trial for allegedly inciting the insurrection is constitutional.
The senator also reminded the committee members, some of whom he said were far more "angry about life" than other Nebraskans, that the 2020 election results showed that he is significantly more popular than Trump in Nebraska, having won tens of thousands more votes than the former president on the same ballot.
Newsweek reached out to the Republican Party of Nebraska for comment.
Other Republicans who have been censured by local Republican parties include Rep. Liz Cheney (R-Wy.), Rep. Adam Kinzinger (R-Ill.) and Rep. Tom Rice (R-S.C.), all of whom voted to impeach Trump on January 13. Arizona Republicans censured Trump critics who are not currently in office, including former Republican Senator Jeff Flake and Cindy McCain, the widow of deceased GOP Senator John McCain.
Cheney survived an effort to remove her as chair of the House Republican Conference on Wednesday, easily retaining the leadership position in a secret ballot vote despite backlash from Trump loyalists due to her impeachment vote, including censures from at least 10 county Republican parties in Wyoming.