Nebraska County GOP Censures Ben Sasse as Chair Laments Senator Can't Be Recalled
The Scotts Bluff County Republican Party in Nebraska chose to censure GOP Senator Ben Sasse for his comments regarding former President Donald Trump's impeachment, while the county chair lamented that state law does not allow Sasse to be recalled.
Sasse is one of just five Republican senators that publicly voted alongside Democrats to affirm that the pending Senate trial for Trump is constitutional, even though the former president is no longer in office. The Nebraska lawmaker has strongly criticized Trump in the wake of the violent January 6 attack on the U.S. Capitol by the former president's supporters. Sasse had also called out Trump's baseless claims about widespread voter fraud.
"President Trump was 'impeached' in the House with no investigation, evidence or due process," Scotts Bluff County GOP Chair Kolene Woodward wrote in an open letter to Sasse about the decision to censure. "Your support for such a mock judicial proceeding reminiscent of [Soviet Union leader] Joseph Stalin is reprehensible."
Woodward added, "You were elected to represent the people of Nebraska who overwhelmingly voted for President Trump. Your actions are a selfish, political ploy."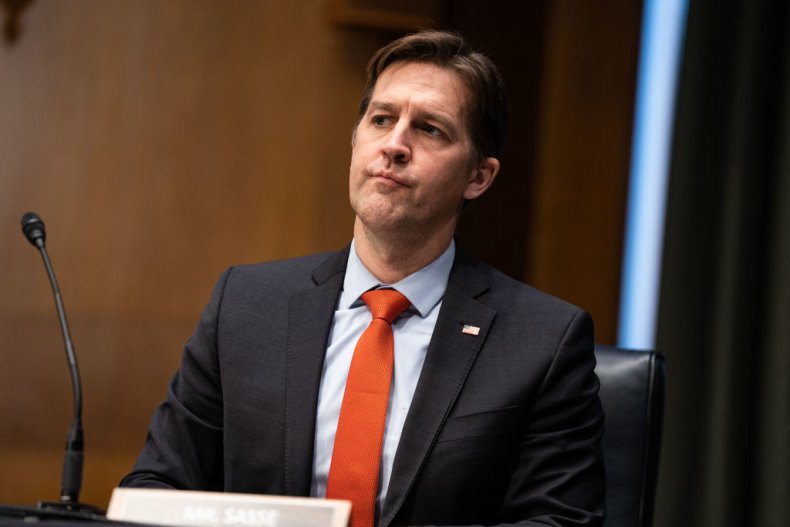 The county GOP chair later told the local Star-Herald newspaper that Sasse would not respond to Republicans reaching out for an explanation.
"Sasse has a record of bashing President Trump," Woodward said. "Well, in the movement, Trump didn't find us, we found him. We found a voice for our political views, and someone who would actually advance that voice, and Sasse is going completely against that.
"No matter what Trump does or whatever, going forward, there are 75 million people who want that voice to continue. Him [Sasse] not representing that is kind of our problem," Woodward told the newspaper.
Woodward also expressed frustration that there is no way to recall Sasse from the Senate.
"Unfortunately, in Nebraska we do not have recall," the GOP official said. "We don't have any way of recalling someone who goes to D.C. and does whatever they want, so we are also looking at [whether we can] add that in the future."
Newsweek reached out to Sasse for comment but did not immediately receive a response. A spokesperson for Sasse declined to comment when contacted by the Star-Herald.
The Nebraska Republican Party forwarded to Newsweek a letter it sent to Sasse on Tuesday, inviting him to a February 13 meeting where his recent public comments would be discussed.
"As you likely know, I have received word from a number of the State Central Committee
delegates who are interested in including in the agenda discussion and possible action related to your votes in the Senate and public remarks over the past several months. I would be remiss if we did not extend to you the opportunity to be a part of that discussion," said the letter, written by Dan Welch, chairman of the Nebraska Republican Party.
Although Trump carried Nebraska in the November election, Sasse actually outperformed the president. While Trump won 556,846 votes in the presidential race in the state, Sasse received 583,507 in his Senate race.
The House of Representatives voted on January 13 to impeach Trump for helping to incite the assault on the U.S. Capitol. Ahead of the attack by the pro-Trump mob, the president had urged his followers to come to Washington, D.C., for "wild" demonstrations. Then, during a January 6 rally, Trump urged his supporters to march to the legislative building, where lawmakers had convened to certify President Joe Biden's Electoral College win, and to "fight like hell" to keep him in power. Ten Republican House members voted alongside their Democratic colleagues to impeach Trump.
After the House vote, Sasse released a statement saying he would not make a decision on whether Trump should be convicted before the Senate trial. However, he strongly condemned the president's cautions.
"Everything that we're dealing with here—the riot, the loss of life, the impeachment, and now the fact that the U.S. Capitol has been turned into a barracks for federal troops for the first time since the Civil War—is the result of a particular lie," Sasse said in the statement.
"President Trump has consistently lied by claiming that he 'won the election by a landslide,' and by promoting fanciful conspiracy theories about dozens of topics and people connected to the November 3rd election," he said.
The senator went on to say "it's been obvious that the President was derelict in his duty to defend the Constitution and uphold the rule of law."
Other Republican lawmakers and individuals who have dared to criticize Trump or supported his second impeachment have faced censure and blowback from local GOP groups. At least 10 county-level Republican parties in Wyoming have censured Representative Liz Cheney, the No. 3–ranking GOP lawmaker in the House leadership, following her vote to impeach Trump. Last month, the Arizona Republican Party censured Cindy McCain, the wife of the late GOP Senator John McCain, as well as former GOP Senator Jeff Flake for their opposition to Trump.
This story has been updated with text from a letter the Nebraska Republican Party sent to Senator Ben Sasse on Tuesday.