Ex-GOP Senator Jeff Flake Urges Republicans to Stand Up to Trump Ahead of Certification
Former GOP Senator Jeff Flake is urging his fellow Republicans to stand up to President Donald Trump and his efforts to block the certification of the election results ahead of Congress' Wednesday joint session.
"It is hard to comprehend how so many of my fellow Republicans were able — and are still able — to engage in the fantasy that they had not abruptly abandoned the principles they claimed to believe in," Flake wrote in an op-ed published Wednesday in The New York Times.
The former senator from Arizona called on conservatives to follow in the footsteps of Georgia Secretary of State Brad Raffensperger, whom the president asked to "find 11,780 votes" that would overturn the election during a phone call revealed on Sunday.
"My fellow Republicans, as Secretary of State Brad Raffensperger of Georgia has shown us this week, there is power in standing up to the rank corruptions of a demagogue. Mr. Trump can't hurt you. But he is destroying us," Flake wrote.
After serving six terms in the House of Representatives and six years in the Senate, the lifelong Republican decided not to seek a second term in the Senate after the GOP embraced Trump.
"In a speech on the Senate floor on Oct. 24, 2017, I announced that because of the turn my party had taken, I would not run for re-election: the career of a politician that is complicit in undermining his own values doesn't mean much," Flake wrote.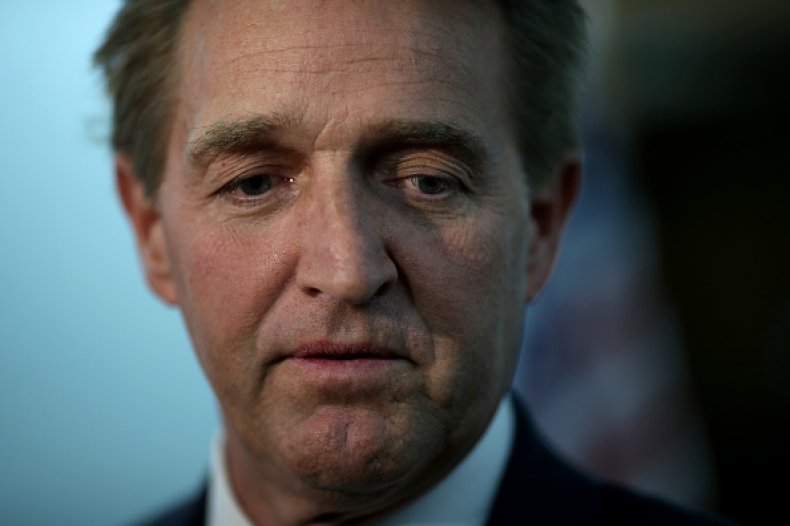 While his "obligation to end [his] congressional career by speaking out in defiance," Flake told a different story he saw during his early years in Congress.
He wrote about former Vice President Al Gore's willingness to respect the transition of power to a George W. Bush administration in 2001, calling it "an act of grace that the American people had every right to expect of someone in his position."
Flake called on Vice President Mike Pence, who Trump has pressured to block President-elect Joe Biden's win, to follow in the footsteps of Gore.
"Today, the American people deserve to witness the majesty of a peaceful transfer of power, just as I saw, awe-struck, two decades ago," Flake wrote. "Instead, we find ourselves in this bizarre condition of our own making, two weeks from the inauguration of a new president, with madness unspooling from the White House, grievous damage to our body politic compounding daily."
Congress will meet in a joint session on Wednesday to consecrate Biden's victory. However, 13 Senate Republicans, including Josh Hawley and Ted Cruz, have vowed to oppose certification of the Electoral College vote.
If the results are challenged, both chambers will be forced to debate and vote on Biden's win, an event Senate Majority Mitch McConnell has tried to avoid.
"How many injuries to American democracy can my Republican Party tolerate, excuse and champion?" Flake asked. "It is elementary to have to say so, but for democracy to work one side must be prepared to accept defeat. If the only acceptable outcome is for your side to win, and a loser simply refuses to lose, then America is imperiled."
Newsweek reached out to the White House for comment, but did not hear back before publication.