CEO of New York's Largest Hospital System Says 'No Crisis' Despite Surging COVID Cases
The CEO of New York state's largest hospital system urged people to stay calm amid the surge in coronavirus cases while appearing on CNN Tuesday.
Cases of infection in New York City—once an epicenter of the virus—have soared in the past few weeks. The city had a seven-day average of 8,025 new daily cases on Monday, up from 3,008 one week earlier, according to data from The New York Times.
But Michael Dowling, CEO of Northwell Health—which serves New York City, Long Island and Westchester County—told CNN that while the area's positivity rate is rising, it does not automatically mean an increase in hospitalizations.
When coronavirus cases previously surged, many hospitals were strained by the high numbers of patients. But Dowling said that as of Tuesday, hospitals in the Northwell Health network were still managing the case increases.
"We're doing very, very well. Very manageable. There's no crisis," he said.
About 460 COVID-19 patients are in the hospital system, less than 10 percent of its overall capacity, Dowling said.
The number was notably lower than the figure during previous peaks. During the first wave of cases, about 3,500 people were being treated for COVID-19 in the system's hospitals, he said. Last December, when New York experienced a winter surge, about 1,000 people were hospitalized with the virus.
Dowling called the current number "modest" while adding that cases have increased "slowly" since Thanksgiving. He also said he expects an increase in patients after the holidays.
"We will be able to deal with this. I think it's time for people to be a little bit calm, a little bit more rational," he said.
He encouraged people to get vaccinated and boosted against the virus to prevent hospitalization, noting that 80 percent of people in the hospital system were unvaccinated.
"This is a non-vaccinated issue," Dowling said. "If everyone was vaccinated, then the numbers in our hospitals right now would be very minimal indeed. This is something I cannot fully understand, why people are still out there, even in the current situation, deciding they don't want to get vaccinated. It makes no sense. It's illogical and, quite frankly, pretty stupid."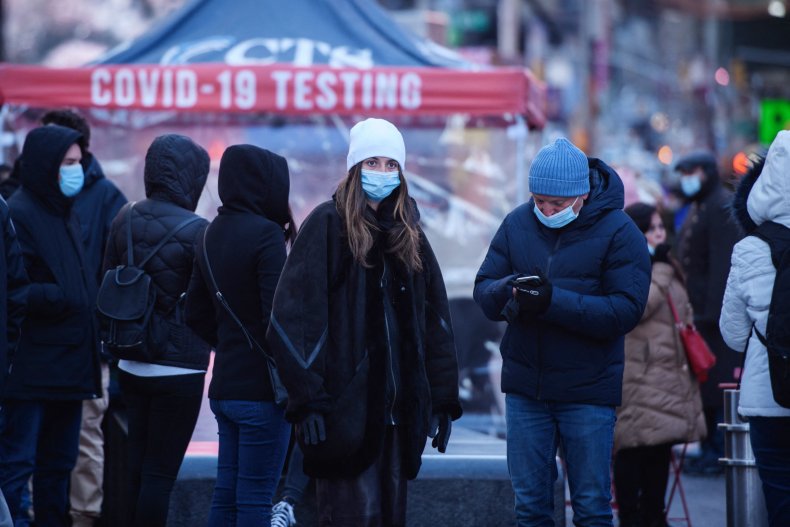 His remarks come as government leaders and health experts grapple with the surge in cases in the state. New York City recently expanded testing locations and is distributing at-home testing kits—after closing many sites because of low demand. The surge has forced the cancellation of some Broadway shows.
Health experts also warn that many more cases are on the way. Francis Collins, the outgoing director of the National Institutes of Health, said the United States could see 1 million cases per day as the Omicron variant takes hold.