CEO's LinkedIn Crying Selfie About Layoffs Met With Backlash
Braden Wallake, the CEO of HyperSocial, a company specializing in optimizing LinkedIn posts, has been criticized after posting a crying selfie of himself on a LinkedIn post in which he discussed layoffs in his company.
"This will be the most vulnerable thing I'll ever share. I've gone back and forth whether to post this or not. We just had to layoff a few of our employees. I've seen a lot of layoffs over the last few weeks on LinkedIn," Wallake wrote on LinkedIn on Tuesday. "Most of those are due to the economy, or whatever other reason. Ours? My fault."
The news about HyperSocial employees came amid a prediction of a wave of layoffs as a second consecutive quarter of gross domestic product (GDP) decline pushed the U.S. into recession under a common but unofficial definition. Economist Peter Schiff made this prediction adding that the current state of the labor market is often being cited by those who disagree that the U.S. is in or headed for a recession.
In his post, Wallake continued: "Days like today, I wish I was a business owner that was only money driven and didn't care about who he hurt along the way. But I'm not. So, I just want people to see, that not every CEO out there is cold-hearted and doesn't care when he/she have to lay people off. I'm sure there are hundreds and thousands of others like me. The ones you don't see talked about. Because they didn't lay off 50 or 500 or 5000 employees. They laid off 1 or 2 or 3...that would still be here if better decisions had been made."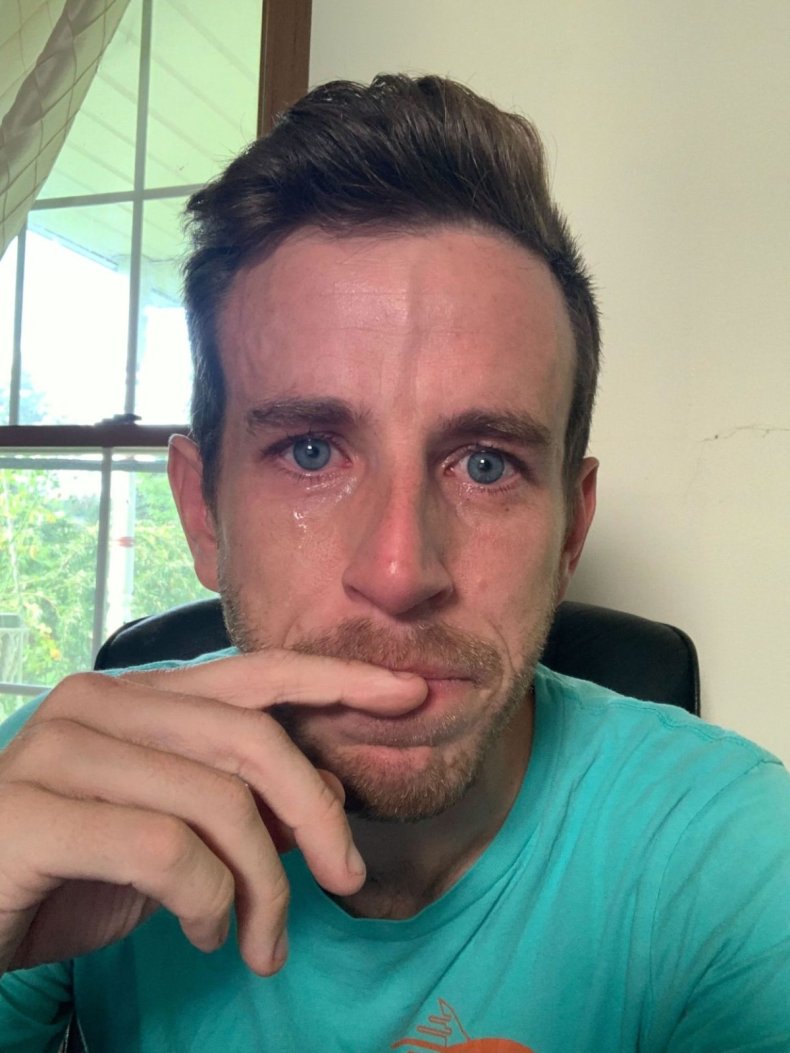 The post received mixed reactions from LinkedIn users after it went viral and got over 29,000 likes as of Wednesday afternoon.
Some of the comments praised the HyperSocial CEO for sharing his feelings and owning up to his past mistakes, while others expressed discomfort with his "cringe" picture and suggested that he should bear more responsibility for the layoffs.
One commentator, Victoria Boadiwah, said that a "truly empathetic and compassionate person" would never think of posting a crying selfie to their followers. "All optics and theatrics. A shame," she said.
"Why not decrease your own salary/overall comp in order to keep your employees? There's a difference between saying you take responsibility and acting like it," another LinkedIn user, Daniel K., asked.
To which Wallake responded: "I've lived well below my means, and my partner is much better at saving than I am."
Wallake also defended himself in another comment as he responded to LinkedIn user Jared Steele, who said that it wasn't a "great idea" to adopt a sea otter in the midst of a recession, a move the CEO announced in June.
"You realize that was a small donation made on my behalf as a birthday present to me? We don't actually have a Sea Otter running around our van," Wallake responded to Steele's comment.
Still, others praised Wallake's vulnerability with one commentator suggesting that he'd boost the hiring chances of those laid-off employees.
"It's incredibly powerful of you to be vulnerable and put your feelings out there. Hopefully people can take something away from that, and hopefully we'll see more of that, especially from men in positions from power," wrote Jonathan Jacobs, a senior marketing strategist.
However, another commentator, Chris C. Anderson, pointed out that the post was all about Wallake with less emphasis on employees, adding that the HyperSocial CEO referred to himself more than he referred to his workers. "Your post is still all about you, *your* feelings and how these layoffs impacted YOU," Anderson added.
Jamie Feldman, another LinkedIn user wrote: "Braden, I'm not sure if this is remotely fixable at this point, but the way you went about it was completely wrong (if this post was sincerely meant to support those you laid off rather than highlighting how difficult this was for you and you are a good guy). My suggestion...add a new post."
Newsweek reached out to HyperSocial for comment.