U.S. Headed for Massive Layoffs: Economist
Economist Peter Schiff predicted that the U.S. is headed for massive layoffs as a second consecutive quarter of gross domestic product (GDP) decline pushed the U.S. into recession under a common but unofficial definition.
Schiff made the prediction in a Twitter post Thursday, noting how the current state of the labor market has often been cited by those who disagree that the U.S. is in or headed for a recession.
"The Dems claim that we're not in a #recession because unemployment is still low," Schiff tweeted. "But weekly jobless claims continue to rise and mass layoffs are coming. In the meantime, even though most workers still have their jobs, they've all suffered huge pay cuts as a result of #inflation."
GDP, which measures the nation's total output of goods and services, declined at an annualized pace of 0.9 percent in the second quarter, the Commerce Department said Thursday. The first quarter of the year had a GDP decline of 1.6 percent. A commonly held definition holds that two consecutive quarters of GDP decline constitute a recession, meaning that the U.S. is now in one.
However, only a committee of economists at the National Bureau of Economic Research can officially declare the U.S. to be in a recession, and it has yet to do so. Other factors, like the labor market, are taken into account when the NBER makes this assessment.
Schiff told Newsweek that he thinks the U.S. economy has been in a recession for the whole year, "but a lot of companies have kind of been reluctant to admit that."
"Companies generally don't want to just start laying people off, especially if they're kind of optimistic, even if things are getting a little weaker," he said. "There's a lot of costs involved in hiring workers and training workers. Businesses will kind of hold on to them for a while even if there's a downturn."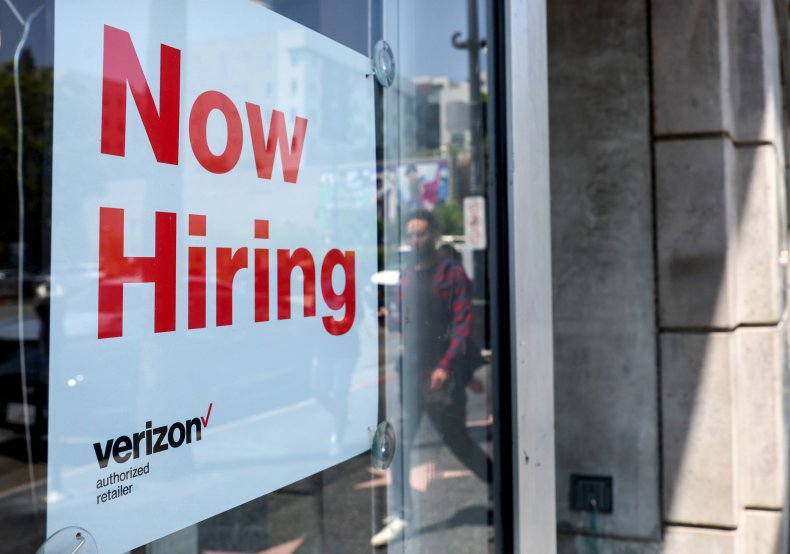 Speaking about the third quarter of 2022, Schiff said "it's pretty obvious that the economy is in a recession and the recession is going to get worse," which means "a lot of companies that were kind of holding on to their workers because they had a more optimistic view of the future are going to have a more realistic view, and I think there are going to be layoffs."
He pointed out that inflation, which in June had its largest year-over-year gain since 1981, has been eating away at workers' paychecks. A graph released by Statista last month showed that U.S. inflation had been outpacing wage increases for more than a year, meaning that many Americans can afford less now than they could before.
Once layoffs begin, Schiff said, some Americans will go from seeing a partial pay cut because of inflation to a full cut if they lose their jobs. Even those who are able to keep their jobs will still be affected by the elevated costs, he added.
"This is going to be a brutal recession," he said. "I think it's going to be more of a depression by the time it's over."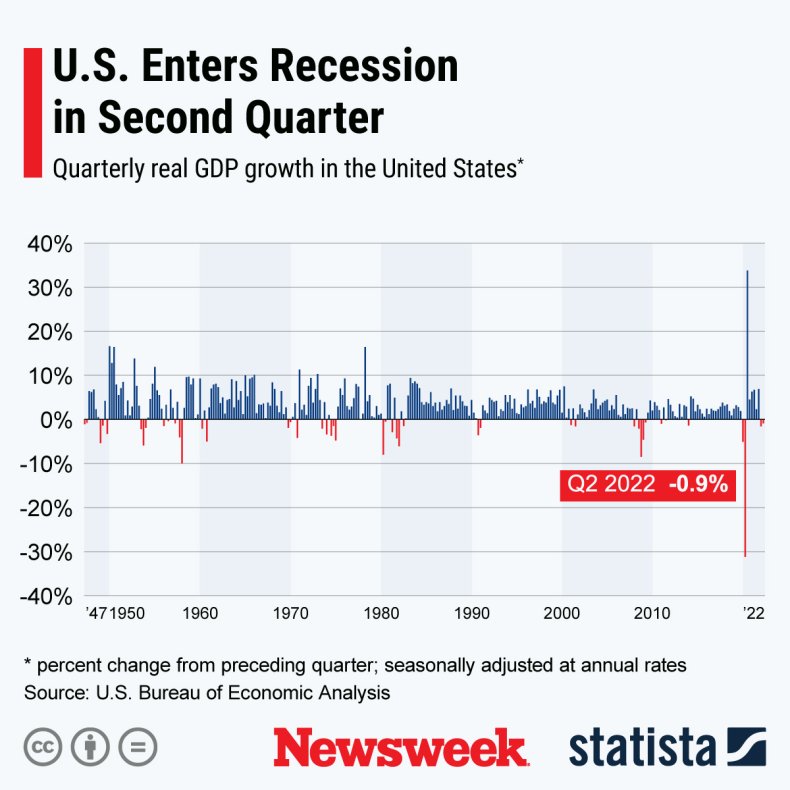 Ahead of the release of the GDP numbers, government officials pushed back on the opinion that the U.S. is in a recession and cited the NBER's specific definition, which is "a significant decline in economic activity that is spread across the economy and that lasts more than a few months."
The White House Council of Economic Advisors stressed in a July 21 blog post that it is "unlikely" that a second consecutive quarter of decline would indicate a recession.
"Recession probabilities are never zero, but trends in the data through the first half of this year used to determine a recession are not indicating a downturn," the post read.
Brian Deese, director of the U.S. National Economic Council, said during a press briefing Tuesday that the totality of the current economic data "is not consistent with a recession."
Additionally, Treasury Secretary Janet Yellen last Sunday told Meet the Press that the country isn't in a recession because we're creating "400,000 jobs a month."
U.S. employers added 372,000 jobs in June, according to Labor Department data.
As Schiff indicated in his tweet, unemployment is low. According to the Labor Department, the jobless rate in June was 3.6 percent for the fourth month in a row. This is sharply down from the 14.7 percent peak in April 2020, after the coronavirus pandemic's onset, which the Bureau of Labor Statistics said was the highest on record.
The Labor Department also released data Thursday that showed U.S. jobless claims fell for the first time in four weeks—for the week ending July 23—but they were at one of their highest levels since November 2021, Bloomberg reported. In another tweet, Schiff said unemployment applications fell because the previous week's numbers were revised upward.
The Labor Department initially reported 251,000 jobless claims for the week ending July 16, but the number was later bumped up to 261,000.