Chance The Rapper Denounces Terry Crews 'Endorsement' Over Kanye West Bid
Chance the Rapper is facing a roasting on Twitter after he distanced himself from actor Terry Crews after tweeting his support for Kanye West's presidential bid.
The "Coloring Book" musician completed a swift U-turn when he thought he received an endorsement from Crews on Twitter over comments about West's highly-debated run for office.
The artist, whose real name is Chancelor Johnathan Bennett, initially claimed that he had more trust in the rapper's ability to govern as president than Democratic nominee Joe Biden—and faced immediate backlash from his fans who urged him not to take his fellow rapper's foray into politics seriously.
Bennett conceded he no longer supported West, tweeting: "When you get to the top of a hill and realize you have to die on it."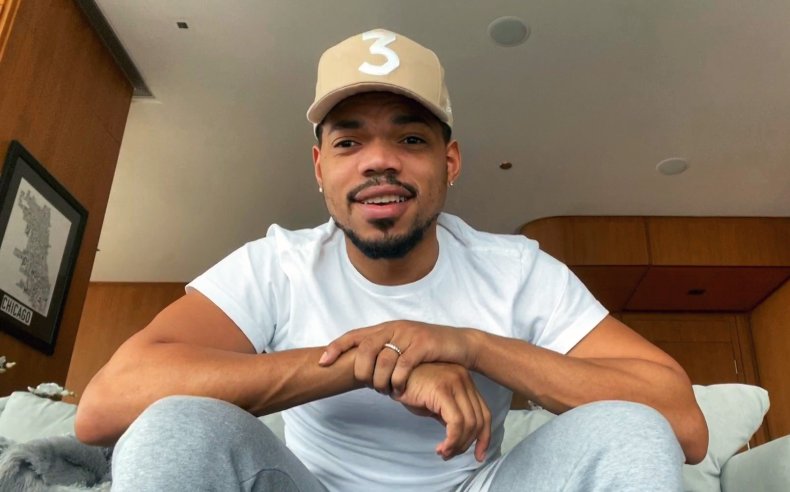 In response to this tweet, Crews wrote: "I feel your pain," before replying to a fan in a since-deleted tweet: "@chancetherapper is just doing the math, and seeing a lot of things that don't add up. This is what happens when you think for yourself."
The America's Got Talent host has been facing backlash lately for his views on the Black Lives Matter movement, which he has equated with what he calls "black supremacy."
Bennett, seemingly well-aware of the negative public opinion of Crews, immediately distanced himself, joking that he was now "sprinting down the hill" he had said he would die on.
"I understand the improbability of Ye winning the 46th Presidential seat and I understand that everyone voting for Biden isn't necessarily doing so enthusiastically," he tweeted. "I am for black liberation and do not accept my recent endorsement from Terry Crews."
He also posted a gif of a man frantically falling down a tall flight of stairs to further illustrate his point.
However, Crews responded again to say he "never endorsed" Bennett and that a "broken clock is right twice a day."
Newsweek has contacted Bennett for further comment.
Several Twitter users have been explaining why they feel Bennett was wong to publicly support West instead of Biden.
One person wrote: "You're not voting for Biden, you're voting to get Republicans out of power. There's an entire cabinet being replaced. You get a better Secretary of Education. Better Housing and Urban Development leader. Hopefully ICE won't be putting kids in cages. Its bigger than Biden vs Trump."
CNN commentator Keith Boykin tweeted: "If you use your platform to encourage Black people to vote for Kanye West, who has no chance of being elected to office, you will simply help re-elect racist Donald Trump."
Crews also recently clashed with CNN anchor Don Lemon in a heated debate about Black Lives Matter where they discussed Black-on-Black violence and achieving equality.
"There are some very militant type forces in Black Lives Matter and what I was issuing was a warning," the Brooklyn Nine-Nine actor said of his tweets about the movement. "I've been a part of different groups and you see how extremes can really go far and go wild. When a warning is seen as detrimental to the movement, how can you ever have checks and balances?"
He added: "Black people wanting to work with other races are being views as sellouts, they're being called Uncle Toms, you start to understand you're actually being controlled."