Charges Filed Following Discovery of Missing Minnesota Sisters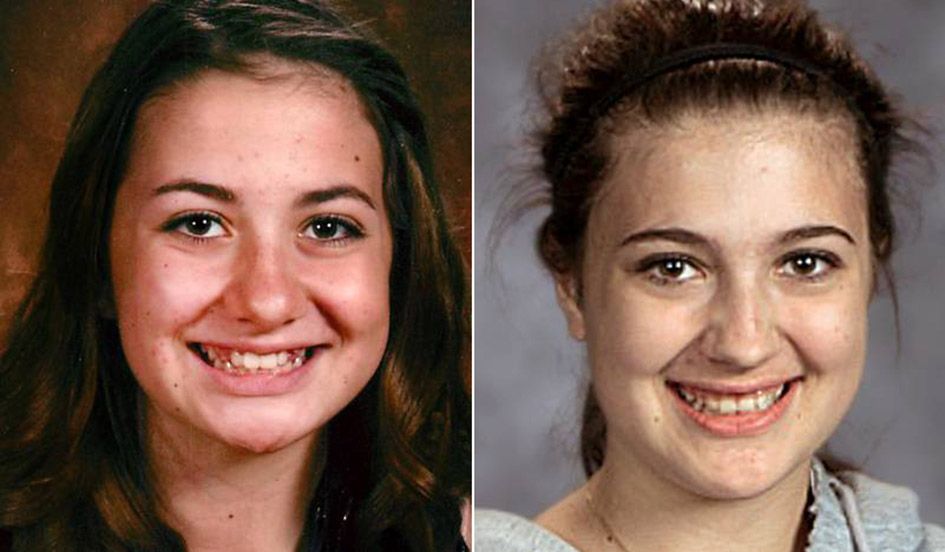 The owners of a Minnesota horse ranch, where last month police discovered two sisters who had vanished in 2013, are now facing charges and possible prison time, in the latest turn in a bizarre case involving the missing teenage girls who have said they were hiding from an abusive father.
The prosecuting attorney in Dakota County, Minnesota, charged ranch owners Gina and Douglas Dahlen on December 11 with deprivation of custodial rights for their involvement in the disappearance of teenage sisters Samantha and Gianna Rucki. An acquaintance of the couple, Dede Evavold, is facing the same charges.
"This is a very sad case that just shows how nasty divorce can be," says Detective Jim Dronen of the Lakeville, Minnesota, police, who has been on the case since 2014. "When you have people that are just working so hard to win, it can just make things really, really nasty and there's really no winners."
Samantha and Gianna Rucki, now 17 and 16, respectively, disappeared on April 19, 2013 after their mother lost custody of them and their three siblings following a bitter divorce and a judge ordered them to live with an aunt. In an unusual television interview that the sisters gave shortly after their disappearance, they said they ran away and that their father was abusive. Their father, David Rucki, has denied this, and police have said the father never gave up searching for the girls.
Police arrested the girls' mother Sandra Grazzini-Rucki, who is accused of aiding in the girls' disappearance, in October, when new information in the case came to light. This new intelligence also led police to White Horse Ranch, a nonprofit owned by the Dahlens that provides horse therapy to "broken children," according to its website. In November, the police located the missing girls there.
The Dahlens and Evavold now each face two felony counts of deprivation of custodial/parental rights—one count for each of the Rucki girls. Each charge has a maximum sentence of zero to two years in prison and/or fines of $1,200 to $4,000.
"Concealing children and keeping them from a parent for over two and a half years in violation of a court order is unconscionable," Dakota County Attorney James Backstrom said in a statement.
According to the criminal complaints, police seized computers and cellphones from Evavold during a search of her home in St. Cloud, Minnesota, which is a two-hour drive from the ranch, in October. Police say the phones contained voice memos of "audio statements" from the missing girls, dated April 21, 2013—two days after they disappeared. A photo that the police determined was taken that same day showed a street sign at an intersection where Douglas Dahlen owned an auto repair shop, which police say is the only building in the vicinity.
Another cellphone photo apparently showed Samantha Rucki pictured with a donkey in June 2013. Police said aspects of that image appeared to match those in images on the website for the ranch.
Douglas Dahlen told the police that the girls had been there for about two and a half years.
"From these interviews, it was determined that [Samantha] and [Gianna] had been dropped off at the Dahlen residence by Grazzini-Rucki and Evavold on April 21, 2013, and that the girls had been there since that date," the complaints say.
"There's no denying it's on my phone," Evavold tells Newsweek, referring to the files mentioned in the complaints. But she says the photo of the intersection was from a later date than what the police said. And despite the photo of Samantha, she would not comment on whether she had seen the girls since their disappearance.
"Had I been smart about things, I probably would have removed things," she says.
Evavold now finds herself in the type of situation she usually writes about on her website, Red Herring Alert, which aims to expose corruption, including in the court system.
"I've sat in courtrooms and watched really the illegitimacy of things," she says. "I've been involved in so many cases where I've watched people have their rights terminated and be charged with ridiculous [crimes]. It really is going after non-criminals and charging them while there are severe crimes that are out there. It's just backwards, it's inverted."
Evavold reiterated what she previously told Newsweek—that the girls ran away from home because their father is "a violent man."
"I'm not a criminal, and the wrong people are being harassed in this," she says.
Evavold previously told Newsweek that she was acquaintances with both the Dahlens and Grazzini-Rucki, but wouldn't comment on whether the Dahlens and Grazzini-Rucki knew each other. She now concedes they do know each other; They are "friends through circumstances," she says.
The Dahlens declined to speak with Newsweek after the discovery of the girls and did not respond to an interview request after the prosecuting attorney filed the charges. However, Sharon Henneman, who is on the board of White Horse Ranch and is close with the Dahlens, defends their decision to have the girls there, even as the National Center for Missing and Exploited Children listed them as missing.
"If you were told that there were two children who were in danger, would you take them in?" she says. "I think anybody who had a heart would take them in and Gina and Doug's heart is very big."
Henneman says she typically visits the ranch once or twice per month, and that more than 400 people visited this fall. Only the Dahlens and the two girls lived there. She says she never saw Grazzini-Rucki there, but did see the girls. "Whenever they talked about their father, they were afraid. You could see it in their eyes, especially Sam," she says. "If you would have looked in their eyes, you would have seen fear, and that's why. That's why I didn't say anything for two and a half years."
The girls received home schooling at the ranch, she says. "They had access to the Internet, they had [access to] keys and cars. They could have gone any time they wanted to…. Did they want to be found? They obviously didn't."
Police have said the girls were safe and in good health when they were found. Dronen says the Dahlens were cooperative and "certainly didn't try to hide the fact that the girls were there…. I think they were just trying to help as best they knew how."
David Rucki is now with the girls, and they are all in reunification therapy. Neither he nor his lawyer responded to Newsweek's request for comment, but his attorney told the Star Tribune that therapy "is going very well."
Dronen says he spoke with the Rucki family last week and heard that the girls "are doing well" and "trying to slowly get back into what you call normal life again." He says the investigation is ongoing, and he would not say if he expects the prosecuting attorney to file additional charges.
Grazzini-Rucki faces six charges of deprivation of custodial/parental rights. She is in jail, awaiting a pretrial hearing scheduled for February, according to Evavold's website. Press reports and family abduction watchdogs have said it's possible that Grazzini-Rucki, Evavold and the Dahlens are part of a network of anti-family court activists, a charge Evavold denies.
Henneman, from the White Horse Ranch board, worries the legal battle will be difficult for the Dahlens because they don't have money for lawyers.
"We live out here in Podunk, Minnesota…. Our collateral is a few blind horses," she says. Later, she adds by email, "They never got a dime for having the kids and there is no money."
For someone who faces up to four years in prison, Evavold sounds cool and collected. "I feel calm about it," she says, but she knows she's "going to have to probably go through a burning ring of fire."
The defendants were summoned, not arrested. Their first court appearance is scheduled for January 11.