Is Charles Manson Still Alive? Ted Cruz Briefly Thought So
Some of America seems to be confused about the mortality status of cult leader Charles Manson on Wednesday after Texas Senator Ted Cruz brought up the felon during a conversation with Supreme Court nominee Amy Coney Barrett.
In the conversation, Cruz claimed some Democratic senators want to give imprisoned felons voting rights. To make his point, Cruz singled out Manson. "One of our Colleagues, Senator Sanders from Vermont, over the course of the Democratic presidential primaries, argued not just felons who are out of jail—he argued that felons in jail—literally Charles Manson—serving a life sentence—or I guess multiple life sentences for murder—should be able to vote," he said. "As a policy matter, I think that's pretty out there."
It didn't take long for viewers to point out the obvious: Charles Manson is dead, and he has been for some time. The infamous cult leader, who led the Manson Family in the 1960s, died in jail in November 2017.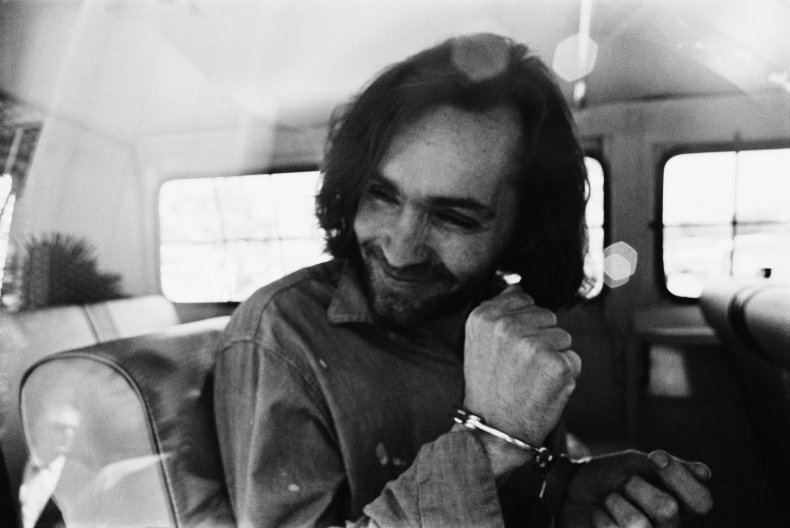 Manson was 83 years old when he died of a heart attack after other underlying health issues flared. He was only 37 years old when he was sentenced to life in prison. Though Manson is dead, some of his former Manson Family members are still alive. Current news often turns to Leslie Van Houten, who often asks for parole. Her most recent request was entered in July.
Cruz admitted he wasn't aware that Manson was dead before the conversation, but that didn't change his point.
Along with general mentions that Manson is dead, or questions about if and when the cult leader died, were longstanding jokes that Cruz could be the Zodiac Killer. There is nothing to back up this conspiracy, which surfaced when Cruz ran for President.
It appears Manson was a generic example of a legendary American killer (though Manson himself was not directly responsible for killings) Cruz used to make a point. And he's not the only one who has involved Manson in the argument for a felon's right to vote.
"He would send an absentee ballot to the Boston Marathon killer," wrote an editorial from the Washington Times in April 2019 in response to Sanders' pitch for all felons to receive voting rights. "Just because the likes of Charles Manson inflicted wholesale murder on society doesn't mean that such killers should be deprived of participating in making the rules for the democracy they abused and then spurned."
Manson involved or not, Cruz's point is clear. He doesn't see how giving felons imprisoned for heinous crimes the right to vote makes sense in 2020.
Cruz heard the criticism of invoking Manson's name, and doesn't seem to care. He followed up the conversation with his own tweet which exclaimed "your point?" when he was reminded Manson is no longer living.
Cruz also played into the Zodiac Killer conversation with a retweet from account @comfortablysmug.