Charles Mocked for Talking About Cost of Living While Sitting on Throne
Prince Charles was mocked on social media for announcing U.K. Government plans to tackle the cost of living crisis from a throne.
Queen Elizabeth II pulled out of making her annual speech at the opening of Parliament a day beforehand with palace staff citing mobility issues, leaving the future king to read it on her behalf on May 10.
The words are always written by the government and outlined Prime Minister Boris Johnson's agenda, meaning neither royal contributed to its content.
However, the pomp and ceremony of the State Opening of Parliament proved jarring for some when combined with the serious message about the soaring pressure on household budgets in Britain.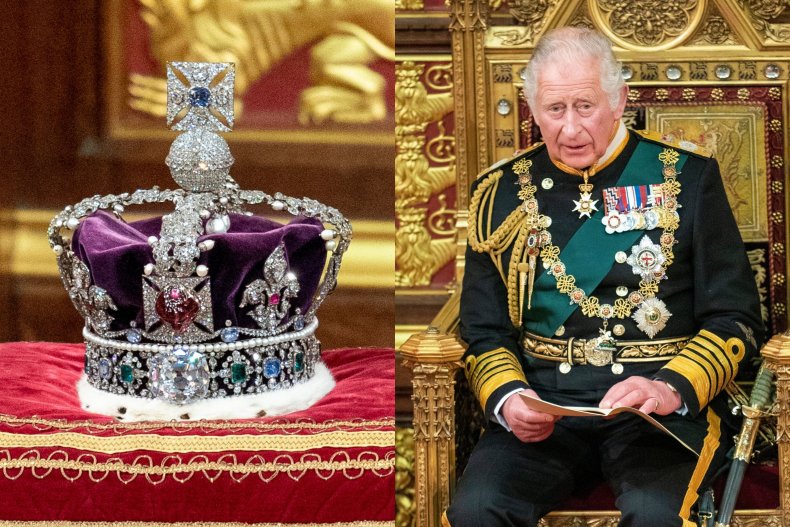 "Her Majesty's Government's priority is to grow and strengthen the economy and help ease the cost of living for families," Charles said.
"Her Majesty's Government will level up opportunity in all parts of the country and support more people into work."
"Looking forward to Prince Charles delivering the Queen's Speech where he'll tell us all he sympathizes with the cost of living crisis as it'll now cost us all loads more to heat his homes," comedian Tiernan Douieb wrote.
Journalist Eric Michael Garcia wrote: "Prince Charles talks about 'supporting more people into work,' as if the Monarchy isn't a glorified Philly Phanatic for the UK."
Australian radio presenter Matt Smithson wrote: "Her Majesty's Government will help ease the cost of living... says Prince Charles from a golden throne in the Palace of Westminster."
Some also picked up on the fact Elizabeth's crown was driven to Parliament in its own car to sit on a stand beside the Prince of Wales as a symbol of her presence.
Elliot Smith, a reporter for CNBC, wrote: "If anyone was still under the illusion we were a normal country, we just sent an expensive hat to parliament in its own car so Prince Charles could tell our politicians they can crack on."
Buckingham Palace announced Queen Elizabeth II would not make the State Opening of Parliament for the first time in decades on May 9.
"The Queen continues to experience episodic mobility problems, and in consultation with her doctors has reluctantly decided that she will not attend the State Opening of Parliament tomorrow," said the palace in a statement.
"At Her Majesty's request, and with the agreement of the relevant authorities, The Prince of Wales will read The Queen's speech on Her Majesty's behalf, with The Duke of Cambridge also in attendance."
While she has missed the occasion before, twice while pregnant, it is the first time Charles has read the speech in her place raising questions about the future of her reign.
Britain is in the grips of a cost of living crisis with the Bank of England warning inflation could hit 10 percent, The Guardian reported.
Johnson was recently confronted with the real-life consequences in a recent Good Morning Britain interview in which host Susanna Reid told the story of a 77-year-old pensioner, Elsie, who can only afford one meal a day and rides the bus to keep warm.
In the ITV interview, Johnson replied: "I don't want Elsie to have to cut back on anything."
He added: "The best answer is to help her abate the cost of energy as we are, but also ... to make sure there's a direct cut in her council tax as a result of what we're doing."