Prince Charles 'Desperate' for Throne, Won't Step Aside for Will—Tina Brown
Tina Brown, author and former editor of titles including Vanity Fair, Newsweek and The New Yorker, has said that she believes Prince Charles is "desperate" to be king and so will not "consider abdicating" in favor of Prince William when Queen Elizabeth II dies.
On an episode of The New York Times' Sway podcast with Kara Swisher, Brown has discussed Charles' future as a "transitional" king and wider issues faced by the monarchy today in connection with her new book The Palace Papers.
Discussing Charles in the context of the British public's attitude towards him as a future ruler and how he can make an impact following such a hugely popular reign as that enjoyed by his mother Elizabeth, Brown compares him with the son of Queen Victoria, Edward VII, commenting that:
"He was a kind of shock absorber for the next reign. And I kind of think that's what will happen in Charles. A lot of people are very pessimistic about Charles taking over. I actually am not one of those."
Swisher then asked Brown why it was that Charles' popularity is much lower than the queen's, to which she responded: "Because we know too much about Charles. He has always been something of an Eeyore feeling. One of his favorite mottos is, oh, just my luck. You know?"
"However, I actually think he'll surprise people. I think he will," she added.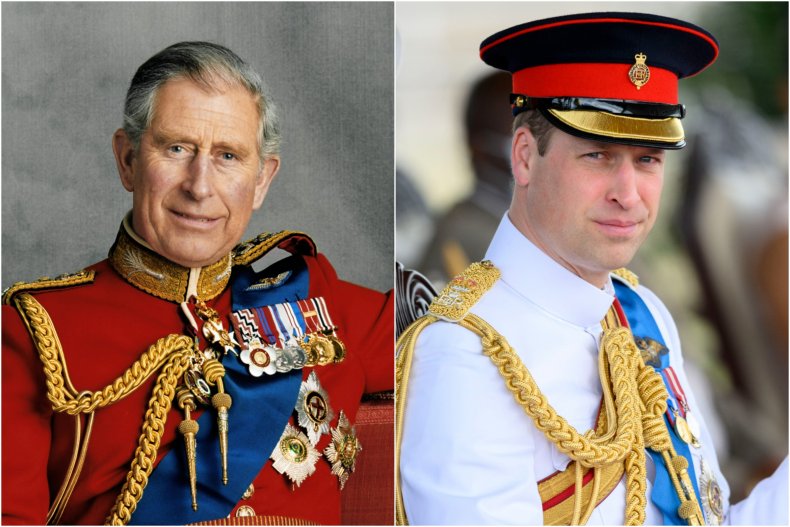 On the rumors that have circulated for decades as to whether Charles would potentially abdicate and give the throne to William when the next reign comes, Brown laughs at the prospect.
"Why anybody thinks that," she told Swisher, "I mean, Charles is so desperate for this freaking job. I mean, you know, he's waited 50 years for this. I mean, there's just no way."
The prince's wife, Camilla, Duchess of Cornwall, is also a consideration in this for Brown who—following the announcement by the queen in February that she wishes Camilla to be known as "Queen Consort" instead of "Princess Consort" when Charles is king—commented that, "as for Camilla, you think she's going to give up being Queen Camilla after all of this time?"
"No abdicating for Charles."
For Brown, though William's future as a monarch may look positive, she states her belief that it would be better for Charles to rule first.
She calls Charles "a transitional figure, and he can do a lot of things that, for William, might be harder, you know, less experienced than his father."
"His father has met every head of state in the world. He's very accomplished in his own way. And his own particular passions for environment and his long, long-standing belief that climate change was a huge issue that nobody wanted to talk about and didn't. You know, that was his issue, is his issue. And so he does have that authentic thing."
Brown's new book The Palace Papers looks at the lives of key players in the modern House of Windsor, charting their engagement with the media and personal handling of their royal roles. This includes detailed analysis of the royal and non-royal lives of Prince Harry and Meghan Markle.
Describing William as the "good son" and Harry as the "rogue", Swisher posed the question to Brown as to what state the once-close brothers' relationship is in today.
"It's very, very sad, actually," Brown said. "These two were really, really close. I mean, it doesn't matter who you talk to. They really were bound together by having lost their mother so young. I mean, Harry was only 12, and William was this big brother that he just consoled him. I mean, it was very, very close a relationship."
She added that "at a certain point, their destinies diverged."
Brown describes Harry's post-army days Invictus Games initiative as, "the most successful royal initiative that I think we've seen in the last sort of 30 or 40 years," and believes this boosted his star power enough to seek wider independent acclaim.
After his girlfriends were routinely stalked by the press, the prince found solace away from prying eyes and the long shadow cast by the "adorable bougie couple of William and Kate" in a new relationship with American actress Meghan Markle.
"He suddenly had a woman in Meghan who was worldly enough, experienced enough, to say, look, you're a star in your own right. You don't need all of this. You can do it on your own," Brown explained to Swisher. "And that's really where the great division became between Harry and William."
On sisters-in-law Kate and Meghan, Brown has said that the differences between the "traditionally raised and conservative and cautious" Kate and the "natural star power, very dynamic and very worldly" Meghan were marked from the beginning, but acknowledges that both women have suffered under royal pressures in their own way.
Given the many trails both modern and historic that the monarchy has faced, Brown remains optimistic about its future. "I believe it will trundle on," she told Swisher, "unless — for the immediate future, for instance, the only thing that could really make the monarchy collapse is if anything went wrong with the Cambridges, William and Kate. I don't believe that the monarchy could survive a lurid divorce of the monarch. I think that that would not — I really don't think it could survive. But you know, on the other hand, I mean, it's survived an awful lot. It survived Henry VIII beheading two of his queens. So I mean, it's survived a lot."