Prince Harry's U.K. Popularity Down 35 Points Since Meghan Wedding—Polling
Prince Harry's popularity in the UK has decreased by 35 percentage points over the past four years, a new survey by IPSOS has found.
In results published for the survey taken March 24-25, 2022, only 30 percent of respondents said they viewed the royal favorably. Forty-three percent filed an unfavorable response.
The slump in Harry's UK polling figures stands in stark contrast to those filed by YouGov in 2017 at the time of his engagement to Meghan—a high watermark for the prince's popularity.
In November that year, YouGov's survey revealed that 81 percent of respondents viewed Harry positively. Meghan was viewed positively by 49 percent. For this period Harry's popularity eclipsed that of Queen Elizabeth II by one percent.
The figures follow four years of public issues for Harry and Meghan which saw the tide of popularity turn in January 2020.
Reasons for the decline could be attributed to several factors. The couple stepped down as full-time working royals in 2020. They then made waves with a bombshell interview with Oprah Winfrey—during which allegations of racism were lodged at an unnamed member of the royal family—in 2021.
Most recently, Harry requested a judicial review against decisions made by the UK Home Office in regards to his security detail in the country in 2022.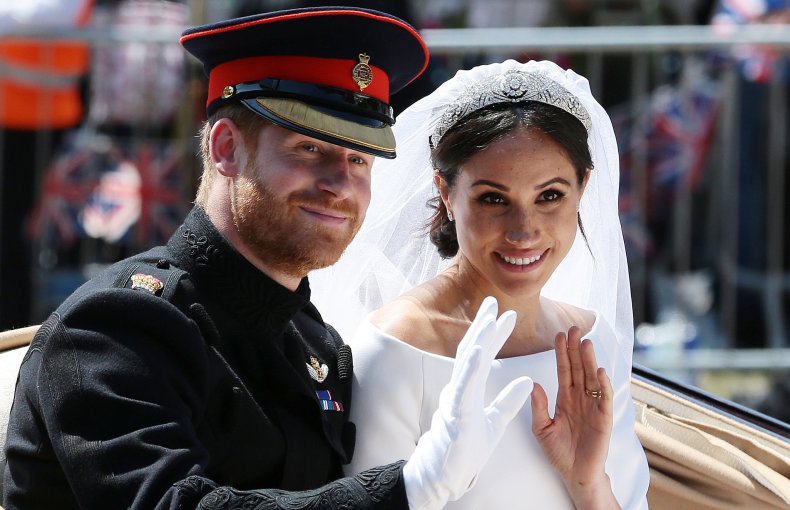 Polling has shown that Harry's numbers are not on a perpetual downward spiral, though. The prince's highest negative polling response through YouGov, until now, occurred in August 2021, shortly after a new epilogue of the biography Finding Freedom was released.
This showed Harry's negative response figure at 59 percent but that number declined, his popularity increasing throughout the winter months, with negative responses reducing to 54 percent in November and 53 percent in February of 2022.
As it stands Harry's popularity, according to IPSOS, is as low as it has been in the last 4 years and the same is reflected in data filed for Meghan. Fifty percent of respondents to IPSOS's poll for March 2022 viewed the duchess unfavorably with only 24 percent responding favorably.
This shows a decrease of 16 percentage points since the time of her marriage in 2018.
The Sussexes' figures come in contrast to those of Prince William and Kate Middleton. They see their positivity stand at 64 and 60 percent respectively.
William has increased his popularity by 2 percentage points and Kate by 4 over their 2018 IPSOS results.
Queen Elizabeth II remains the most well regarded member of the royal family with a 69 percent popular response.
But even the 95-year-old monarch has seen a 4 percent slump in her positivity since February 2022, per YouGov's March data. This correlates to the time reports were made that she may have assisted Prince Andrew in paying money to settle a sexual assault lawsuit brought against him in the United States by Virginia Giuffre.
The royals have experienced a wave of controversy since this IPSOS poll was performed. The Cambridges' widely criticized Caribbean tour could affect future numbers, as could Harry's decision not to attend the service of thanksgiving for Prince Philip. The Queen's public appearance alongside Prince Andrew is also expected to be be reflected in the next set of poll data to be released later this year.
THE ROYAL DATA
(Polled March 24-25, 2022 by IPSOS)
Prince Harry
Favorable: 30 percent
Unfavorable: 43 percent
Change in % since 2018: -35
Meghan Markle
Favorable: 24 percent
Unfavorable: 50 percent
Change in % since 2018: -16
Queen Elizabeth II
Favorable: 69 percent
Unfavorable: 12 percent
Change in % since 2018: +7
Prince William
Favorable: 64 percent
Unfavorable: 13 percent
Change in % since 2018: +2
Kate Middleton
Favorable: 60 percent
Unfavorable: 13 percent
Change in % since 2018: +4
Prince Charles
Favorable: 43 percent
Unfavorable: 25 percent
Change in % since 2018: +11
Prince Andrew
Favorable: 11 percent
Unfavorable: 69 percent
Change in % since 2018: N/A (not polled in 2018)