Prince Harry's U.K. approval rating has crashed 50 points in four years—despite remaining strong during a period of intense negative publicity.
The Duke of Sussex polled better than Queen Elizabeth II in Britain with 81 percent of the country viewing him positively at the time he got engaged to Meghan Markle, in November 2017, according to survey company YouGov.
At the time, 69 percent said they were not bothered by a royal marrying someone of a different ethnicity, compared to 14 percent who did have a problem.
And 49 percent had a positive view of Meghan, 14 percent felt negatively about her, and 37 percent said they did not know.
Prince Harry and Meghan Markle's U.K. Popularity
Harry maintained high levels of popularity throughout turbulent years of negative publicity which Meghan said drove her to suicidal thoughts.
The Duchess' standing also held steady during that time, with the British public seemingly unmoved by the media coverage, no matter how difficult it may have been for the couple themselves.
However, the prince's approval rating appeared to go into free fall after the couple quit royal duties for a new life in North America in January 2020, and Meghan's took a significant hit too.
Right up to October 2019, the prince remained on an approval rating of 71 percent but crashed in January 2020 when YouGov had him on 55 percent.
Over the same time period, Meghan's approval rating plunged from 55 percent to 38 percent, according to the data.
Since then, Harry's standing with Brits has continued to fall and stood at just 31 percent in the polling agency's most recent data—a full 50 points below his high at the point of his engagement.
YouGov's latest figures also put Meghan at an approval rating of 32 percent—the first time the agency has recorded the duchess as more well-liked than her husband.
The data appears to challenge Harry and Meghan's narrative that the media turned Britain against them.
While their decision to step back in January 2020 was criticised within the British press, they had been receiving negative publicity for a considerable time before that point.
Meghan Markle and Kate Middleton
Meghan told Oprah Winfrey in March that the turning point came in November 2018 with a story suggesting she had made Kate Middleton cry.
The Duchess of Sussex said during the CBS special: "The narrative with Kate, which didn't happen, was really, really difficult and something that I think that's when everything changed really."
Meghan may well have been giving an accurate impression of her experience of being criticised—but the data appears to contradict the notion the public's attitude was changed significantly by stories published at that time.
Other articles over the few months that followed included claims her staff found her difficult to work for, allegations of an argument over her wedding day tiara, a backlash against her for wearing black nail polish, criticism over how much she touched her baby bump and a now infamous story in The Daily Mail linking her love of avocado's with human rights and environmental problems.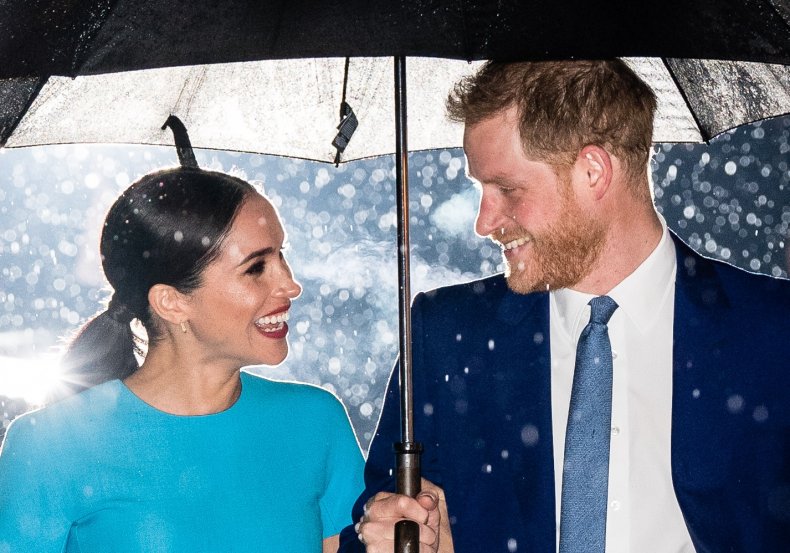 In the same month as the story about Kate, polling by YouGov put Harry on an approval rating of 77 percent and Meghan on 55 percent, The Independent reported.
By August 2019, Harry was down only slightly to 71 percent in a YouGov poll which also saw the queen drop by a similar margin to 72 percent.
He remained higher than his brother Prince William on 69 percent, while Meghan Markle was on 49 percent. By October 2019, Harry was again on 71 percent while Meghan was back up to 55 percent.
That same month, Meghan told ITV's Tom Bradby she was struggling with media criticism, acknowledging she was not okay.
Harry and Meghan Quit Royal Duties
However, that year the couple spent Christmas and New Year in North America and in January announced they were quitting royal duties.
They published detailed plans on their Sussex Royal website sparking accusations they had blindsided the queen.
The polling conducted that month, in January 2020, gave the first indication of the British public, rather than the media, turning against Harry and Meghan.
A You Gov survey at the time recorded 55 percent support for Harry and 38 percent support for Meghan compared to 80 percent support for the queen and 79 percent support for Prince William.
Shortly afterwards, Prince Harry gave a speech explaining their decision at a fundraiser for one of his charity's Sentebale.
He late told Oprah of a conversation he had the same evening, in the process outling his belief that the media had poisoned public support for the couple.
Asked whether racism was the reason they left Britain, Harry told Oprah: "It was a large part of it. I remember Sentebale fundraiser, and one of the people at that dinner said to me, 'please don't do this with the media. They will destroy your life'. This person is friends with a lot of editors and people like that.
"I said, sorry, elaborate, what do you mean by that. So I knew. He said, 'please understand that the UK is very bigoted'. And I stopped and I said, the UK is not bigoted.
"The UK press is very bigoted, specifically the tabloids. Is that what you mean? He goes, 'no, the UK is bigoted'. And I said, 'I completely disagree'. But unfortunately, if the source of the information is inherently corrupt or racist or biased, then that filters out to the rest of society."
The prince went on to tell his Apple TV docuseries The Me You Can't See how the couple did everything to try to continue with royal life.
He said: "It went to a whole new depth with not just traditional media but also social media platforms as well. I felt completely helpless.
"I thought my family would help but every single ask, request, warning, whatever it is, got met with total silence or total neglect.
"We spent four years trying to make it work. We did everything that we possibly could to stay there and carry on doing the role and doing the job, but Meghan was struggling."
It appears based on the polling that their standing with the U.K. public as a whole remained strong throughout this period of negative publicity and social media trolling.
Tragically, the decision to leave Britain to escape the discourse that existed at the time appears to have been the catalyst for a significant negative change in their perception among British people.
Polling Timeline
November 2017—Engagement Announcement
Prince Harry—81 percent
Meghan Markle—49 percent
November 2018—Story Claiming Meghan Made Kate Cry
Prince Harry—77 percent
Meghan Markle—55 percent
August 2019—After Wave of Negative Publicity
Prince Harry—71
Meghan Markle—49
October 2019—Meghan Reveals Struggle With Media
Prince Harry—71 percent
Meghan Markle—55 percent
January 2020—Meghan and Harry Quit Royal Duties
Prince Harry—55 percent
Meghan Markle—38 percent
July 2021—Four Months After Oprah Winfrey Interview
Prince Harry—31 percent
Meghan Markle—32 percent