Meghan Markle Says She Cried in Fight With Kate Over Flower Girls, She Was Falsely Blamed
Meghan Markle on Sunday night said she cried after an argument over flower girls with Kate Middleton before the Royal wedding.
"She owned it and bought me flowers," Markle said.
The claim came as Oprah Winfrey asked the Duchess of Sussex about the pressures of life in the royal family during their two-hour CBS prime time special.
Stories in the U.K. press in late 2018 suggest Meghan made Kate cry at a bridesmaid's dress fitting for Princess Charlotte before the May 2018 royal wedding.
However, Meghan tonight denied those allegations and said the Kensington Palace press office did not do enough to deny them.
Oprah asked: "What about the story 'You made Kate cry?'"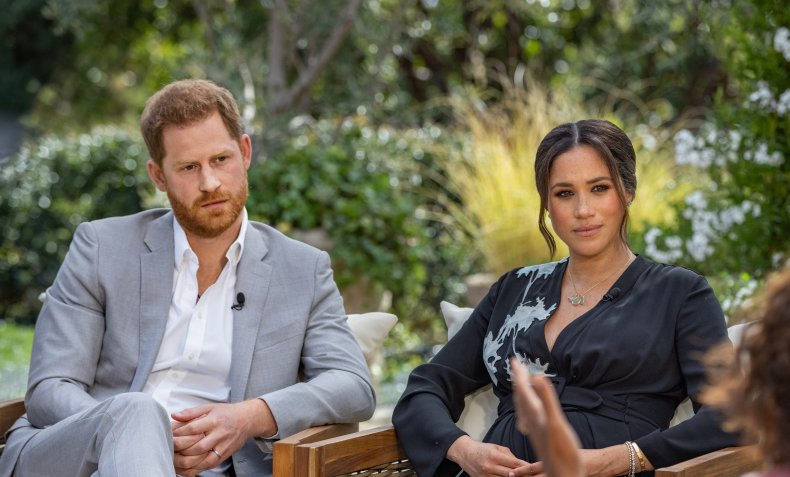 Meghan replied: "I heard about that one. That was a turning point. That was when everything changed."
Oprah asked: "Did you make Kate cry?"
The Duchess said: "No. The reverse happened."
She added: "She was upset about something. She owned it and bought me flowers."
The claim Meghan made Kate cry was first reported in the Daily Telegraph in November 2018 and followed up on the front page of The Sun.
The highly anticipated interview comes against the backdrop of bullying allegations against the duchess, made in an internal email sent a month earlier.
The newspaper printed extracts of an email Meghan and Harry's former Kensington Palace communications secretary sent a superior claiming she had bullied two PAs out of the royal household.
Sent in October 2018, and published this week in U.K. newspaper The Times, it also expressed concern for the treatment of a third member of staff.
At the time, Jason Knauf wrote: "I am very concerned that the duchess was able to bully two PAs out of the household in the past year.
"The treatment of X [name removed] was totally unacceptable."
He added: "The Duchess seems intent on always having someone in her sights. She is bullying Y [name removed] and seeking to undermine her confidence.
"We have had report after report from people who have witnessed unacceptable behavior towards Y [name removed]."
Meghan and Harry's spokesperson said: "The duchess is saddened by this latest attack on her character, particularly as someone who has been the target of bullying herself and is deeply committed to supporting those who have experienced pain and trauma.
"She is determined to continue her work building compassion around the world and will keep striving to set an example for doing what is right and doing what is good."