Meghan Markle, Prince Harry Staff Losses Trigger Debate With Echoes of Their Lowest Era
Meghan Markle and Prince Harry lost two key staff members—sparking a very familiar debate with echoes of the era when the press used the nickname "Duchess Difficult."
Newsweek revealed last week how Heather Wong had stepped down as executive director of Travalyst, having worked for Prince Harry for five years.
And yesterday it emerged Catherine St-Laurent had stepped back as executive director of the Archewell Foundation.
She had listed a second role as chief of staff to the couple, but a spokesperson for Harry and Meghan would only confirm she currently holds the executive director position and is stepping away from it.
Both women will stay on as advisers while moving onto new projects, but their departures have triggered familiar speculation in the British media over whether something is up.
A Daily Mail headline asked "How have Harry & Meghan lost ANOTHER right hand woman?" while their story quotes a royal insider who described the loss of St-Laurent as "really quite astonishing."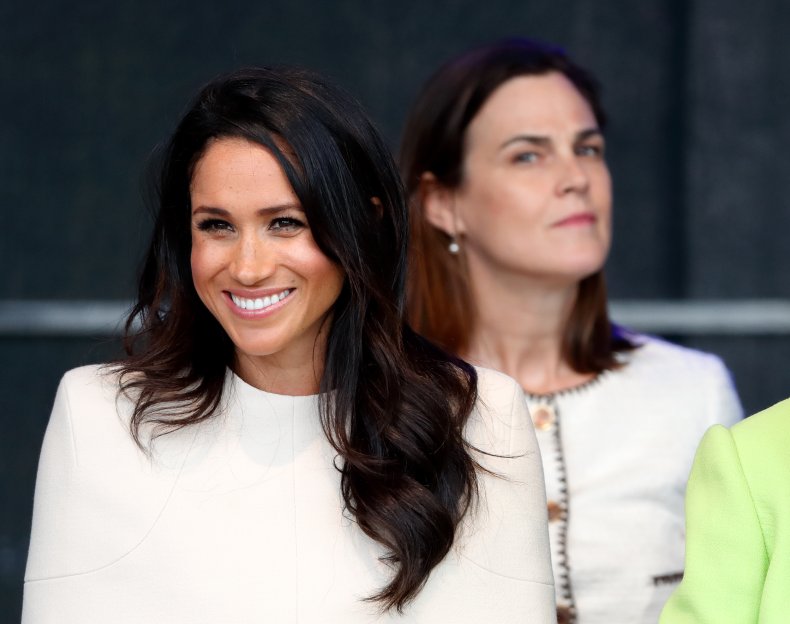 St-Laurent yesterday showed no sign of ill-feeling in a LinkedIn post: "It's been a privilege working closely with The Duke and Duchess of Sussex helping to establish Archewell Foundation in its first year."
Meanwhile, yesterday Camilla Tominey, associate editor of the Daily Telegraph, had a trans-Atlantic Twitter spat with Buzzfeed's Ellie Hall over whether St-Laurent's move constituted leaving.
Hall quote Tweeted Tominey, writing: "Catherine St. Laurent has moved into a senior advisory role at Archewell. (She is not leaving.)"
Tominey replied: "Yes, Ellie - as the copy clearly states. Thanks."
She added: "N.B. If someone is no longer doing the job they were appointed to do, and have been replaced by someone else, then they have stepped down from that job - regardless of what they do next. Or how it is spun."
The pattern of debate is familiar from Meghan and Harry's lowest period, when Meghan recently told Oprah Winfrey she was left suicidal by negative press coverage.
She was referencing a November 2018 article suggesting Meghan made Kate cry while stating it was before a January 2019 event at the Royal Albert Hall that she told Harry of her fragile mental health.
In December 2018, Meghan was nicknamed "Duchess Difficult" by a Sunday Times headline writer over suggestions staff found her hard to work for.
At the time, the newspaper counted two Kensington Palace aides who left Harry and Meghan's service including then private secretary Samantha Cohen.
The media went on to track more departures, including a female police protection officer, communications secretary Jason Knauf and assistant private secretary Amy Pickerill.
By January 2020, The Sun counted nine members of staff who had left over the space of 18 months, including two nannies and diversity campaigner and social entrepreneur Natalie Campbell, who worked for their Sussex Royal Foundation.
Hall's challenge to Tominey has echoes of Meghan's own rebuttal to the coverage of Cohen's departure.
The duchess listed nine stories in her privacy and copyright lawsuit which she said proved U.K. tabloid the Mail on Sunday and its sister titles had an agenda against her.
One was MailOnline's version of the Cohen story, which also referenced the departure of her personal assistant Melissa Touabti.
Their court filing states: "The suggestion that Samantha Cohen (who was private secretary for both the Duke and Duchess of Sussex) walked out on [Meghan] or that she did so because [Meghan] was 'difficult' to work for (a word used six times in this article) is untrue, as well as damaging.
"Ms Cohen, who was a highly respected and dedicated member of Her Majesty the Queen's staff for sixteen years, personally chose to come out of retirement in order to work for [Meghan].
"Far from walking out on her, Ms Cohen even extended the original year which she had intended to work for as she wanted to carry on helping the Duke and Duchess with their office.
"Further, [Meghan's] 'personal assistant' was in fact assistant to both the duke and duchess, and, contrary to what [the Mail] stated in the article, she did not 'quit'."
However, the denial may go some way to explaining why the British press may appear unconvinced by the fact Wong and St-Laurent have maintained advisory roles.
In the week before Meghan's bombshell Oprah interview, a bullying complaint made by Meghan and Harry's former communications secretary Jason Knauf was leaked to U.K. newspaper The Times.
It struck a very different tone to Meghan's court filing two years later.
Quoted in the newspaper, Knauf wrote: "I am very concerned that the duchess was able to bully two PAs out of the household in the past year.
"The treatment of X [name removed] was totally unacceptable."
He added: "The Duchess seems intent on always having someone in her sights. She is bullying Y [name removed] and seeking to undermine her confidence.
"We have had report after report from people who have witnessed unacceptable behavior towards Y [name removed]."
The Times reported the email also expressed concern for the pressure being placed on Cohen.
Two months after the email was sent, Cohen's departure was revealed in the Sunday Times.
This time though, Harry and Meghan are not operating within restrictions placed by royal protocol and a challenge to the media speculation took just hours to arrive.
St-Laurent's LinkedIn post stated: "Their commitment to compassion and wellbeing has been the undercurrent of all our activities both within the organization as well as with impactful projects of the foundation on the ground.
"I am deeply proud of what we've accomplished together and I'm honored to remain on as an adviser."
Following the bullying allegations, Meghan and Harry's spokesperson this month said: "The duchess is saddened by this latest attack on her character, particularly as someone who has been the target of bullying herself and is deeply committed to supporting those who have experienced pain and trauma."