Meghan Markle and Prince Harry's Chief of Staff Steps Back After a Year
Meghan Markle and Prince Harry have lost their chief of staff—a former aide to Melinda Gates—who is stepping back to an advisory role.
Catherine St-Laurent was their chief of staff and acting executive director of the Archewell Foundation.
She started working for the couple when they began their new U.S. lives in April last year. She will continue as an advisor on strategy for Archewell while launching a new social impact firm.
Her LinkedIn reads: "I am currently acting as Chief of Staff to The Duke and Duchess of Sussex as well as Executive Director of their non-profit, Archewell Foundation."
It adds: "From 2012 to 2019, I was responsible for Melinda Gates' profile and communications activities at the Bill & Melinda Gates Foundation and subsequently at Pivotal Ventures."
James Holt, their U.K.-based spokesman, is replacing her as executive director after four years working for the duke and duchess, including while they were at Kensington Palace.
The change comes after Newsweek last week revealed Heather Wong had stepped away as executive director of Travalyst, Harry's ecotourism initiative.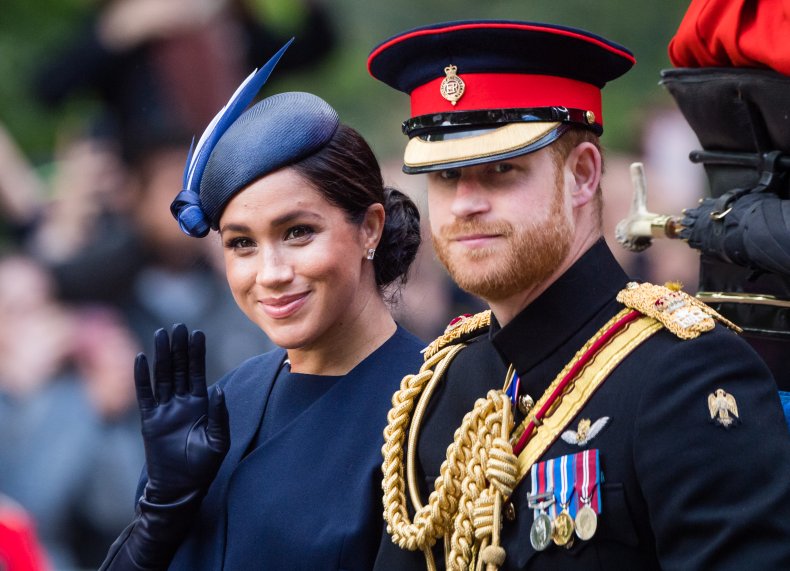 Alongside today's announcement, Archewell confirmed Ben Browning has been hired as Archewell's head of content, in charge of their Spotify podcasts and Netflix shows.
They will also be working with Invisible Hand, a New York-based social impact agency founded by Genevieve Roth.
Toya Holness, global press secretary for Archewell, said in a statement: "Archewell is incredibly pleased to welcome Ben, Genevieve and the Invisible Hand team to the organization.
"Along with the appointment of James Holt as Executive Director of Archewell Foundation, they join a rapidly expanding team that's deeply dedicated to advancing systemic cultural change and supporting compassionate communities across the world."
Meghan and Harry made their Spotify debut in December when a festive special dropped featuring a very special guest—their son Archie.
Stacey Abrams, Elton John, Naomi Osaka, James Corden, and Tyler Perry were all involved, but were upstaged by the youngest participant.
Meghan and Harry coached Archie, then 18 months, through saying "Happy New Year."
Experts have estimated the value of their Spotify deal at $35 million and their Netflix deal at up to $150 million.
When the Netflix deal was announced in September, Meghan and Harry released a statement to the New York Times.
It read: "Our focus will be on creating content that informs but also gives hope.
"As new parents, making inspirational family programming is also important to us."
Ben Browning, Head of Content for Archewell, said in a statement: "The Duke and Duchess of Sussex have founded a next-generation production company with best-in-class distribution partners in Netflix and Spotify, a clear agenda to inform and entertain, and an unparalleled global reach.
"From the moment they shared their vision for Archewell as a global production company that will spotlight diverse voices and share uplifting stories, I knew I wanted to help with this unique opportunity.
"It's a thrilling company to be starting."