Prince William and Kate's Caribbean Tour Has Been a Royal Disaster
Prince William and Kate Middleton's charm offensive in the Caribbean has triggered a debate about slavery, reparations and removing Queen Elizabeth II as the head of state in Jamaica.
The Duke and Duchess of Cambridge set off on their eight-day tour of Belize, Jamaica and the Bahamas to celebrate the queen's Platinum Jubilee, which marks her 70 years on the throne.
However, there was always the possibility of a charged atmosphere after Barbados removed the Monarch, 95, as head of state in November and amid editorials in Jamaican newspapers about the country becoming a republic.
If there had ever been a hope that William and Kate would turn Jamaicans off the idea then it fell flat fairly quickly when a protest was announced before their arrival in the country.
The Advocates Network called for an apology and reparations in an open letter to the couple that also declared the queen had "done nothing to redress and atone for the suffering of our ancestors."
There was an awkward exchange between Kate and an opposition politician who backs reparations and a break with monarchy, as well as some unfortunate pictures of the royals talking to children through a wire fence, on their first day, Tuesday, March 22.
Jamaica Is 'Moving On'
However, the major bombshell of the visit came on their second day in Jamaica when they met Prime Minister Andrew Holness and stood in stoney silence as he gave the strongest indication yet that the country wants to remove the queen as head of state.
Holness appeared to confirm the royal visit had thrust discussions about the country's future into the spotlight.
He said: "There are issues here, which are, as you would know, unresolved. But your presence gives an opportunity for those issues to be placed in context, put front and center, and to be addressed."
He added: "And we're moving on. And we intend to attain, in short order, our development goals and fulfill our true ambitions and destiny as an independent, developed, prosperous country."
Graham Smith, chief executive of Republic, a British group campaigning for the abolition of the monarchy, told Newsweek: "Jamaica is almost certainly going to become a Republic, it's happening.
"The tour has been a huge own goal. Holness essentially said to them, 'thank you for coming because you put this issue front and center of the public agenda.'
"They have turned up to basically advertise the fact that Jamaica needs to become a Republic, it's going to become one.
"The assumption was that they were going there to try to shore up support for the Monarchy and stop other countries following Barbados and I think it's had the direct opposite effect."
Prince William tackled the issue head on when he condemned slavery during a dinner at the governor-general's residence on March 23: "I want to express my profound sorrow.
Slavery was abhorrent. And it should never have happened."
However he stopped short of the apology protesters had asked for and made no mention of reparations.
"Jamaica, it's been a pleasure! Thank you," the official Twitter account of the Duke and Duchess said as they were leaving. Earlier William had said: "Already in our short time here in Jamaica, Catherine and I are delighted to have felt what Bob Marley described so many years ago – the spirit of 'One love' that Jamaica has given to the world and which makes this country so special."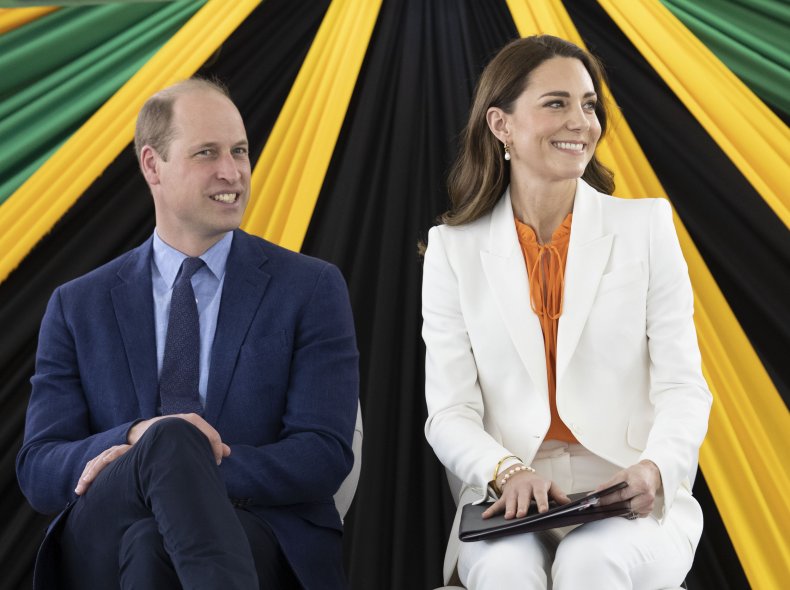 Calls for an Apology and Reparations
The problems started before the couple arrived in the Caribbean, when on Friday, March 19, Kensington Palace canceled a planned stop on their tour of Belize due to a protest.
That set the tone for what was to follow in Jamaica when around 350, including members of opposition party the PNP, waved placards and called for an apology from William and Kate.
Lisa Hanna, a PNP foreign affairs spokesperson, appeared to give Kate the cold shoulder in a video that went viral while they were still at the airport upon arriving in Kingston while other photos showed the pair exchanging warm words.
Hanna later Tweeted her support for reparations, adding: "We had a very interactive and pleasant conversation throughout the proceedings as we talked about family, our cultures and our people.
"There's no doubt at this time that we all seek our true independence and want to develop systems & strategies where we become free from the monarchy. But until then we will always remain a courteous and respectful country."
William and Kate faced further criticism after meeting Manchester City and England soccer star Raheem Sterling at a football pitch in Trench Town on March 22, where children gathered behind wire mesh fencing.
The duke took part in a game before the couple shook hands with the children through holes in the fence, with the pictures sparking a backlash.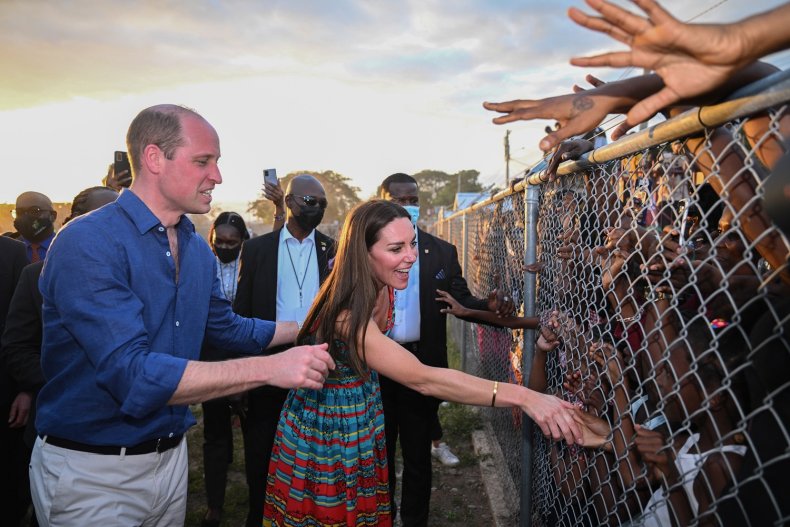 Some felt the social media reaction was over the top and pointed to the fact Sterling had also met the children through the fence but had not been criticized.
Smith said: "Even this photo that's been going around of them speaking to the local children through a fence, which is cropped and not as bad as it looked, the fact it did the rounds and caused such a reaction speaks volumes about how people are feeling about the monarchy and the British legacy in the Caribbean."
There was a further protest on their second day in Jamaica, when they visited the Caribbean Military Technical Training Institute near Montego Bay, according to the Press Association.
The news agency reported that around 12 members of the Rastafarian community gathered to demand slavery reparations from the royals.
For more royal news and commentary check out Newsweek's The Royal Report podcast:
More Trouble in The Bahamas
And there could be more problems on the next leg of the tour in The Bahamas, where The Bahamas National Reparations Committee stated: "The time is now for reparations."
A statement read: "This visit commemorates 70 years since Queen Elizabeth's ascension to the throne of imperialism—more years than The Bahamas has been a sovereign nation.
"The BNRC asserts that we as Bahamians must have a clear understanding of what this trip truly means.
"We are not beholden to the British Monarchy in any way and we do not owe them a debt of gratitude for anything—not for our culture, religion, or system of governance.
"Instead, the monarchy has looted and pillaged our land and our people for centuries, leaving us struggling with under-development, left to pick up the pieces."
It all strikes a very different tone to the publicity for the tour released by Kensington Palace with a February press release sent to Newsweek reading: "Throughout their visit, The Duke and Duchess will take the opportunity to commemorate Her Majesty's Platinum Jubilee."
Ingrid Seward, author of Prince Philip Revealed, said: "It seems to me that they are never improperly briefed. They are very, very well briefed and I think they must have been completely aware that this was going to happen. If it spiralled out of control that was beyond their control and they just had to deal with it."
On Jamaica removing the queen as head of state, she added: "I think it's inevitable. Times change and if they didn't change it would be very odd. I think it's very sad but if the majority of the population of Jamaica don't want the queen as their head of state that's the way it has to be."
There was also support for the royals, with crowds cheering their arrival at many of their engagements while William and Kate looked happy and smiling in many of the pictures.
However, if this proves to be the moment the Jamaican government fired the starting gun on efforts to remove Elizabeth as head of state, those happy moments may struggle for a place in the history books.
Correction on 03/24/22 at 2 p.m. ET; This article was corrected to say that Raheem Sterling plays for Manchester City.
Update on 03/24/22 at 3.19 p.m. ET with additional material