Meghan Markle and Prince Harry's bombshell Oprah Winfrey interview was broadcast exactly a year ago but 12 months on there remain numerous unanswered questions.
The Duke and Duchess of Sussex reached a global audience of around 50 million within days, including 17 million people via CBS in America and 12 million through ITV in Britain.
However, on the one year anniversary of the interview that shook the monarchy there remain significant unresolved aspects.
Prince Harry has been writing his memoir which is due for publication at the end of 2022—meaning some of these questions could still be answered.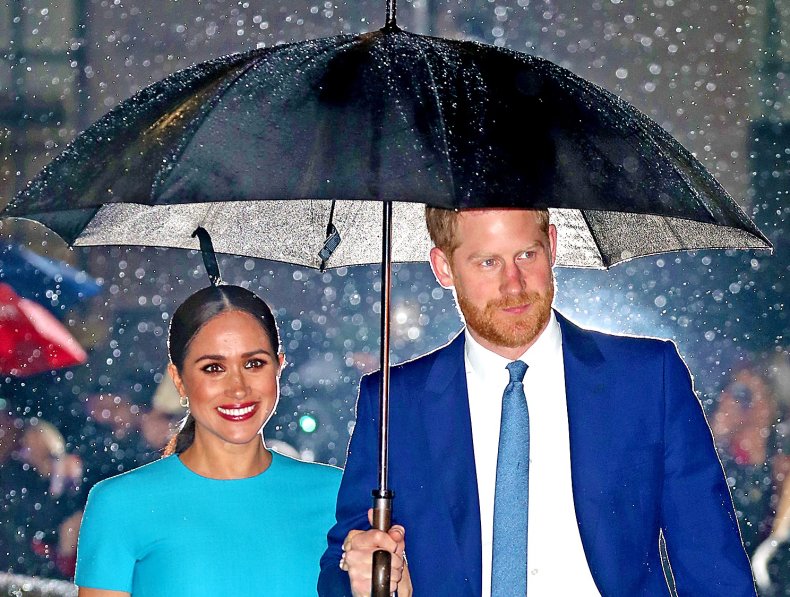 1. Who is the 'Racist' Royal?
Meghan told Oprah how an unnamed royal commented on how dark her unborn child's skin might be.
The Duchess said the remark came while she was pregnant, while Harry later suggested it may have been earlier.
Either way, the couple told Oprah off camera that neither the queen nor Prince Philip were involved.
Twelve months on, there is still no confirmation of the identity of the royal in question.
Meanwhile, Clarence House dismissed suggestions in a biography that it was Prince Charles.
Christopher Andersen's biography Brothers and Wives suggested Charles told Camilla: "I mean, what do you think their children's complexion might be?"
A spokesperson for the future king said: "This is fiction and not worth further comment."
2. When Did Meghan and Harry First Fall Out With the Royals?
Harry told Oprah the royals initially welcomed Meghan but everything changed after October 2018, when they went on a tour of Australia and the South Pacific.
He said: "You know, my father, my brother, Kate  and all the rest of the family, they were really welcoming. But it really changed after the Australia tour, after our South Pacific tour."
He added: "It was also the first time that the family got to see how incredible she is at the job. And that brought back memories."
Oprah suggested jealousy may have had a role to play and referenced a famous tour by Princess Diana to Australia early in her marriage to Prince Charles.
However, there is reason to believe there were tensions prior to that point, including over Meghan's father Thomas Markle.
Meghan told her communications secretary Jason Knauf the royals were constantly berating Harry in August 2018, prior to the Australia tour, in an email published through her lawsuit with The Mail on Sunday.
The duchess described how she wanted to write a letter to her father asking him to stop speaking to the media and gave her reasoning.
It read: "Even after a week with his dad and endlessly explaining the situation, his family seem to forget the context—and revert to 'can't she just go and see him and make this stop?'"
The message added: "By taking this form of action I protect my husband from this constant berating, and while unlikely perhaps it will give my father a moment to pause."
Prince William joked about tensions as early as February 2018 at the Royal Foundation Forum.
Asked whether there are ever family disagreements, William laughed and said: "Oh yes."
Harry said they "come so thick and fast" and added: "Working with family does have its challenges, but we're stuck together for the rest of our lives."
The saga suggests there may still be untold stories relating to tensions between the Sussexes and the royals which could be revealed in Harry's memoir.
3. Why Did Meghan and Harry Split From Kensington Palace?
Months after the Oprah Winfrey interview a new biography by historian Robert Lacey suggested William threw Harry out of Kensington Palace over allegations of bullying directed at Meghan.
Battle of Brothers read: "He certainly wanted Meghan removed, for a start, from the hitherto harmonious joint household that he and his brother had operated together for the best part of a decade. William simply did not want her or Harry around any more."
The book quotes a friend stating: "William threw Harry out."
The duchess has denied bullying through her spokesperson and her lawyer, however, the couple have never given an account of the reason the shared household at Kensington Palace split.
The two brothers and their wives had been based in separate apartments at the same London residence where Princess Diana previously lived with Charles.
However, Meghan and Harry moved out in 2019, relocating to Frogmore Cottage, in Windsor, and their private office also split from William and Kate Middleton's.
It is therefore unclear whether they agree with the account given to Lacey in Battle of Brothers or would suggest there is another reason behind the split in the royal quartet once nicknamed the "Fab Four" by the British media.
4. What Really Happened With Meghan Markle and Her Staff?
Meghan Markle was accused of bullying two PAs out of the royal household in an October 2018 email handed to U.K. newspaper The Times days before the Oprah interview in 2021.
At the time, Meghan's spokesperson said the leak was a smear designed to undermine the tell-all and a friend, Janina Gavankar, gave a different account to U.K. network ITV.
She suggested there is an alternative explanation for why one of the PAs left Kensington Palace that is yet to be publicly revealed.
Gavankar said: "I can also say that I'm personally glad that people are doing their due diligence because I also know why someone had to leave and it was for gross misconduct. The truth will come out. There's plenty of emails and texts about that."
A year on, there is still no confirmation of why the employee left.
Meghan still denies bullying though her lawyer appeared to soften the Sussex stance a little, describing how she did not want to "negate" anyone's experiences.
Jenny Afia, Meghan's attorney, told BBC documentary The Princes and the Press: "The overall allegation was that the Duchess of Sussex was guilty of bullying. Absolutely not. I think the first thing is to be really clear about what bullying is.
"What bullying actually means is improperly using power, repeatedly and deliberately to hurt someone physically or emotionally.
"The Duchess of Sussex has absolutely denied doing that. That said, she wouldn't want to negate anyone's personal experiences."
For more royal news and commentary check out Newsweek's The Royal Report podcast:
5. Who Decided Prince Harry and Meghan Markle Would Not Receive Police Protection?
Harry told Oprah Winfrey how he did not believe his police protection detail would be removed after he quit royal duties.
And 12 months on he does not appear to know himself who made the call on the secretive Royal and VIP Executive Committee (RAVEC).
In fact, the duke has launched a lawsuit against the U.K. Home Office over the move and his lawyer revealed during a recent court hearing that he wants to know more about the membership of RAVEC.
It is a question that may well be answered soon if the High Court in London gives him permission to pursue the case.
6. Did Queen Elizabeth II Ghost Prince Harry?
Harry described how he had a meeting scheduled with his grandmother in January 2020 as he was trying to negotiate his way out of the royal family.
However, the duke said the get-together was canceled and suggested royal staff, rather than the monarch herself, may have been behind the move.
Elizabeth would not drawn into specifics in her response to the interview, however, choosing simply to say that "some recollections may vary."
While she swerved the temptation to engage in a toxic dispute with the Sussexes, the brief public statement does mean we still do not know how the queen really felt about Harry's plans.
7. What is Behind Prince Harry and Prince William's Rift?
Prince Harry acknowledged his rift with Prince William during the interview but also suggested he was unwilling to unpack the dispute due to their shared bond over their mother's death.
The duke followed up with more criticisms of the royals in May via a podcast appearance and on his Apple TV mental health docu-series.
However, there was still precious little about his relationship with his brother specifically.
His memoir does give a further opportunity for him to shed light on the falling out at the end of the year.