William, Harry's Rift Actually Began When Harry Left the Army—Tina Brown
Author Tina Brown has claimed that a rift between Prince William and Prince Harry dates as far back as 2015 when the latter retired from the army leaving him "unsure of who he was."
The former editor of Vanity Fair told The Telegraph in an interview ahead of her upcoming book The Palace Papers: Inside the House of Windsor—The Truth and Turmoil, that the relationship between the royal princes is "very bad."
This follows a public distancing between the two in the wake of a series of reported rows during the period that Harry and Meghan Markle made known their intention to step down as full-time working royals in 2020.
Tensions arose during the tumultuous "Megxit" period. These were compounded a year later when the Sussexes gave an interview to Oprah Winfrey in which they claimed they felt unsupported by members of the royal family. Meghan also said Kate Middleton had made her cry before her wedding. Most controversially, the Sussexes alleged that an unnamed member of the royal family made racially insensitive comments about the skin color of the couple's first child.
As it stands, Brown says that the relationship between the once close siblings isn't good: "I'm told there's absolutely nothing going on between them at the moment."
But while many experts say Meghan's entrée into the royal fold sparked the rift, Brown says it was actually brewing for years.
The author traces the origins of the princes' strained relationship back to the period immediately after Harry's retirement from the armed forces. She told The Telegraph that the prince was "rattling around and not really knowing who he was" after he was no longer bound to follow the defined career path and structure which had been provided for him in the army.
Harry served in the armed forces for ten years, undertaking two tours of duty in Afghanistan. He also spent time with the Australian Defence Force in Darwin. In 2015, the prince resigned his commission and took up royal duties full-time.
Brown thinks the brothers' differences also contributed. Comparing William and Harry, Brown said, "The truth is the more charismatic prince was the younger brother."
"That was very difficult because Harry had to be contained and a role found for him," she said. "He had all these interests in Africa and conservation, but so did William and Harry always had to play second banana.
"Diana insisted, much to her credit as a mother, that the two boys would be treated the same, but they were never going to be the same, that's the problem. Gradually, that became a major tension between them. William had this great destiny ahead of him, he knew who he was. For Harry, it's like, 'Who am I going to be–Uncle Andrew? Am I really going there?'"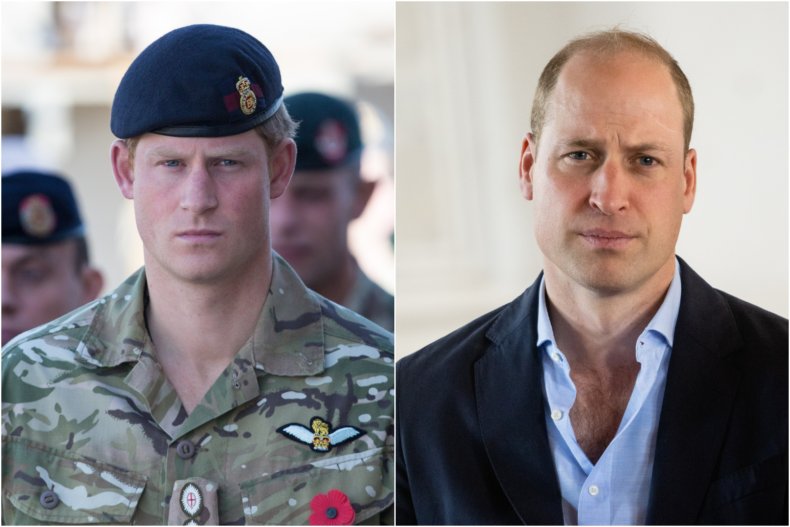 Working Life Post-Megxit
Since announcing that he was stepping down as a full-time working member of the royal family following his marriage to Meghan Markle, Harry has undertaken a number of projects focussing on communication.
In 2020 the Sussexes signed multi-million dollar deals with Spotify and Netflix to produce a series of podcasts and documentaries. Apart from their 2021 Oprah Winfrey interview, Harry also appeared on and co-created the Apple TV docu-series The Me You Can't See.
Harry and William have only publicly been seen together twice since the Oprah Winfrey interview: once at the funeral for Prince Philip in April 2021 and again in July 2021 at a statue unveiling in memory of their mother.
On the second visit, Harry is said to have been dangerously chased by paparazzi. This has led to his filing a court case against the U.K. Home Office regarding security for him and his family while in the country. It is the security arrangement that has been blamed for the prince's absence in the wake of a series of health scares suffered by the 95-year-old queen and his not attending the memorial service for Philip in March 2022.
At the time of the court case filing, a statement from a spokesperson for Harry read: "The U.K. will always be Prince Harry's home and a country he wants his wife and children to be safe in. With the lack of police protection, comes too great a personal risk."
Brown also asserted to The Telegraph that Harry has been invaluable to William as he steps into his royal destiny.
"Everyone talks about how much Harry needed William, and he did, but William also needed Harry because all those friends you think are so real, well, they still know you're going to be king," she said. "Only William's wife and his brother are going to be straight with him. And Harry could tease his brother and bring him down to earth. William depended on that, I'm told."
Relationships With the Press and Harry's Family
Brown considers Harry to be enormously like his mother, hot-headed at times and having a turbulent relationship with the press. As a former editor of multiple leading magazine titles, Brown believes that Harry's persistent suing of news outlets is a response to the way they treated his mother three decades ago.
"Harry decided to absolutely not capitulate to any dialogue with the press who he believes killed his mother, ruined his life and ruined Meghan's life," she said. "That's his view. And he's not entirely wrong."
Still, Brown believes that "doing battle with the British media is a lost cause."
As for the future of William and Harry's relationship—Brown sees more troubles ahead in the form of Harry's upcoming memoir.
"I think the memoir was actually more breath-taking than the interview. It was like, what?! Frankly, berating the world for the lack of privacy he's had and now he can't stop giving interviews... It's amazing," the author told The Telegraph.
"William was disgusted about Meghan's attack on Kate because she can't answer back. But that's nothing compared to how furious he's going to be when this book comes out.
"Because Harry's not going to go after the Queen, she's sacrosanct. And he probably won't go after Kate, whom he's very fond of. But he will go after Charles and Camilla and maybe William. And that's so unhelpful to them all at this particular moment; for William that's the big cloud in their relationship right now."