Prince Harry's Memoir Adds to Growing List of Projects That Surprised Royal Family
Prince Harry announced he is writing his "wholly truthful" memoirs tackling the highs and lows of royal life—after signing lucrative Netflix and Spotify deals.
The Duke of Sussex said he will be "telling his story" after previously accusing the media of lying about him and his family.
The bombshell autobiography adds to a growing list of major projects, after Harry and Meghan signed multi-year online streaming and media deals.
And some of these have caught the royal family off-guard, with Queen Elizabeth II not told in advance of their Netflix deal.
The royals were also not given an advanced view of their CBS prime-time interview with Oprah Winfrey before it aired on March 7.
And the palace learned about criticisms contained in Prince Harry's Apple TV series The Me You Can't See when approached for comment by Newsweek.
In relation to the memoir, Prince Harry did tell his family in a private conversation, though a spokesperson told Newsweek this was done very recently.
Publisher Penguin Random House had to rush out a press release after news of the book appeared on the front page of the New York Post, suggesting Harry too was blindsided by a leak to the newspaper.
The prince previously took on other projects including a role as chief impact officer for career coaching app Better-Up.
Meanwhile, wife Meghan Markle has written a best-selling children's book, The Bench, and invested in her first start-up, Clevr Blends, an instant oak milk latte manufacturer.
Yesterday, Monday, Prince Harry said in a statement announcing the book: "I'm writing this not as the prince I was born but as the man I have become.
"I've worn many hats over the years, both literally and figuratively, and my hope is that in telling my story—the highs and lows, the mistakes, the lessons learned—I can help show that no matter where we come from, we have more in common than we think.
"I'm deeply grateful for the opportunity to share what I've learned over the course of my life so far and excited for people to read a firsthand account of my life that's accurate and wholly truthful."
Harry and Meghan announced their multi-year Netflix mega deal in September 2020—with experts at the time telling Newsweek it could be worth up to $100 million.
Their first project will be Heart of Invictus and will follow the competitors in The Invictus Games The Hague 2020, which will take place in 2022 due to coronavirus.
Their second project will be titled Pearl and will see Meghan team up with David Furnish, husband of Elton John and a former friend of Princess Diana.
Last week, Meghan said: "Like many girls her age, our heroine Pearl is on a journey of self-discovery as she tries to overcome life's daily challenges.
"I'm thrilled that Archewell Productions, partnered with the powerhouse platform of Netflix, and these incredible producers, will together bring you this new animated series, which celebrates extraordinary women throughout history.
"David Furnish and I have been eager to bring this special series to light, and I am delighted we are able to announce it today."
The couple published their first content for Spotify in December when they produced a festive special featuring their son Archie, who wished their listeners a Happy New Year.
Experts told Newsweek at the time that the deal could be worth around $35 million dollars and Harry and Meghan recently hired a new head of audio, Rebecca Sananes.
Meghan's own writing career appears to be going well after The Bench topped The New York Times bestseller list for children's picture books in June.
In a statement on her Archewell website, Meghan said at the time: "While this poem began as a love letter to my husband and son, I'm encouraged to see that its universal themes of love, representation and inclusivity are resonating with communities everywhere.
"In many ways, pursuing a more compassionate and equitable world begins with these core values.
"Equally, to depict another side of masculinity—one grounded in connection, emotion, and softness—is to model a world that so many would like to see for their sons and daughters alike. Thank you for supporting me in this special project."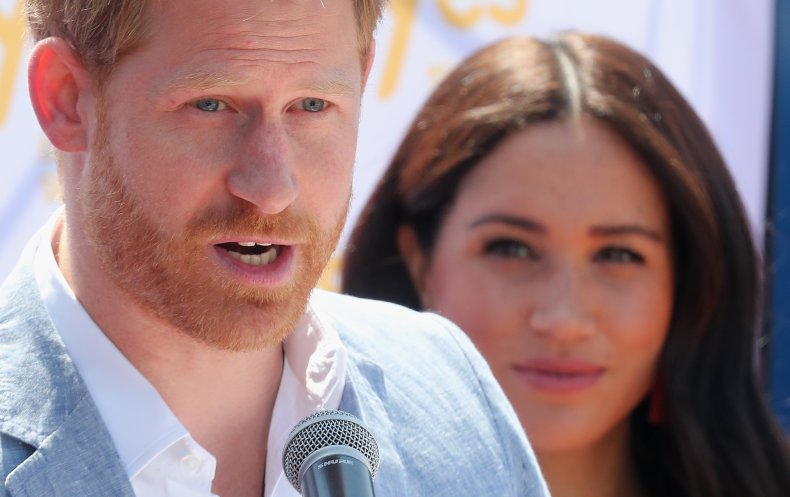 In Focus
Meghan Markle looks on as Prince Harry speaks during a visit to a township to learn about Youth Employment Services on October 02, 2019, in Johannesburg, South Africa. He is writing a tell-all memoir on his royal life and exit.
Launch Slideshow

3 PHOTOS