Prince Harry and Prince William Speak at Prince Philip's Funeral Amid Rift
Prince Harry and Prince William have spoken to each other face to face at Prince Philip's funeral amid the fallout from the Oprah Winfrey interview.
The royal brothers were in open conflict with each other after Harry and Meghan Markle claimed an unnamed royal family member expressed concern their unborn baby's skin might be too dark.
The Duchess of Sussex also claimed William's wife Kate Middleton made her cry during the CBS primetime special, broadcast on March 7.
However, in the days afterwards Prince William told journalists the royals were not a racist family.
The rift had become so serious palace arrangements for the funeral ensured they did not walk side by side behind Prince Philip's coffin.
Instead, they were separated by cousin Peter Phillips and even in the chapel's narrow aisle between the pews, when they could only walk in twos, Harry walked behind his brother.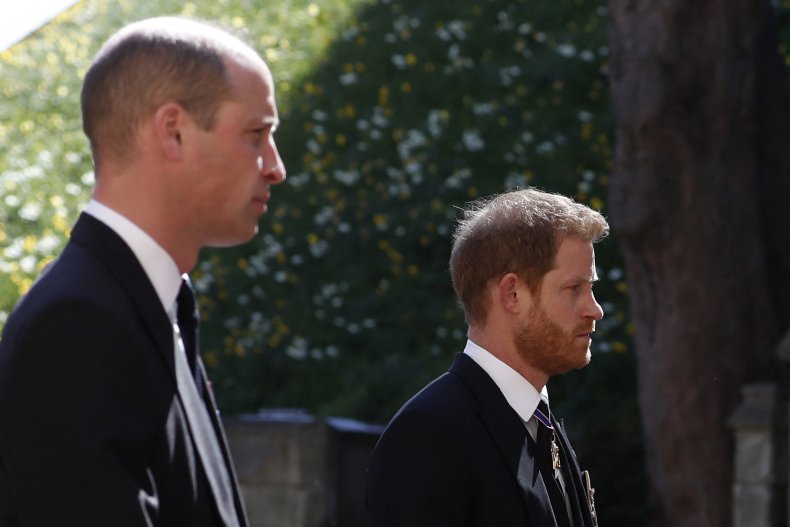 However, after the service the brothers were seen side by side and talking as they made their way up the hill, away from the chapel.
Initially, Prince Harry walked between Prince William and Kate but within moments the Duchess of Cambridge slipped away, leaving the brothers to speak alone.
Royal expert and author Eve Pollard told ITV: "Well isn't that going to be one of the strange bonuses of today?
"That they walked up the hill with Catherine, with the Duchess of Cambridge.
"They were talking. They obviously were overcome by emotion as anybody would be, as we were who are not related to him.
"And they are talking and that's always got to be a very good sign. I think that's the picture that many papers will use in the morning.
"Let's hope they can sort the recent troubles out, come to a sensible conclusion.
"Because the queen needs both of them and probably needs them to be in step and close to one another again.
"They were for so long and that would be a thing that Prince Philip, if he's looking down, will say, 'well that was a good thing that's happened today.'"
There was no sign of conflict on the faces of the two men and it is not known what they discussed.
However, the fact they were able to talk will be received as a positive sign for hopes of better relations between them after the announcement they would not walk together.
There may however be much for Harry and William still to discuss, with the rift dating back to significantly before the Winfrey interview.
Prior to the funeral, royal historian Robert Lacey told Newsweek: "The arrangements for the funeral confirm the reality of the split agreed on Friday, February 19, the semi-permanent stepping back from official duties of Harry and Meghan.
"This division took a year to formalize, it's based on very profound things which cannot be instantly resolved with a chat at a wake after a funeral.
"This is not going to be resolved with a few minutes' wake at a funeral. Let's hope it is the beginning of steps towards a resolution.
"It also emphasizes that Harry very much remains a member of the blood family and his place at the procession was endorsed by the queen."