Why Prince Philip's Funeral Won't Heal Royal Rift Between Harry and William
Prince Harry and Prince William's royal rift is based on "very profound things which cannot be instantly resolved" at Prince Philip's funeral, a royal author tells Newsweek.
The warring brothers will see each other in person for the first time since Meghan Markle told Oprah Winfrey an unnamed royal made racist remarks about her unborn child's skin tone.
While the identity of the mystery family member is unknown, the Duke of Cambridge publicly denied they were a racist family in the days afterwards.
Some commentators had hoped the somber event of their grandfather's funeral might be an opportunity for the brothers to heal their damaged relationship.
However, since then it has emerged they will not walk side by side behind the Duke of Edinburgh's coffin.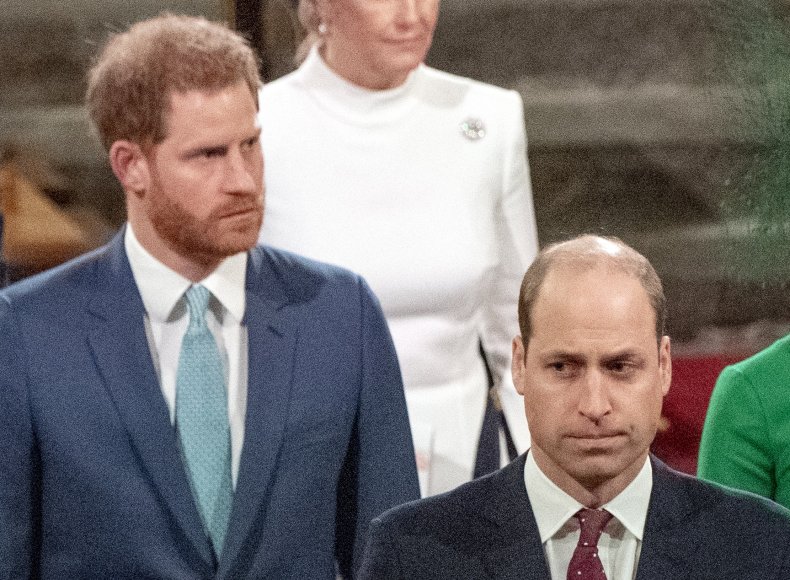 They will instead be separated by cousin Peter Phillips as the world watches Queen Elizabeth II say goodbye to her husband.
Historian Robert Lacey has a hotly anticipated second edition of his book Battle of Brothers due for release later this year in which he will shed new light on the rift between Harry and William.
He told Newsweek: "The arrangements for the funeral confirm the reality of the split agreed on Friday, February 19, the semi-permanent stepping back from official duties of Harry and Meghan.
"This division took a year to formalize, it's based on very profound things which cannot be instantly resolved with a chat at a wake after a funeral.
"This is not going to be resolved with a few minutes' wake at a funeral. Let's hope it is the beginning of steps towards a resolution.
"It also emphasizes that Harry very much remains a member of the blood family and his place at the procession was endorsed by the queen."
Harry formally lost his honorary military titles, including the coveted role of Captain General of the Royal Marines, just days before he and Meghan's Oprah Winfrey interview was broadcast on March 7.
Prince Harry flew into Britain this week with just enough time to quarantine prior to the funeral.
However, even when he is free to leave his Frogmore Cottage U.K. residence, it is unclear how much time he will spend with Prince William.
Former BBC royal correspondent Peter Hunt wrote on Twitter: "It will be a visible reminder of how fractured the brothers' relationship is and of how overblown was the talk of their grandfather's funeral heralding a rapprochement. #PrincePhilip.
"Even for just 8 minutes, neither was prepared to tolerate walking side by side. #PrincePhilip."
On his last journey home, in March 2020, Prince Harry faced another tense public standoff with his brother, though on that occasion he had his wife by his side.
During a Commonwealth Day service at Westminster Abbey, the cold atmosphere between the Duke and Duchess of Sussex and the Duke and Duchess of Cambridge was plain to see.
Biography Finding Freedom, which Meghan authorized a person to give at least some information to, quoted a source saying the atmosphere was "most unpleasant."
Authors Omid Scobie and Carolyn Durand wrote: "While Harry and Meghan both greeted William and Kate with smiles, the Cambridges showed little response."
They added: "Although Meghan tried to make eye contact with Kate, the duchess barely acknowledged her."
Then, there were tensions over a decision to remove Harry and Meghan from a procession of senior royal who were due to walk behind the queen going into the church service.
And just as now, a decision was made to smooth things over, with Prince William and Kate Middleton also not joining the procession so the Sussexes would not appear to have been slighted.
However, the behind the scenes moves did not stop commentators from picking up on the lack of warmth between the couples.
All eyes will be on whether Elizabeth's move to supress the emotions between the brothers will succeed in ensuring the somber event is about her husband as she says goodbye following 73 years of marriage.
Prince Andrew also became the center of attention this week during the queen's eight days of mourning amid claims he intended to wear an admirals uniform, despite never having been promoted to the rank.
The Duke of York was due to be made an honorary admiral on his 60th birthday last year but deferred after being forced to step back from public life due to the Jeffrey Epstein scandal.
Hunt wrote on Twitter: "It's striking that Andrew thought he could use his father's funeral to advance his rehabilitation and that it took the leak of news about his uniform choice, to stop him. #PrincePhilip."
Prince Harry would then have been the only royal in civilian dress, not permitted to wear uniform due to stepping back from royal life, despite having served two tours in Afghanistan.
The queen has again defused an explosive situation by ruling that no royals would wear military dress, breaking a centuries old tradition.
Instead, they will wear morning suits with military medals, giving Prince Harry parity with the rest of his family.
Lacey told Newsweek: "I would speculate that the decision for the men not to wear uniforms was a specific choice by the queen to save Harry embarrassment.
"This is not new. We saw last Remembrance Day the fact that the two members of the royal family who have actually seen action and fought in real war and wear real medals were the two people not to take part in that ceremony.
"This is a continuation of the sort of formal difficulty which the queen has resolved in a very thoughtful and constructive way."