Prince William today responded to Meghan Markle's claim a royal was concerned about how dark her child's skin would be—saying: "We're very much not a racist family."
The Duke of Cambridge confirmed he has not yet spoken to brother Prince Harry since the extraordinary claim was broadcast by CBS on Sunday night.
His denial risks sparking a backlash from Meghan's cohort of famous friends, who have taken to Twitter and even appeared on U.K. TV to defend her.
Oprah Winfrey looked visibly shocked after Meghan said an unnamed royal was concerned how it might look if her future child's skin was "too dark."
Meghan and Harry did not name the royal but told Oprah off-camera they were willing to rule out Queen Elizabeth II and Prince Philip.
Prince William addressed the allegation on a visit to a school in Stratford, London, to congratulate teachers for reopening after lockdown.
Asked "is the royal family a racist family, sir?" he said: "No, we're very much not a racist family."
Asked whether he had spoken to Prince Harry yet, he replied: "No, I haven't spoken to him yet but I will do."
Meghan and Harry's two-hour primetime special with Oprah was watched by around 11 million people in the U.K., a little under 17 percent of the population.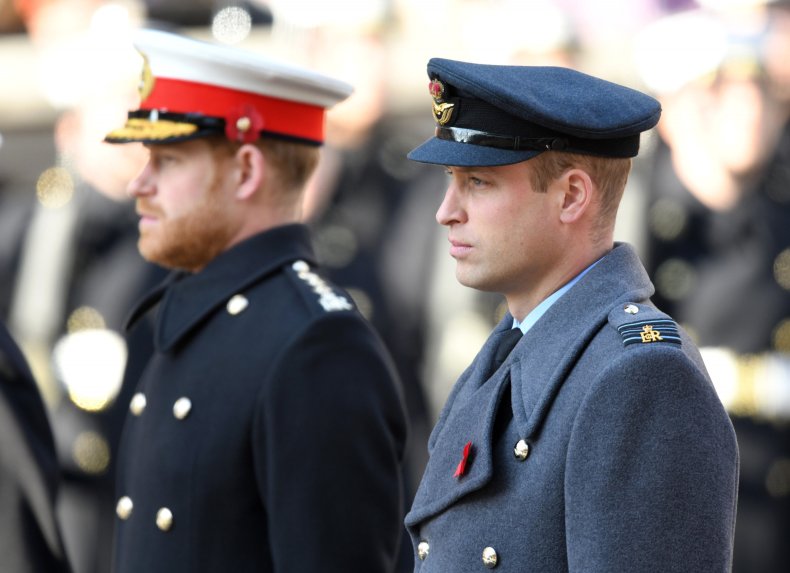 Prince William's comments risk reigniting the transatlantic feud after Meghan's friend Janina Gavankar went on ITV to respond to Queen Elizabeth II's statement the previous day.
The 94-year-old monarch had said she was concerned about the allegations but added that "some recollections may vary."
Gavankar said Meghan knew about her TV appearance and added: "I thought I'm so thankful that they [Buckingham Palace] are finally acknowledging the experience.
"But on the other side I thought I know that the family and the staff were well aware of the extent of it and though their recollections may vary, ours don't because we lived through it with them. And there are many emails and texts to support that."
Yesterday afternoon, a story appeared on Harper's Bazaar by Omid Scobie, author of biography Finding Freedom, detailing an email Meghan sent to the palace.
He wrote that Harry and Meghan's "exasperation came to a head" in January 2020 amid press reports Prince William "constantly bullied" the Duke and Duchess of Sussex.
Kensington Palace had asked Harry to cosign a joint statement backing Prince William and describing the story as "offensive."
Quoted by Scobie, Meghan's reply read: "Well, if we're just throwing any statement out there now, then perhaps KP can finally set the record straight about me."
The author suggested the request related to a story from November 2019 claiming Meghan had made Kate cry at a bridesmaid's dress fitting.
Meghan's bombshell Oprah allegations sparked a fierce debate about racism and mental health after Meghan said she was left suicidal while the palace would not correct untrue press stories about her.
In the aftermath, Piers Morgan resigned as host of Good Morning Britain following a personal complaint submitted by Meghan and an investigation by Ofcom.
He had said he did not believe the claim she was suicidal and doubled down on his comments when asked by journalists the day after his walk-out.
In the interview, Meghan told Oprah: "All around this same time, we have in tandem the conversation of he won't be given security, he's not going to be given a title and also concerns and conversations as to how dark his skin might be when he's born."
When Oprah asked Harry about the conversation he gave a slightly different account, suggesting it took place right at the beginning of their relationship, rather than when she was pregnant.