Meghan and Prince Harry 'Frustrated' With Royal Racism Scandal: Gayle King
Meghan Markle and Prince Harry are frustrated their Oprah Winfrey interview sparked a royal racism storm when "all they wanted" was to stop negative press coverage, Gayle King said.
The Duke and Duchess of Sussex spoke to the CBS This Morning host over the weekend and she revealed several dramatic updates on how the couple reacted to the interview's reception.
The world has been debating the identity of the mystery royal racist who Meghan said expressed concern about how dark baby Archie's skin would be.
However, King suggested the duke and duchess may not have intended the explosive claim to dominate the fallout from the two-hour CBS primetime special on March 7.
She also said Prince Harry has now spoken to his brother and father, though the conversations were "not productive," but the royals have not yet spoken to Meghan.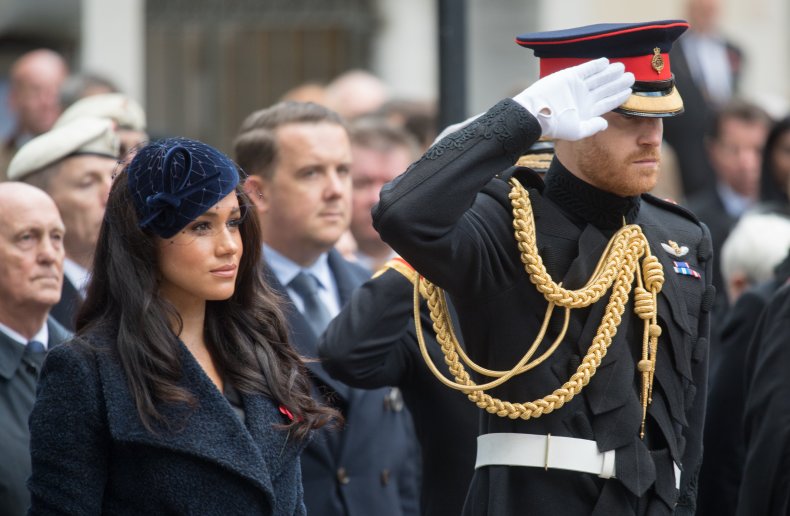 King told This Morning viewers: "I think what is still upsetting to them is that the palace keeps saying they want to work it out privately but yet they believe these false stories are coming out which are very disparaging against Meghan, still.
"No one in the royal family has talked to Meghan yet at this particular time and I think it's frustrating for them to see that it's a racial conversation about the royal family when all they wanted all along was for the royals to intervene and tell the press to stop with the unfair, inaccurate, false stories that definitely have a racial slant.
"And, until you can acknowledge that, I think it's going to be hard to move forward but they both want to move forward with this.
"They both want healing in this family. At the end of the day that's Harry's family."
She added: "Meghan has documents to back up everything she said on Oprah's interview."
It is not clear which new stories King was saying were false, however, her intervention comes after U.K. newspapers including the Daily Mail attempted to punch holes in the bombshell CBS interview.
The newspaper sent a legal letter to ViacomCBS claiming "deliberate distortion" in the presentation of headlines from U.K. newspapers, which it claimed had been doctored.
Harpo Productions told Buzzfeed: "Prince Harry and Meghan, the Duke and Duchess of Sussex, shared in the interview their personal story. We stand by the broadcast in its entirety."
The Daily Mail also published a six-page investigation in Saturday's edition, headlined: "Harry and Meghan, the inconvenient truth."
The newspaper challenged Meghan and Harry's claim to have married in private days before the royal wedding accompanied only by the Archbishop of Canterbury, stating a marriage is not legal in Britain without two witnesses and the marriage license was issued for St George's Chapel.
They pointed out Prince Harry had said he was ashamed to tell the royals of Meghan's mental health crisis despite having previously made public the fact he had therapy himself.
They also challenged Meghan's claim to have only left the palace twice over a four-month period, reporting the royal diary the Court Circular records only two long stretches without royal engagements.
The Daily Mail suggested Meghan went on holiday four times during one of these and during the other left the house four times for private outings and once to give birth to Archie.
Michelle Obama also told NBC News Today she hoped for forgiveness for the royal family.
She said: "As I said before, race isn't a new construct in this world for people of color, and so it wasn't a complete surprise to hear her feelings and to have them articulated ... I think the thing that I hope for, and the thing I think about, is that this, first and foremost, is a family.
"I pray for forgiveness and healing for them so that they can use this as a teachable moment for us all."