Diana Dined With Editors, Asked Their Advice—Book
Princess Diana would dine with newspaper and magazine editors to ask their advice, a new book has revealed.
Former Vanity Fair editor-in-chief Tina Brown has given an account of a lunch she attended with the princess—along with two other examples of similar lunches—in her examination of Diana's relationship with the media as part of an extract of her new title The Palace Papers: Inside the House of Windsor—The Truth and Turmoil.
The examples are given to illustrate Brown's conviction that toward the end of her life Diana was a sharp, keen publicity maneuverer, not—as has been suggested since her death—a manipulated victim of press intrusion.
Diana's Lunch With Anna Wintour
Published online by Vanity Fair, the extract recounts a lunch attended by Brown along with longtime American Vogue editor-in-chief Anna Wintour, which took place with Diana just six weeks before she died.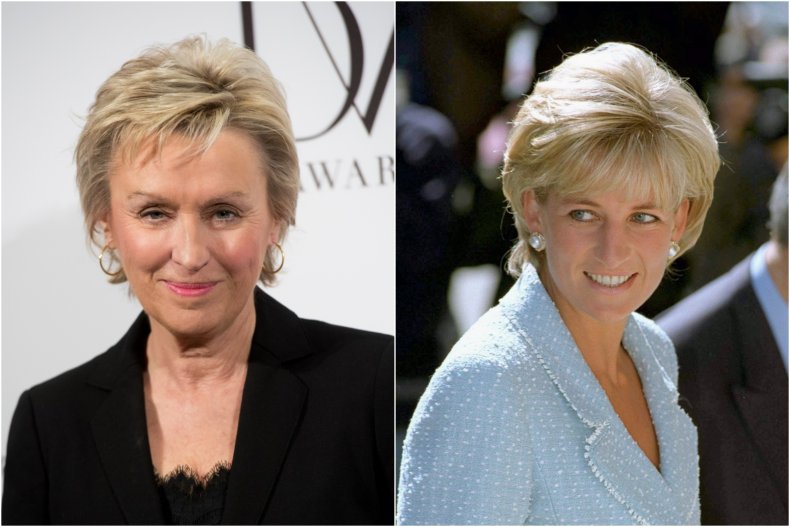 Brown writes that she was "bowled over" by the confident princess whose "huge, limpid blue eyes", "soft peach skin" and "super-model height" were all deployed to their best advantage in wooing the editors.
"She told us her story of loneliness and hurt at Charles's hands with an irresistible soulful intimacy that sucked us in," Brown recounts.
"Then [Diana] switched to a startlingly sophisticated vision of how she planned to leverage her celebrity for the causes she cared about with a series of TV specials."
Disputing the 'Panorama' Narrative
Brown disputes the now established narrative that Diana's participation in an infamous 1995 BBC Panorama interview—which last year was subject to a private investigation regarding journalist Martin Bashir's using fraudulent documents to gain access to the princess—was an example of her manipulation by the press. She writes:
"I don't subscribe to the now pervasive narrative that Diana was a vulnerable victim of media manipulation, a mere marionette tossed about by malign forces beyond her control.
"While strongly sympathetic to her sons' pain, I find it offensive to present the canny, resourceful Diana as a woman of no agency, as either a foolish, duped child or the hapless casualty of malevolent muckrakers. "
In the latter years of her life accounts have surfaced regarding various meetings Diana had with members of the press and publishing houses in an attempt to dispel rumors and control her public image.
Diana's Lunch With Piers Morgan
Two examples given by Brown include a private lunch hosted by Diana with Prince William at Kensington Palace in 1996 to which she invited Daily Mirror editor Piers Morgan, and also a lunch attended by the princess with U.K boss of Condé Nast, Nicholas Coleridge the same year.
According to Morgan, cited by Brown, the lunch he attended with Diana and William was an opportunity where he was allowed to ask "literally anything."
The editor later wrote in his diary of his surprise at how much Diana was willing to share with her son who seemed to know much of his mother's personal and love lives. Of the teenage prince Morgan wrote: "He is clearly in the loop on most of her bizarre world and, in particular, the various men who come into it from time to time."
William's comment that he had a photograph of rugby star Will Carling's wife on his dartboard at school prompted this. Carling had been linked to Diana romantically in the press at the time of the lunch. Carling's wife had made a comment in the press laying at least some of the blame at the princess's door.
Julia Carling is quoted by Brown as having told a reporter: "This has happened [to Diana] before... you hope she won't do these things again, but obviously she does."
Diana's Lunch With Nicholas Coleridge
Diana's concern and care over her public image is illustrated in another example, given by Brown, of a lunch she attended with Coleridge at Condé Nast's London headquarters known as Vogue House.
Coleridge had "expected the princess to cancel" owing to a photograph of her sunbathing topless on a holiday in Spain was published by the Daily Mirror—Morgan's newspaper—the day before.
Diana kept her engagement on the understanding that there would be no press there. Following the lunch hosted by Coleridge—during which she asked his advice—he escorted her to her car and found a bank of paparazzi waiting for her. When he called a tabloid news desk to ask how word had gotten out he was told, "'Diana rang herself from her car, on her way to lunch. She often tips them off about where she'll be.'"
This, Brown writes, is an example of "classic, authentic Diana—tricky, seductive, playing a double game."
Throughout her married life, under the intense spotlight placed on her as a member of the royal family, Diana attempted to engage with the press as a way of taking agency over the way she was represented. In 1992 the princess privately collaborated with journalist Andrew Morton for the book Diana: Her True Story and in 1995 took part in the now infamous BBC Panorama interview. The meetings between Diana and editors recounted in Brown's new book contributed to this wider effort.
When Princess Diana died tragically in 1997 at the age of 36 in a Paris car crash many reflected on her fractured relationship with the media and attributed a portion of blame to the press and paparazzi for contributing to the circumstances surrounding her death.