Majority of British People Want Prince William to Be King Before Prince Charles: Poll
The majority of British people would prefer Prince William to be the next king ahead of Prince Charles, who is next in line to the throne, exclusive polling for Newsweek reveals.
The Duke of Cambridge is more popular than his father with a net approval rating of +52 percent compared to +20 percent for the Prince of Wales, the survey data suggests.
And the warmth towards Prince William in the U.K. extends as far as who the public wants to replace Queen Elizabeth II when her reign ends.
Data collected for Newsweek shows 58 percent of British people would prefer to see Prince William as the next head of state compared to 23 percent for Prince Charles, with 19 percent saying they did not know.
Redfield & Wilton surveyed 1,500 adults online on Wednesday on behalf of Newsweek to collect the data, which had a margin of error of 2.53 percent.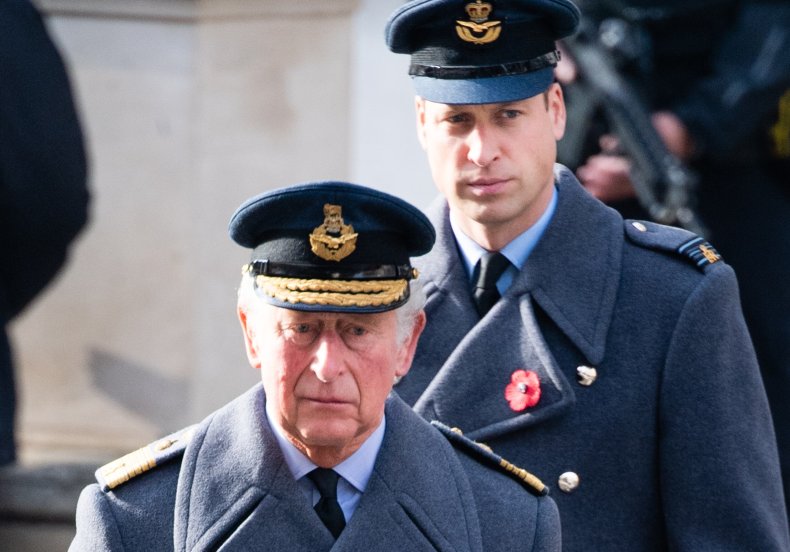 While past surveys have presented a similar picture, the preference for Prince William appears to have become stronger over the past month.
A separate survey by Deltapoll in early April returned 47 percent in favor of Prince William as the next king compared to 27 percent support for Charles.
At that time, it was roughly a month after Prince Harry and Meghan Markle first told Oprah Winfrey about racism in the royal family.
Since then, Harry has leveled new criticisms against Prince Charles, describing the "genetic pain" of his upbringing in an appearance on the Armchair Expert podcast.
The fieldwork for our survey was conducted on Wednesday last week, two days before a third intervention by Harry, accusing the royal family of "total neglect."
The Duke of Sussex told his mental health docuseries with Oprah Winfrey The Me You Can't See how he asked for his family's help in protecting Meghan Markle from negative media coverage.
He said: "It went to a whole new depth with not just traditional media but also social media platforms as well. I felt completely helpless.
"I thought my family would help but every single ask, request, warning, whatever it is, got met with total silence or total neglect."
Our polling suggests that belief in the longevity of the royal family as an institution remains strong in Britain.
Asked whether the British monarchy would continue past their own lifetime, 76 percent said it would, compared to six percent who said it would not and 12 percent who neither agreed nor disagreed.
Queen Elizabeth II remains popular with 68 percent of people viewing her favorably and eight percent unfavorably, giving her a net favorability of +60 percent.
Prince Charles was viewed favorably by 44 percent and unfavorably by 24 percent, giving him net figures of +20 percent.
Prince William was viewed favorably by 64 percent and unfavorably by 12 percent, giving him net figures of +52 percent.
Prince Harry was seen favorably by 39 percent and unfavorably by 36 percent, giving him net favorability figures of +three percent.
Meghan Markle was viewed favorably by 27 percent and unfavorably by 47 percent, giving her net figures of -20 percent.