Charlie Cox Reveals Why He Signed up for AMC Show 'Kin' and How His Wife Became His Boss
Charlie Cox returns to television this week with Irish-set gangster drama Kin on AMC+.
The show follows the Kinsella family, who find the odds are stacked against them when they inadvertently enter a Dublin gangland war with an international cartel. Cox plays Michael Kinsella, fresh out of jail and trying to keep his family's empire from crumbling.
The eight-part series features a strong cast of TV talent, including Aidan Gillen (Game of Thrones), Clare Dunne (Herself), Emmett J. Scanlan (Peaky Blinders) and Maria Doyle Kennedy (Orphan Black).
The show opens with Michael returning home after eight years in prison. Cox told Newsweek: "I was excited that you're meeting a man who is different from his reputation. You and his family recognize that something is different about Michael and that in the eight years he's been away, he's changed."
He continued: "I wanted Michael to be humbled severely by life. To have a desire to make a U-turn but beneath that there is, and remains, the ability to be violent and destructive.
"I feel like I know I can do delicate stuff, find vulnerability, but can I do that and reveal glimpses of a man you wouldn't ever want to cross?"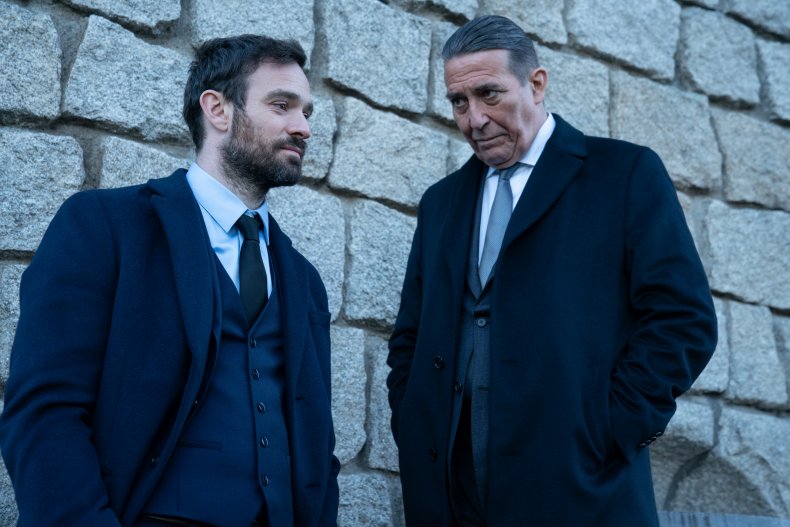 The violence and destruction isn't confined to Cox's character. Straight off the bat in Episode 1 there's a shock death and, as with any gang-related drama, more violence follows.
Peter McKenna (The Last Kingdom, Red Rock) serves as showrunner/executive producer, writer and co-creator, alongside co-creator Ciarán Donnelly (Altered Carbon, Vikings).
Having His Wife As His Boss and His Kids on Set
Kin wasn't supposed to be Cox's first TV role since his Netflix Marvel show Daredevil ended in 2018, but other projects fell through because of the pandemic. So, the actor turned his attention to a script that his wife, producer Samantha Thomas, was working on.
"I was so moved by it and so impressed by the script. I sat down to read it just to give my input, but I just thought it was absolutely tremendous, exactly the kind of thing I'd been waiting to read and to say, 'This is what I want to be involved with,'" he said.
Thomas is credited as an executive producer on Kin, after serving as a producer on a number of the Netflix Marvel shows such as Jessica Jones, Iron Fist and Luke Cage.
Having his wife and kids with him proved to be an incredible bonus for Cox in 2020 and he was "thankful" for the normality this provided while they worked on Kin together in Dublin.
"We were very fortunate but I do joke that it's both a blessing and a curse to have your wife also be your boss, where she can actually fire you, but she was very diplomatic and gracious," he said.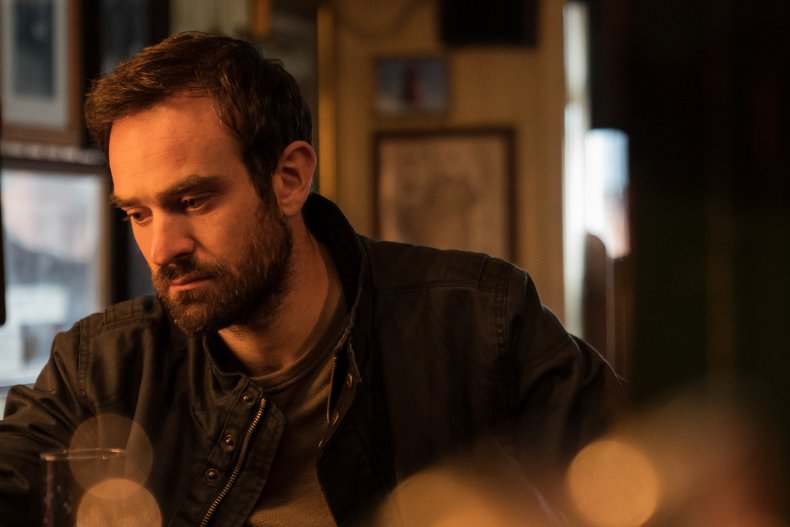 Differentiating his Irish Accents
Cox, born in London and brought up in East Sussex, is no stranger to changing his accent for a role—but Kin was a new experience for him.
"Somehow in my career I've been cast as people with accents, probably to varying degrees of success, but my trick is I work harder than anyone I know on accents. On set I try not to come out of the accent. I live in it and eventually it starts to feel like it's part of your voice and part of your breath."
Cox says his past experience of playing a character with a Northern Irish accent was to his detriment in Kin, as his accent coach often had to correct him saying his sounds were right but he was using a Northern Irish inclination.
Now Cox has finished shooting Kin, he classes himself as "unemployed" again. After a recent run on the stage, he says he will have to "seriously consider" what project he takes on next as he'd like to be able to travel with ease.
If the opportunity to film a second season of Kin came up, though, he'd jump at the chance. "I really hope we get to do it again I had such a good experience of the first time," he said. "My only regret is we didn't get to see much of Ireland, we had to stay in Dublin [because of the pandemic]. I'd love the chance to go back and explore not just the city but the surrounding countryside."
During his conversation with Newsweek, Cox also responded to the internet rumors that his forearms can be seen in the first trailer for Spider-Man: No Way Home. There has been widespread speculation that Cox appears in the film as Matt Murdock, the role he played in Daredevil.
Kin starts on AMC+ on Thursday September 9.