Demonstrators inside the Capitol Hill Occupied Protest (CHOP) zone in Seattle, Washington, became combative during a weekend confrontation with a man who described himself as an "ally" supporting their cause.
The protesters mistakenly thought a pin the man was wearing showed support for law enforcement authorities, which CHOP opposes. Before realizing the pin actually promoted work done by an animal rescue organization, the group of individuals advanced toward the man, with one knocking his phone to the ground at the start of the altercation.
The man was recording a video blog on Saturday as he walked through Seattle's police-free area, so parts of the incident were taped. However, since his camera screen goes dark shortly after protesters approach him, exactly how the confrontation unfolded is unclear.
Muffled conversation between the man and protesters seems to suggest that he was not injured and that the confrontation largely de-escalated after the pin's actual message was confirmed. In the video, the man can be heard saying he's allied with the protesters.
None of the people involved in the altercation have been identified as of Monday, though the man subject to the encounter appears to be the face of TheYankeeMarshal's social media accounts. His video was posted to a YouTube channel under that name on Sunday.
Newsweek reached out to the person who owns TheYankeeMarshal YouTube account for more details but did not hear back before publication.
CHOP—which also serves an acronym for Capitol Hill Organized Protest—was initially created by demonstrators rallying against police violence and systemic racism in the aftermath of George Floyd's death in Minneapolis police custody last month.
Protesters have occupied the area, originally referred to as the Capitol Hill Autonomous Zone (CHAZ), since law enforcement vacated the Seattle Police Department's East Precinct building on June 8 during the early demonstrations. The building is located within the boundaries of what is now CHOP, an area that, for the most part, exists outside of police jurisdiction.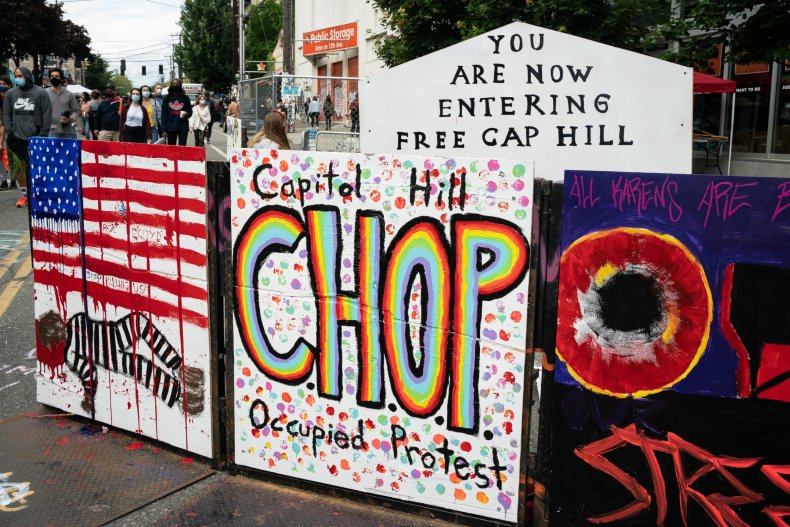 After at least three people were shot inside CHOP on Saturday and Sunday, Seattle police intervened and opened investigations into both incidents. In comments to Newsweek on Saturday, the police department confirmed its investigation into a shooting that occurred that morning, which resulted in one death and at least two injuries.
In a statement posted to Twitter early Monday morning, the police department also confirmed one person was hospitalized after another shooting took place inside the occupied protest zone.
Newsweek reached out to the Seattle Police Department for comment about developments related to the shootings and updates regarding its investigations but did not hear back before publication.