Nabisco Recalls 11-Ounce Boxes of Cheese Nips Over Plastic Contaminaton
The makers of Nabisco's popular Cheese Nips snack have voluntarily recalled select boxes due to possible plastic contamination. The U.S. Food and Drug Administration (FDA) announced the recall Wednesday, after Nabisco's parent company, Mondelez Global LLC, made the call Friday.
The recalled Cheese Nips were packaged in 11-ounce boxes with expiration dates between May 18 and May 20, 2020. Consumers were advised to look out for individual package UPC 0 44000 03453 5 with corresponding expiration dates. The announcement noted that boxes of the affected Cheese Nips had been distributed nationwide.
In the company announcement on the FDA website, Mondelez Global noted "the potential presence of small food-grade yellow plastic pieces from a dough scraper that was incorporated into the production process of a small amount of product." According to the statement, the company became aware of the issue when yellow plastic pieces were found on manufacturing equipment.
"Consumers who have this product should not eat it, and should discard any product they may have," the FDA warned. The recall notice included a phone number consumers could call to receive more information about the recall, with agents available for questions from 9 a.m. to 6 p.m., Monday to Friday.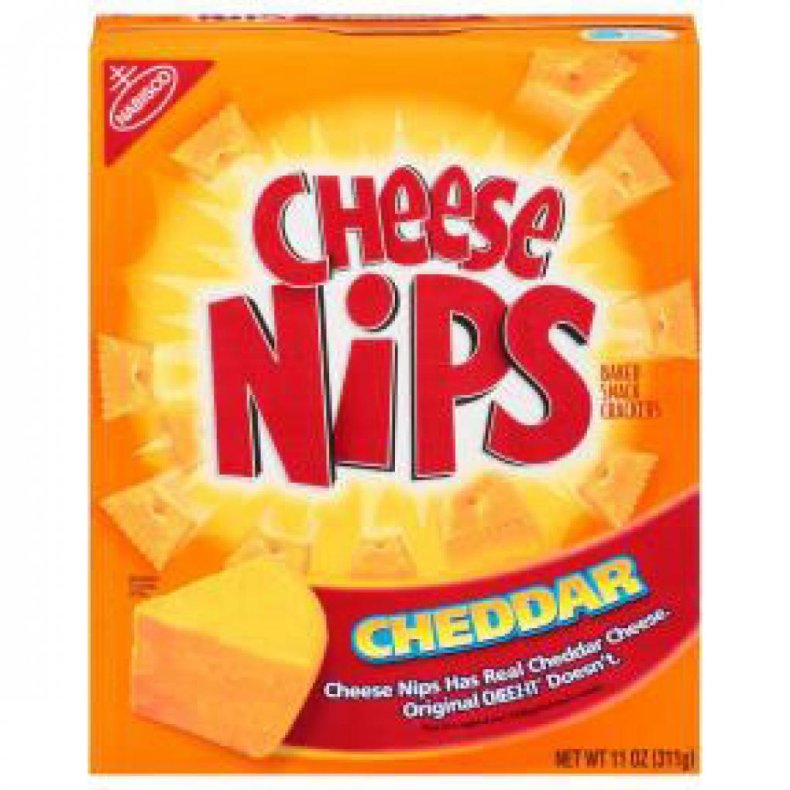 Established in 2012 as a food and beverage holding company, Mondelez International oversees the manufacture of a number of popular snacks including Chips Ahoy, Oreos, Ritz Crackers, Sour Patch Kids and Wheat Thins. In April Mondelez recalled Chewy Chips Ahoy Cookies after products were found to contain an "unexpected solidified ingredient." Prior to that, in July 2018, the company issued a massive recall of 16 Ritz Cracker products over possible salmonella contamination, according to FDA data.
In June, economics news nonprofit Marketplace reported on a rise in the number of foods contaminated by plastic products in recent years. According to U.S. Department of Agriculture research, the number of recalls citing foreign matter in food products nearly doubled from 12 recalls in 2015 to 23 in 2018. The report also noted that in many cases plastics in food remained unaddressed, since USDA and FDA guidance required recalls only for "visibly contaminated" foods.
Cheese Nips were the twelfth food product to be pulled over plastic concerns in 2019, according to the FDA's website. Kraft Heinz Foods Company issued a similar recall Tuesday after six consumers found pieces of red plastic in Breakstone's Cottage Cheese. The company recalled 9,500 cases over concerns of possible contamination with plastic and metal stemming from issues in the production process. Over the summer, Ragu pasta sauce and Entenmann's Soft Baked Chocolate Chip Cookies also faced recalls over plastic particles.