Chef Bans Diners With 'Biggest Bill Ever,' Gives Money To Harassed Host
A chef banned diners from his restaurant who ran up a huge bill because they were disrespectful to one of his employees.
Lee Skeet, the chef behind the restaurant Cora in Cardiff, Wales, posted a letter he had written to the diners on Twitter Wednesday evening. The tweet earned nearly 6,000 retweets and 1,000 comments, as well as over 51,000 likes—though the first line of his tweet is that he's "not clout chasing or looking for likes."
"I just think we should start calling out rich people who think they can treat people like crap," he wrote, alongside two screenshots of the letter he wrote to the diners.
In the letter, which has the name of the addressee scribbled out, Skeet says that the diner and his party ran up "the biggest bill we've ever had on one table here."
"Unfortunately throughout the evening I was made aware that your party's behavior was inappropriate towards lily, who runs front of house," he continued, saying Lily, 22, told him that she was not just condescended to and felt disrespected, but that she had been "touched unwantedly" by people in the party.
"I have spent the last hour having conversations with her that break my heart, make me feel like a s**t employer, and a terrible dad having my own daughter," he continued.
He asked the diner to provide bank information so he could refund most the £1,000 bill, holding back £100 "that I believe you should have tipped," adding that they left Lily no tip at all, despite the alleged harassment. Skeet also told him never to come back to the restaurant as "Lily means a lot more to me than money."
"I also think you should assess the people you surround yourself with," he closed.
The next day, Skeet made a follow-up tweet, explaining that he "reacted too quickly and emotionally."
"I'm not going to refund the customer's money," he continued. "I've instead kept it and transferred it to lily."
The tweet included a screenshot appearing to be a bank transfer of £1,000, with "Soz m8" written in the reference field.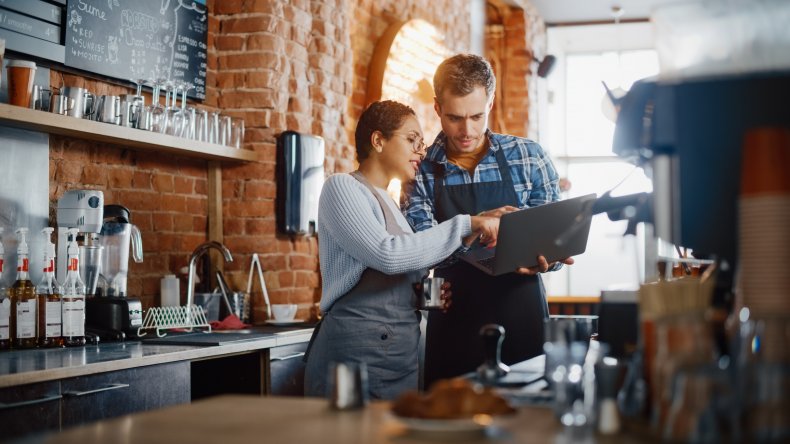 Skeet is a renowned chef who formerly worked with Gordon Ramsay, according to Cornwall Live. Cora is the first restaurant that he's owned, and it opened in January of this year, according to restaurant news site The Caterer.
In February, he was able to raise £30,862 on Kickstarter to pay for a commercial kitchen at the restaurant, as he was previously using domestic equipment to cook for diners, including "a small oven held together with duct tape."
"I have an incredible, very small front of house team consisting of the excellent Lily who's just 21 and runs the show, myself when I have a spare moment to serve, and we're sometimes helped by my incredibly supportive partner Hannah when she isn't at her full time career!" he wrote on his Kickstarter page.
This also isn't the first time Skeet has been in the news. In 2017, he was nearly killed in a hit-and-run accident with a truck carrying a crane.
"By the time I saw the lorry coming at us I could pretty much touch it," Skeet told Wales Online. "I just panicked and pushed my son as hard as I could. He was on wheels, luckily, before the lorry hit me. It just completely wiped me out into a wall."
The outlet reports that though the driver sped away, he was arrested hours later and pleaded guilty. The driver lost his license as a result of the crime.
"My first thought was my son. I could see him in his pram but it was completely crushed around him. I thought he was dead. I managed to get to him but I couldn't stand up because my leg was hanging off of me. I pulled myself over. Jackson wasn't dead. He was squashed in his pram, covered in cuts and bruises," he told Wales Online.
Though his son Jackson only faced minor injuries, Skeet himself had a completely crushed left leg, telling Cornwall Live at the time that "pretty much every muscle in my leg was destroyed or in some way damaged." Through rehabilitation, Skeet was able to walk again.
Newsweek reached out to Lee Skeet for comment.