Chef Slams 'Scam' Food Truck Events for Taking Big Profits in Video
A chef is going viral for calling out the high commission fees set by events that invite food trucks to feed their guests.
Chef Dashin Simmons who goes by the name The Food Truck King on social media. In a TikTok posted Monday, he laid out his issues with doing events by going over an email he was sent, directed at potential vendors for the Monster Jam, happening April 9-10 at the Atlanta International Motor Speedway.
"So if you know who I am, then you know the deep hatred that I have for event coordinators. And this is why right here—somebody sent this to me personally, you just have to see it," he says. "First off, they're requiring you to do an inspection with them on site. Not like the health department's already done an inspection on your truck anyways."
He also questions the number of people that the event planners say will attend. While the planners estimate 17,000, he asks how they know that number, and why not even say a larger amount, like 20,000 or 30,000. He adds that they don't mention the number of other food vendors at the event.
"But the craziest piece of it all is that if you do their event, you have to give them 60 percent," he said. "So let's just say there's really 17,000 people out there. There's, like, maybe two other food trucks and you're slammed the entire time and you make like $10,000—automatically you have to fork over $6,000. And they provide the drinks, so you can't even sell drinks. It's a scam."
Simmons is the owner of his own truck, Susie's Chicken & Fries. He also offers a number of online courses for prospective food truck owners to help them get up and running.
Newsweek reached out to Feld Entertainment, the organizers of Monster Jam, for comment.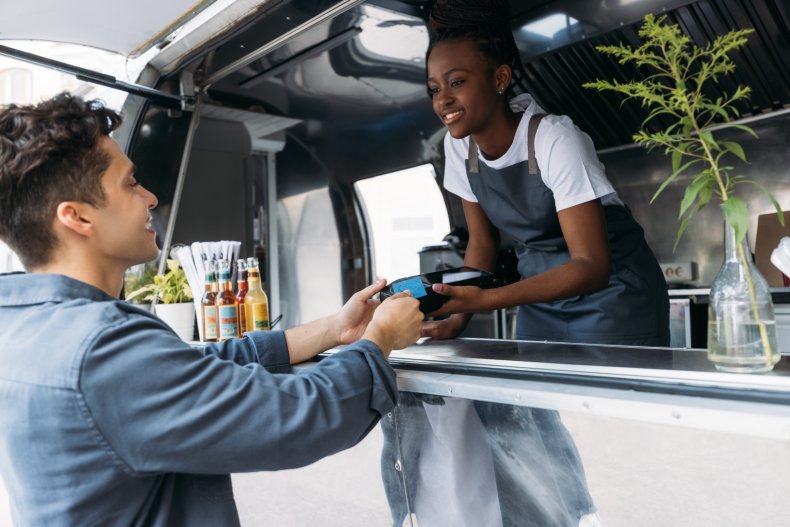 While different states and events can have different fees, the Washington State Food Truck Association (WSFTA) says that it expects fees and commissions to be no more than 5-10 percent of sales. It adds that most vendors prefer a flat fee upfront, and that this is often easier for the organizer, too.
In terms of the number of attendees, the WSFTA says that it's best to have between 200-300 customers per truck; fewer than that, and it's hard to make a profit, but with more, long lines and wait times can cause customer dissatisfaction. A food truck can feed between 80-100 people an hour, the WSFTA estimates.
Though there is a similar organization for Georgia, where the Monster Jam is taking place, it does not appear to have suggested fees for events listed on its website.
In the comments, Simmons made a clarification about the fees. When a user asked why a food truck vendor couldn't lie about their earnings during the event, Simmons said vendors will have to use the event's payment processor.
Another shared her bad experience at an event.
"I Did An Event w 17k-20k Projections... 1200 Showed and They Had Us Outside In The Cold.. I Had Cake. The Frosting Was BRICK. So Much Product Wasted," @hernameis.hephi wrote.