Chelsea Clinton Used an Alias to Run In—and Finish—the NYC Marathon
Note: This story was updated at 5:15 p.m. ET on 11/09/21 with correct information on names and times from the race.
Running any marathon is no small feat for a first-time marathoner. Running it as the child of a former president could be even a little more challenging.
Chelsea Clinton, 41, not only ran and finished the New York City Marathon on Sunday, she did did it under the cloak of an alias. Or perhaps, she was Anonymous.
Chelsea, who's the daughter of Bill and Hillary Clinton, finished her first marathon in just under 4 hours. Her name wasn't found on the final results, though. She finished the race in 3 hours, 59 minutes and nine seconds (3:59:09).
Only five runners crossed the finish line in that exact time. Their pace was 9:08 per hour. Three of them were men, another was a woman and one person had no identity. Here are the runners who crossed at 3:59:09 (names omitted, but full results here). This is how the names were listed through Monday night. Chelsea Clinton's name replaced "anonymous" on Tuesday.
Female, 34, New York
Anonymous, no age or location listed
Female, 27, New York
Male, 33, Washington D.C.
Male, 28, Italy
Male, 64, New York
Those are the results from the New York Road Runners Association.
Clinton, who wore bib No. 27996, officially finished in the 7,175th spot among the 24,947 female entries.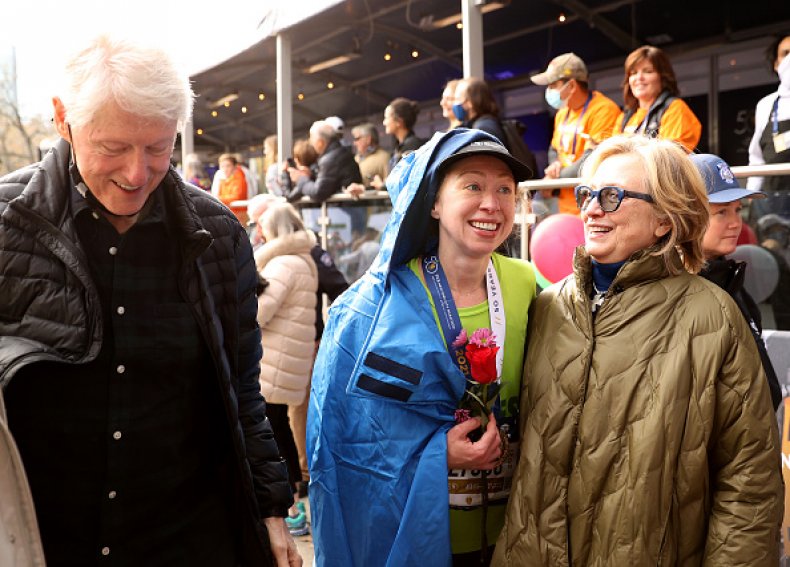 Awaiting Chelsea at the finish line were her parents—former President Bill Clinton and his wife, Hillary Rodham Clinton, who is a former first lady, former senator, former U.S. Secretary of State and former presidential candidate herself—among others.
The New York City Marathon is one of the most prestigious races in the world. The overall winner of the 2021 race was Kenya's Albert Korir, who finished the 26.2-mile trek in 2:08:22. The top American male finisher was Elkanah Kibet. The Coloradan finished fourth overall with a time of 2:11:15.
The overall female winner was Kenya's Peres Jepchirchir, who crossed the finish line in 2:22:39, which was the 22nd overall time.
The top American woman to cross the finish line was Molly Seidel, who was fourth among all women with her time of 2:24:42, and 26th among all runners.
CORRECTION: The original story had names and times of both men and women, and it has been corrected to the accurate information from the 2021 race.