Chelsea Handler Slammed for Not Knowing She Was on Ozempic—'Wake Up Lady!'
Chelsea Handler is facing backlash for stating in an interview that she didn't realize she was taking Ozempic—the injectable diabetes medication that is often touted as something of a weight loss wonder drug.
Ozempic is an injectable prescription drug that is used to manage blood sugar levels in patients with Type 2 diabetes. It is based on a naturally occurring human hormone called glucagon-like peptide 1 (GLP-1), which plays an important role in regulating appetite and blood sugar levels.
The active ingredient in Ozempic is a molecule called semaglutide, which acts as a GLP-1 agonist. In other words, it mimics the structure of GLP-1 and activates its receptors.
Studies have shown that people with obesity are often less sensitive to the hormones that make us feel full. But by slowing gastric emptying, drugs like Ozempic can restore feelings of fullness in these patients.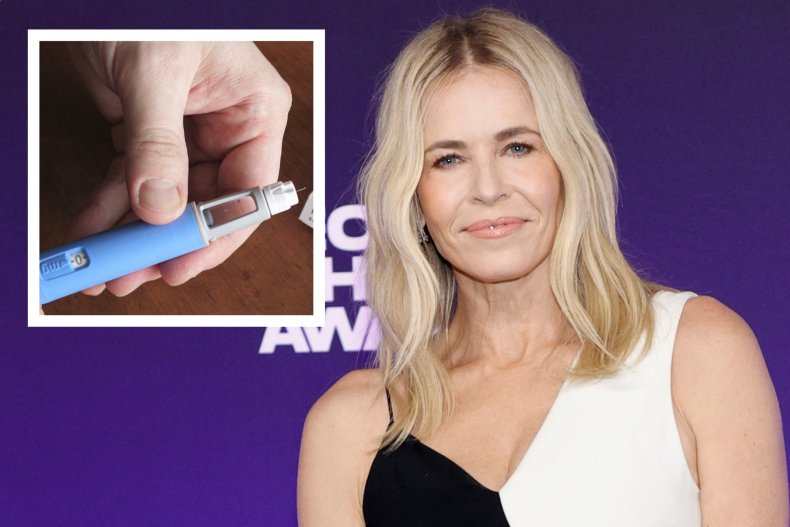 However, the drug has also become immensely popular outside of those requiring it for medical use, with a host of celebrities and influencers with already-enviable physiques leaning on it to appear all the more svelte.
During her appearance on the Call Her Daddy podcast, which was released on Wednesday, comedian Handler, 47, recounted her own experience with the drug.
"My anti-aging doctor just hands it out to anybody," she said. "I didn't even know I was on it. She said, 'If you ever want to drop five pounds, this is good.'"
However, the former Chelsea Lately host went on to reveal that she didn't like the way that the medication made her feel.
"I came back from a vacation and I injected myself with it," she shared. "I went to lunch with a girlfriend a few days later, and she was like, 'I'm not really eating anything. I'm so nauseous, I'm on Ozempic.' And I was like, 'I'm kind of nauseous too.' But I had just come back from Spain and was jet-lagged."
According to Handler, her friend asked if she was sure that she wasn't on the same drug as her, prompting her to explain that she was just "on semaglutide." Responding to the disclosure, the friend said: "That's Ozempic."
Deeming the drug medically unnecessary for her, Handler said that she has given the remaining doses in her possession to her friends.
"I've injected about four or five of my friends with Ozempic, because I realized I didn't want to use it because it was silly," she said. "It's for heavy people. I have people coming over to my house, and I'm like, 'OK, I can see you at 1, I can see you at 2.'"
Handler's interview has sparked backlash from social media users, many of whom said they found it difficult to believe that she didn't know what she was taking.
Commenting on E! News' Instagram post on the podcast interview, one said of Handler: "Is she just like constantly asleep? First she said she didn't know the sun and moon were different and now this? Wake up lady!"
"As a physician, I find this hard to believe," wrote another. "She injects herself with a shot (that's clearly labeled) once a week and 'doesn't know' what it is? Get real."
"That's pretty ignorant to be taking something and not know what it is," commented another. "This isn't 1950, take responsibility for your health."
Others expressed frustration at there currently being an Ozempic shortage for the diabetics who actually need it, while many are using it for simple weight loss.
"In the meantime the patients that actually need Ozempic can't get it because it's on back order, because all the famous people are getting free from their doctors," said one Instagram user.
"It's ridiculous all these celebrities are on it from being privileged and actual diabetics can't afford or can't use it cuz it's sold out," wrote another.
Some Instagram users defended Handler by pointing out that she could well have been unaware as she believed herself to be "on semaglutide," and may not have associated it with Ozempic.
"She was going by the generic name...that's why she didn't know," said one, although they then brought up another point. "Is it illegal to inject your friends with your prescription drugs?"
Handler also spoke of her personal experience with the drug in 2022. In an interview with Variety, which was published in December, the TV personality spoke of how her doctor gave her the medication under a different name without her realizing it was Ozempic.
"Apparently, it makes you lose your appetite," Handler said while eating her pizza. "But I like having an appetite. It made me nauseous, and I don't like to be nauseous. Only in this f****** town."
Earlier this month, Handler drew laughs from the star-studded audience at the Critics Choice Awards, when she joked about the drug's use in Hollywood.
While entertaining the crowd with a list of jokes in her opening monologue as presenter, the comedian turned her attention to Julia Roberts, who recently won acclaim for her role as Martha Mitchell in Gaslit.
"We love you, Julia," Handler said. "The word 'gaslighting' was actually Merriam-Webster's word of the year. And for those of you who don't know, gaslighting is when someone tries to convince you that your own perceptions of reality are wrong. Like when celebrities say they lost weight by drinking water, but really it's because everyone's on Ozempic."
As the audience broke into raucous laughter, Handler added: "Even my housekeeper's on Ozempic."