Chelsea Manning: 115,000 Sign Petition to Drop Charges Related to Suicide Attempt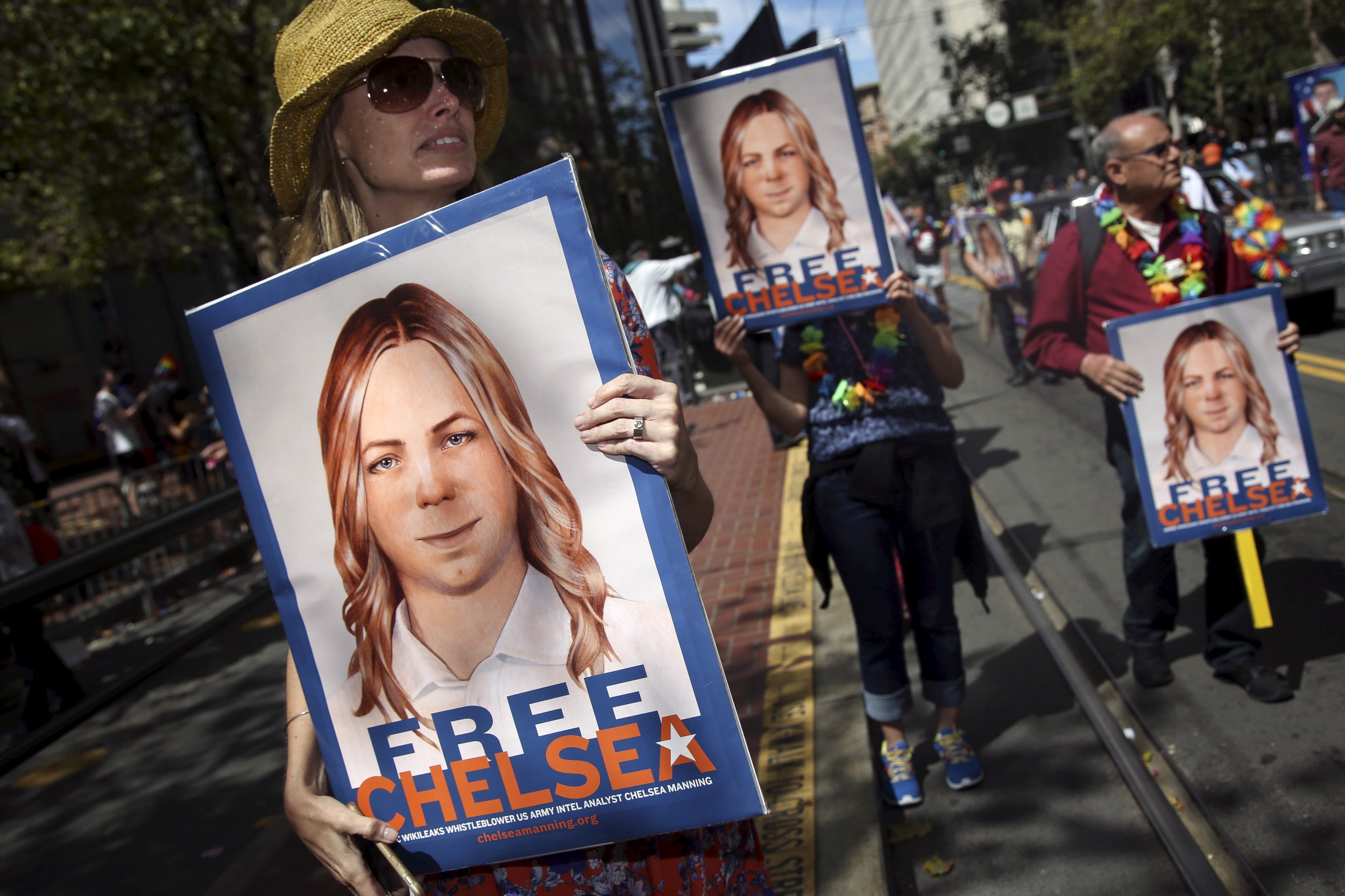 More than 100,000 signatures were delivered to Secretary of the Army Eric Fanning on Wednesday in support of Chelsea Manning, part of an effort to have charges dropped related to her recent suicide attempt, and to provide her with adequate health care.
The 115,000 signatures were on petitions started by a number of activist groups, including Fight For The Future and Demand Progress. Manning's attorney, Chase Strangio at the American Civil Liberties Union (ACLU), and Daniel Ellsberg, the whistleblower who leaked information about the U.S. government's decision-making in the Vietnam War, known as the Pentagon Papers, participated in a press call soon after their delivery.
"Chelsea has obviously survived years of mistreatment by the U.S. government," Strangio said during the call.
"The reality is that she's not in a great place," he said. The government attempting to punish Manning for surviving a suicide attempt "is something that's just completely untenable and egregious," he said, adding that he plans to visit Manning in prison soon.
Manning, 28, attempted suicide in prison last month, according to her lawyers. In 2013, Manning was sentenced to 35 years in prison for leaking hundreds of thousands of files to Julian Assange and his project, Wikileaks. A transgender woman, Manning is serving her sentence at an all-male facility at Fort Leavenworth, Kansas, something her supporters say is "dehumanizing and exhausting emotionally."
Late last month, Manning was hit with additional charges in relation to her attempted suicide, including a prohibited property charge, a threatening conduct charge and a resisting forced cell move charge. The charges may result in additional punishment, such as the loss of access to the phone and the law library, as well as indefinite solitary confinement, said Strangio. While the charges won't add time to her 35-year sentence, they could increase the amount of time Manning has to serve before being considered for parole, he said.
Several weeks after her suicide attempt, Manning tweeted that she's "feeling a little bit better every day" and thanked the public for its support. Last year, the government threatened Manning with solitary confinement for a number of minor "infractions," including the possession of a tube of toothpaste and LGBT reading materials.
Ellsberg called Manning a "hero of mine" during Wednesday's press call, and said: "I would like to see more Chelsea Mannings." Ellsberg, who faced 115 years in prison related to his charges, said: "There's no essential difference between what she did and what I did."
"Adding additional punishment on top of Chelsea Manning's already unjust sentence, and threatening her with indefinite solitary confinement for attempting to take her own life, is an egregious miscarriage of justice," Kate Kizer, campaigner at Demand Progress, said in a statement on Wednesday. "The government's inhumane reaction to Ms. Manning's attempted suicide is part of an ongoing pattern of mistreatment that appears to be an attempt to silence Chelsea's important voice."